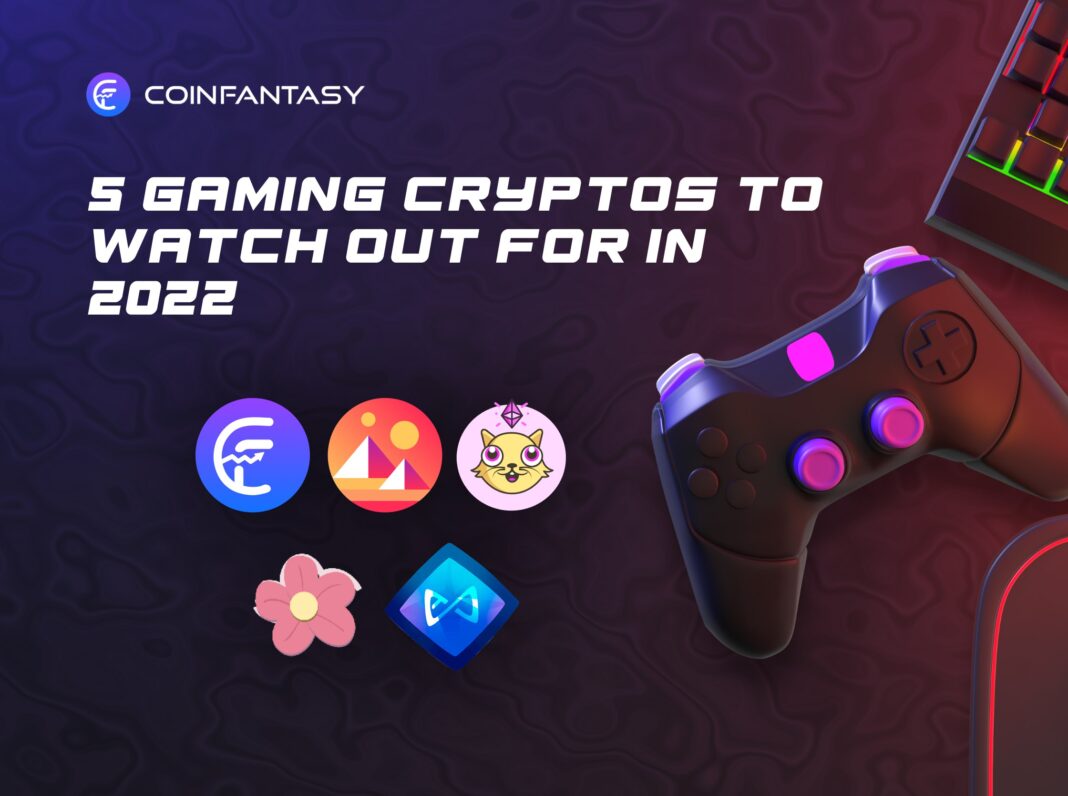 Gaming is an age-long concept that has evolved over the years. From the time of Spartacus fighting at the arena to the new NFT gaming crypto. This further heralds the quote, "Change is a constant thing in the world".
Gaming has a social side to it. It serves as a tool for socialization and has a lasting impact on people due to the feelings derived from participating, from winning thrills to the anguish of defeat.
Constant developments have seen the world experience gaming in different forms through the years. From video games to online games, console games, mobile games, etc. Over the past half a decade, the world has been exposed to games with crypto rewards.
Powered by blockchain technology, this new industry has birthed a new economy that helps players gain financial rewards from time spent playing. Given such a revolutionary sector, the gaming crypto projects for 2023 number up to 400.
However, it's impossible to participate in all these projects as a player. Also, the list of crypto games keeps growing. So, it's essential to focus on the most promising projects you can buy now. Hence, the need for this article.
Is Gaming Crypto's Future Promising?
Social media and crypto enthusiasts have been fawning over the introduction of gaming in crypto. This begs the question; are gaming cryptos the future, or people are exciting it based on FOMO? Maybe people are only scared of missing out on the boom as they did with Bitcoin in 2013.
However, looking at how gaming crypto is set up, the hype is justified. Over the years, gamers have not been adequately compensated for participating in the advancement of an industry worth $198.40 billion, a figure projected to double by 2027.
Top gaming crypto projects ensure that the gamers and creators both benefit from the game's proceeds, which is a win-win for everyone involved.
With the rise in the demand for NFT gaming crypto. This shows that the industry is profitable and not one with unnecessary hype or FOMO-induced popularity. A survey carried out by Cointelegraph shows that blockchain gamers see playing NFT games as a potential full-time job and won't bat an eyelid to quit their present job and go into NFT gaming crypto full-time.
So, summarily, 'is gaming crypto's future promising?' Yes!
Profitable gaming crypto coins to invest in 2023
There are many ways to make money in the cryptocurrency industry. One of the easiest is to invest in profitable coins early. Now, you must understand that gaming crypto coins are tied to a particular game. Therefore, once the value of the game project increases, the coin's value will likely have a proportional increase.
Easy money right there, the only hard work involved in the research involved knowing the right coin to buy. The gaming crypto coins stated in this article are not financial advice (NFA). Kindly do your research. (DYOR).
$Cfantasy

$MANA

$WCK

$ALICE

$AXS
Gaming crypto projects to watch in 2023
Knowing the gaming crypto to watch out for in 2022 is very important to start your NFT gaming journey. Most of these projects began in 2021 and earlier, and several game crypto prediction experts see them as either being on the right path or still relevant in 2023.
Coinfantasy
This is the most exciting gaming crypto project in 2023. The early signs and updates from the team behind this fantastic gaming crypto project have been top-notch from the marketing updates, AMAs, and the solid partnership sealed with other Web3 companies.
One of the critical indicators of how a project will fare in the game crypto free-to-play ecosystem is the team behind it. The team behind the Coinfantasy project is one of the best in the web3 space, and this project is the first decentralized fantasy gaming platform for crypto markets based on Play-to-Earn. 
Players of Coinfantasy games get to pick the best profitable coin they think will be of higher value in the future and stake it. Then, players choose a tournament of interest, and the winner takes the winning prize home. What's more interesting is the game's developers' zero-loss approach. Such that even if players don't win tournaments, they aren't losing money.
Decentraland
Decentraland is a metaverse project where players get to own and develop real estate properties. The game's token is the MANA token. This virtual reality game is built on the blockchain. Hence, everything inside is NFT.
The game is designed to mimic real life. So, everything you find in real-life's real estate can be found there. So, if investing in real estate in your current city is difficult, you can try out the metaverse. The entry barrier is still cheap. Though, everything related to blockchain investment is a risk. So, you should understand and play according to your risk appetite.
As of this writing, the price of the MANA token is $2.64.
CryptoKitties
Cryptokitties is the first NFT gaming crypto to be created. So far, the game has maintained relevance, which is incredible. Several other games have been killed due to a lack of traction. In this game, users buy breed, and trade adorable cat characters.
The value of these characters is based on the level of rarity. Hence, during gameplay, the aim is to have the rarest character possible. Also, because the cryptokitties game is built on the blockchain, you own the characters and can sell them anytime. This game is simple to play but has been very addictive. Hence, you can look out for the WCK token, which sells for $5.51.
My Neighbor Alice
The 'My Neighbor Alice' game is a multiplayer game. In this game, players get to own and build on virtual lands. Also, they get to interact with other players – the neighbors. During these interactions, completing daily activities is essential and leads to rewards.
The game is best for people who like seemingly mundane daily activities like growing crops, trading, building, etc. But then, successful games like Animal Crossing inspired this game. The game is a prime example of how gaming can aid blockchain adoption. Players collect rewards that are blockchain, even if they don't know.
The ALICE token is sold at $7.16 as of this writing.
Axie Infinity
Axie Infinity is one of the most popular NFT gaming crypto games in the world. The game was established in 2018 and has grown to have 106,000 daily users, with a global trading volume north of $2 billion. In this game, players purchase cute monster characters themed after Pokemon.
The players then breed the characters and put them in fights against each other in battles. During this gameplay, the exploits of the players amount to history and value for the character. So, if the player decides to sell the character later, the activities increase their importance.
Also, during gameplay, players earn SLP (Smooth Love Potion) tokens, which they can subsequently sell on exchange platforms like Binance because the game is built on the Ethereum blockchain.
Getting started with the game is not free; players need first to buy three Axies, which can cost anywhere between hundreds of dollars and several thousands of dollars.
The current worth of the game makes the game's AXS token worth owning. Axie Infinity gaming crypto coins, AXS, are currently at $72.04 as of this writing.
Conclusion
The gaming crypto future is undoubtedly in good hands, with the best developers in the world fine-tuning the new industry's economy. The current games have set a standard, and more developers are looking to improve gameplay. However, gaming crypto coins 2022 is only the beginning of the new gaming dawn.
Frequently Asked Questions
1. Were you to buy gaming cryptos?
There are different platforms where you can buy gaming cryptos. However, before purchasing any game's coin, you must understand the game and its value. If the game isn't valuable, you'll lose money. Hence, you must find a promising project to indulge in. You can buy on Binance, Coinbase, etc.
2. How to buy gaming cryptos?
To buy a game's crypto, you need a crypto wallet. Then, you should check CoinMarketCap to know how valuable the coin of interest is. Then look for a platform from which you can purchase. Finally, when all details are right, make your purchase.
3. What are gaming cryptos?
Gaming cryptos are tokens or coins corresponding to specific games. Each blockchain game has its cryptocurrency. The value of the coin is directly tied to the game. If the game is doing well, the crypto coin will too. So, don't rush into buying any token, research.
4. Which crypto will boom in 2022?
CoinFantasy is the most critical crypto to look out for in 2022 from the gaming scene. The developers have put in so much hard work to create something valuable for players. They have partnered with incredible organizations while trying to gamify one of the most critical global markets – crypto.
5. What coins will be used in the metaverse?
The coins used in the metaverse depend on the specific metaverse. So, there will be different metaverses, each with its coin. But, it's presumed that all metaverse built on Ethereum blockchain will use ETH coin. All metaverses will, however, have their coins too. 
6. Can I earn cryptocurrency by playing games?
Yes, you can earn cryptocurrencies by playing games. For instance, when playing Axie Infinity, you can earn the AXS token. All tokens earned during gameplay on any blockchain game can be traded to fiat currency on exchange platforms. Though, you must understand everything about a game before getting started.