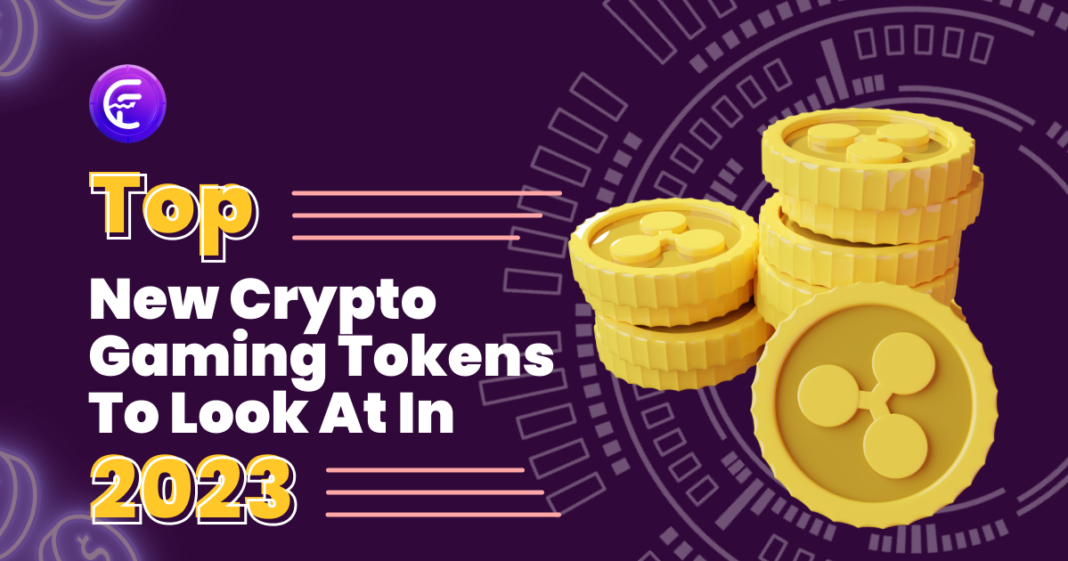 Recently, cryptocurrency has spread around the world. The convenience of cryptocurrencies is advantageous to many businesses, and online gaming is one of them.
With the use of cryptocurrencies, gamers may acquire and exchange virtual goods usable anywhere in the globe. As a result, it provides the gaming industry with a secure and straightforward means of making money.
On the crypto investment gaming platforms, people may now play games, invest in real estate, or collect collectibles, but in order to do so, they must have digital currency. A digital currency aims to aid gamers in conducting transactions, enjoying gaming, or purchasing digital collections.
This blog is a sure-shot guide for you if you are new to crypto gaming coins. Today, we'll discuss all gaming tokens, how to find the best gaming tokens, new crypto gaming tokens, and a lot more.
So, let's get started!
New crypto gaming tokens: what & why?
An in-game cryptocurrency for a particular game is often referred to as a gaming crypto token. It is intended to aid gamers in investing in gaming, purchasing virtual characters and weaponry, and placing bets on Esports competitions.
Gamers can turn their playtime into hard-earned cryptocurrency by using gaming tokens.
A gaming token's value can be impacted by a number of factors, including its volume, security, and the number of game experiences it can be redeemed for!
Even though the competitive landscape of video games already exists, the limited-edition NFT collections, virtual treasure boxes, and exclusive events have significantly increased the use of gaming currency. The coins or tokens can be exchanged for skins or avatar features, in-game NFT drops, or access to other premium services. 
Despite being in their early stage, there are some top-rated and new Crypto gaming tokens that have grown in popularity in the gaming sector.
Moving ahead, let's discuss this,
Top crypto gaming tokens to look out for in 2023!
Here is a list of the top real-deal gaming coins to consider if you're interested in investing in game-related crypto tokens:
A well-known blockchain-based virtual world and gaming platform called The Sandbox (SAND) allows gamers to design, construct, purchase, and sell digital goods as a game. It effectively combines the strengths of non-fungible tokens (NFTs) and decentralized autonomous organizations (DAOs) to create a decentralized platform for the gaming community. This is how The Sandbox (SAND) successfully builds a world where players can produce and amass blockchain-based assets.
The first decentralized play-to-earn investing gaming platform that focuses on the crypto-stock market is CoinFantasy.
ConFantasy intends to gamify the crypto-stock markets by layering a layer two platform on top of the primary markets with its numerous money trading games. Additionally, CoinFantasy also offers fantasy portfolio management games where users can gather stocks and outsmart rivals to earn rewards.
The Green Metaverse Token, or STEPN, is a gaming cryptocurrency that has been gaining popularity for a while. By providing players with in-game money and rewards related to governance, STEPN hopes to boost their physical activity levels. To achieve steps, users simply need to run, jog, or walk each day and report their activities.
#4. Decentraland (MANA)
Decentraland (MANA), a virtual reality and gaming platform, is supported on the Ethereum (ETH) blockchain. It has a solid reputation for providing individuals with the ideal environment for content creation, consumption, and profit-making. Users must first purchase Non-Fungible Tokens (NFTs), the native coin of the game platform, to use Decentraland. After that, the player can choose how to use these plots of land.
Players can participate in the platform's decentralized autonomous institution, within the Decentraland metaverse, also explore the virtual world, own land that can be sold, create art, hold non-fungible tokens (NFTs), and possess NFTs. Additionally, users have access to interactive content, in-world commerce, and peer-to-peer communications.
#5. Gala (GALA)
Gala is a cryptocurrency that allows gamers to independently control their games and is built on Ethereum. The Gala coin is well-known for driving the Gala games, a platform that introduces exciting and lucrative gaming adventures on the blockchain. Before playing a game, users can buy in-game stuff.
Using GALA, the network's utility token, users who engage with the Gala Games ecosystem can take part in deciding how the platform will develop and set its direction. In 2022, Gala will be a promising new crypto gaming token.
#6. Enjin Coin (ENJ)
It is an Ethereum token that facilitates the adoption of NFTs by individuals and groups alike. Non-fungible tokens created within the Enjin currency ecosystem have their value directly backed by ENJ. This cryptocurrency coin can be quickly sent and received using an Ethereum wallet.
The Enjin ecosystem is made up of tools that organizations, developers, and individuals can use to create, develop, monetize, exchange, or non-fungible tokens. The Enjin Coin powers every transaction in the Enjin ecosystem. As an ENJ user, you can keep particular gaming goods in the form of custom tokens that can be later sold.
#7. Axie Infinity
Players can purchase, trade, and engage in combat with Axies in Axie Infinity. You must purchase a minimum of three of these non-fungible tokens (NFTs), or Axies, to begin playing.
The fact that players may get AXS gaming tokens by participating in this game contributed significantly to its enormous popularity in 2022. Some players claim to make monthly cryptocurrency earnings of hundreds to thousands of dollars. Axie Infinity's stock performance indeed pleased the company's early investors.
#8. Neighbor Alice
An upcoming multiplayer farm and construction game is called Neighbor Alice. Six islands allow players to purchase land, farm it, and purchase animals from the market. Many players will be reminded of the Animal Crossing series by its whimsical look. The in-game money is represented by ALICE tokens. The players can get ALICE tokens by completing tasks, and they are utilized for marketplace purchases.
One of the riskier cryptocurrency games for investors is My Neighbor Alice. After being released, ALICE tokens lost a lot of value, and the game underwent a protracted testing and development phase.
As you've seen some of the best gaming tokens; now, let's move forward and discuss,
Are gaming tokens worth your investment?
Gaming tokens are a dangerous investment, even for cryptocurrencies.
The future of gaming currency is, therefore, quite dubious. It's simple to see the potential of blockchain-based virtual worlds and games. Even if blockchain gaming is successful, it's impossible to predict which, if any, of the existing games will endure.
The conventional advice to conduct research is more crucial than ever for people who choose to pursue crypto gaming as an investment possibility. Gaming tokens don't yet have a proven track record because they are relatively new. To make an informed choice, take your time studying what they have to offer and their objectives.
Conclusion
The list above is well-curated for you if you're looking for the top investment games. It provides information about the top gaming cryptocurrency coins for 2022 and beyond, what you should know about them, and how to find the new gaming crypto tokens. However, conducting in-depth research on each gaming coin is imperative merely to be aware of the Dos and Don'ts before putting any money on the line and going all in.