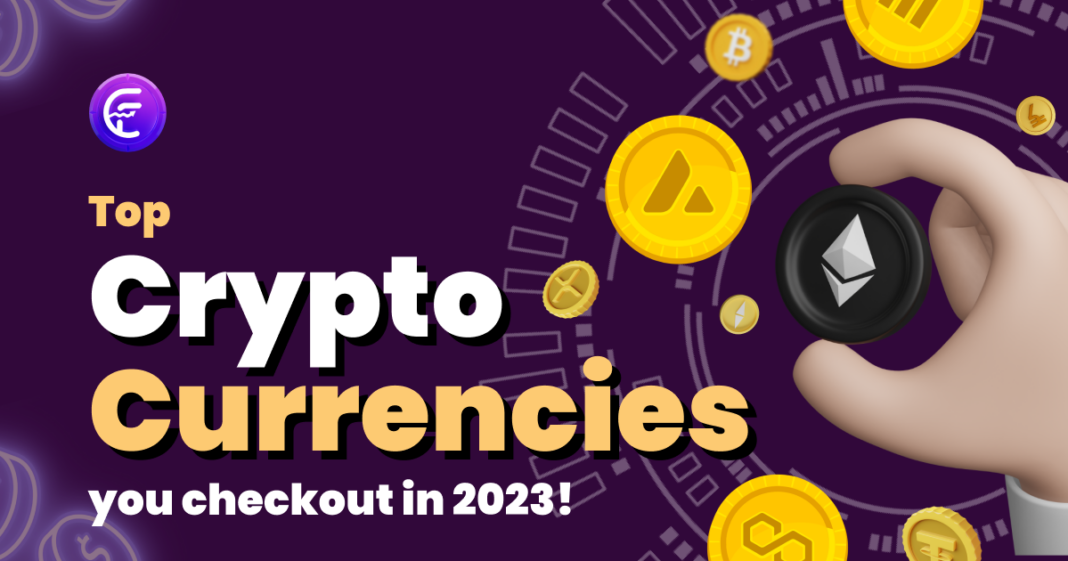 As we all know, since mid-2022, the cryptocurrency market has been plummeting. For cryptocurrency investors, this year wasn't the best. The values of many well-known blockchains fell sharply due to severe technical problems. Extreme losses occurred even among the most prominent participants.
Many investors are attempting to rebalance their portfolios as 2023 approaches by adding digital assets with the highest potential to soar.
Here, we'll share some of the top cryptocurrencies you should buy in 2023. Before the market's recovery phase, there are some must-buys. Additionally, investing early improves your chances of seeing your money grow at a never-before-seen rate.
So, let's get started!
Cryptocurrencies are digital assets that function independently. They make it possible for people to securely complete online transactions without the aid of a third party.
As per the reports, over 20,000 crypto projects together make up a $795 billion market.
But, the key question is what cryptocurrency will be the most popular in 2023.
Let's find out!
Top cryptocurrencies to buy in 2023!
Below is a list of the top cryptocurrencies with the best growth potential in 2023. Take a look!
#1. Ethereum (ETH)
The innovative contract technology was initially introduced on the Ethereum platform. It allowed users to utilize their crypto holdings as collateral for transaction confirmation and earn attractive incentives. At the time of writing, from $11 in April 2016 to $1,120 in November 2022, Ethereum has grown enormously. Fast processing speeds offered by the platform encourage the development of more Ethereum-based technologies. The token will get more and more valuable over time.
#2. Ardana (DANA)
In the Cardano ecosystem, Ardana has evolved to play a prominent role in decentralized finance. It is an all-inclusive package that includes a native decentralized exchange, the DANA token, and the USD stablecoin. Users that bet DANA, which has a 125 million coin supply, will receive attractive benefits. The DANA token also represents the Ardana DEX, which has an on-chain asset-backed stablecoin system and a stable-asset liquidity pool. Staking DANA is a means of assisting the general environment. Cardano's native initiatives will attract more interest as it gains momentum. Additionally, Ardana serves as a hub for other developers to construct atop, giving them access to consistent Cardano liquidity and stakeholder exposure to various yield-generating activities.
#3. Decentraland (MANA)
The digital money used to power Decentraland is called MANA-USD. LAND, avatars, wearables, and other in-game stuff on the platform may all be purchased using the token. However, among the metaverse coins, Decentraland is considered the front-runner. The Ethereum blockchain powers Decentraland, an immersive virtual reality platform. It appeals to people and businesses since it blends gaming, entertainment, and e-commerce components.
Users can create art galleries, concert halls, or other companies or engage in gaming. They might charge people to enter these places, for instance. Using non-fungible tokens, the platform enables users to purchase LAND virtual land tracts (NFTs). 
#4. Polygon (MATIC)
The most well-known layer two blockchains built on Ethereum is Polygon, formerly known as the Matic network. Among cryptocurrency speculators, Polygon is already well-known. However, it is anticipated that this network will expand much more after the Ethereum merger. To broaden its exposure in the cryptocurrency sector, Polygon is also forming partnerships. 
After its 2019 introduction, Polygon's cost varied from $0.01 to $0.03 until 2021. The cryptocurrency peaked in December 2021, but Polygon was also prey to the crypto winter in 2022. However, since June 2022, the value of Matic tokens has climbed by around 18%. The price of Matic tokens may see a bullish market soon if Polygon is able to maintain this growth velocity.
#5. Bitcoin (BTC)
The first and most prominent cryptocurrency that has gained widespread recognition in the crypto verse is Bitcoin. With a strict maximum supply of 21 million coins, it was introduced in 2009 to help with the problems that traditional financial systems confront.
Bitcoin is unquestionably worthy of your attention, particularly in light of the fact that technical assessments indicate it will reach its previous peak by 2025.
#6. Solana (SOL)
Beyond the benefits of staking, Solana has a lot to offer. Scalability, which continues to be a significant problem in the blockchain world, is the emphasis of this effective blockchain. Additionally, Solana continues to rank among the top cryptocurrency by market cap and boasts minimal fees and quick transactions. This impressive locking up of more than 76% of the supply is remarkable. Additionally, as with a number of the other assets on the list, one can stake directly from their hardware wallet. Solana will continue to be viable and appealing as it obtains more traction among NFTs and Defi. 
#7. Uniswap (UNI)
With the use of Ethereum smart contracts, Uniswap makes peer-to-peer trading possible. Within the Uniswap ecosystem, voting and governance are primarily conducted via the digital token UNI. Nearly 90% less than its all-time high price of $44, Uniswap is currently selling at roughly $5. Numerous cryptocurrency analysts contend that Uniswap has more potential for growth, making it among the best cryptocurrencies to make you wealthy.
#8. Avalanche (AVAX)
Among the few blockchains that can scale while maintaining decentralization is Avalanche. To support financial institutions' online activities in the cryptocurrency market, Avalanche was built. A feature known as a subnet will enable it to accomplish this. This allows blockchains to be launched by developers.
AVAX trades for about $11.8.
To sum up!
Most of the cryptocurrencies we've mentioned so far have a massive following.
Remember that the Crypto industry operates in a hazardous environment when looking for the top cryptocurrency you will buy in 2023.
That said, some cryptocurrencies have the potential to increase in value, and as a result, they might be able to produce the desired profits. We hope you got the information mentioned in this blog helpful. And if you did, then share it with others who may find it useful.