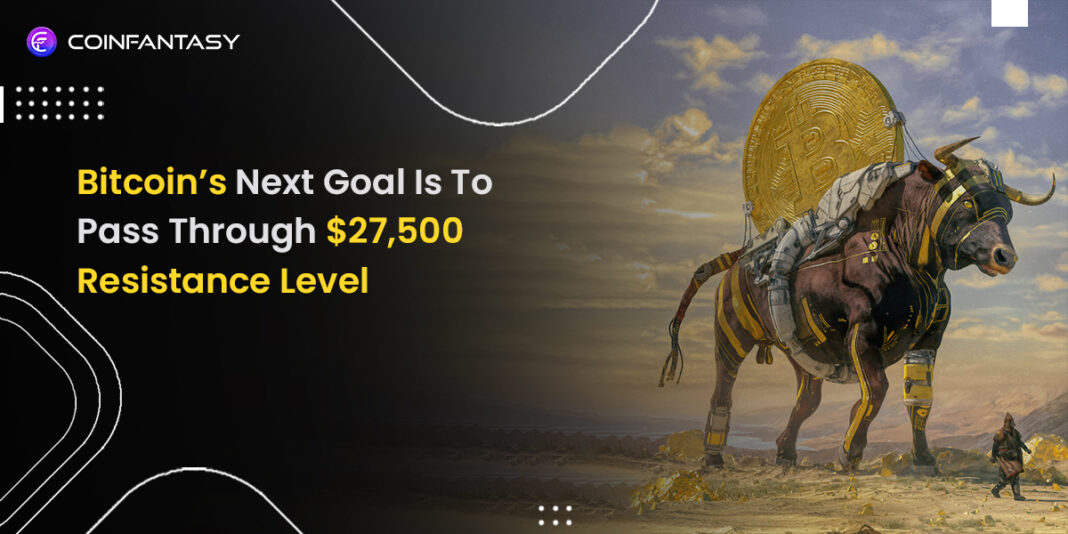 Bitcoin's price has continued to fall below the $27,000 support level. Before the bulls emerged, it fell under the $26,200 barrier. However, Bitcoin's next goal is to perform above $27,500 to make a comeback soon.
The price has finally corrected declines after forming a low at $25,851. Over the $26,500 resistance level, there was a significant gain. On the hourly chart of the BTC/USD pair, there was a breakout over a key downward trend line with resistance over $27,000.
Bitcoin is presently moving above the 50% Fib retracement level of the decline from the swing peak of $28,334 to the low of $25,851. It continues to trade over the $26,500 level as well as the 100 hourly Simple Moving Average.
Around the $27,400 sign, immediate resistance is already emerging. It is near the 61.8% Fib retracement level of the negative move from the swing high of $28,334 to the low of $25,851. The next significant resistance is at $27,800.
A closure beyond the $27,800 resistance level might kick-start a good uptrend. The next significant obstacle is at $28,000, over which the price may rise to the $28,500 resistance.
What could trigger the Price of Bitcoin Beyond $27,500?
Bitcoin crossed the $26,000 support level and is slowly regaining ground.
The price is currently trading over $26,500 as well as the 100 hourly Simple moving average.
On the hourly chart of the BTC/USD pair, there was a breakout over a key negative trend line with a resistance of about $27,000.
If the pair removes the $27,500 and $27,800 resistance levels, it could keep on rising.
Bitcoin (BTC), the world's largest cryptocurrency, has just reached an 11-month high of $30,000 and is now trading in a narrow range at approximately the same levels. One Bitcoin is presently valued at roughly $27,000, when it was nearly worth $69,000 in November 2021.
Bitcoin has seen numerous ups and downs and has begun to move higher, but it is still a long way from its prior all-time high values. It is presently trading around $27,000 levels after falling roughly 2% in a week.
Following last year's devastating November halt, when Bitcoin was trading around $16,000-$18,000 levels, it has since rebounded about 80%; yet, it is still on the downside. BTC is still worth about half of what it was when it hit an all-time high of $69,000 in November 2021.
As you observe, Bitcoin reached a critical level of $30,000 last month in April before falling back to a highly significant resistance level of $29,000. However, this upward trend may not last long as many variables continue to push and pull markets up and down. Bitcoin's next goal is $27,500, which could eventually help it pass through other resistance levels in the future.
Why is Bitcoin Facing Constant Loss Since 2022?
If Bitcoin failed to break over the $27,400 resistance, it may fall further. On the other hand, immediate support is at the $27,000 line and the 100 hourly simple moving average.
The following key support is at the $26,500 level, beneath which the price may begin to fall. In the previous scenario, it may return to the $26,000 level. Any additional declines might push Bitcoin to the $25,500 level shortly. The next significant contribution might be $25,000.
Hourly MACD – The MACD is presently moving towards the positive zone.
Hourly RSI- BTC/USD is presently over 50.
Major support levels are $27,000, next to $26,500.
Major resistance levels are $27,400, $27,800, and $28,000.
What Does the Drop in Bitcoin Say About the Crypto Industry and Investors?
Bitcoin is one of the most popular cryptocurrencies among everyone. Similarly, BTC is the only cryptocurrency that has been widely recognized as a valid payment option, equivalent to fiat currencies, although these organizations are extremely few and far.
Those who make investments in Bitcoin are well aware that digital assets are very volatile and will certainly change even within 24 hours. Investors are certain that as fast as the Bitcoin price falls, it will swiftly rise again.
Market analysts are certain that, given its volatile character, BTC will regain at any phase and demonstrate a price increase at some time. Crypto enthusiasts consider it a helpful financial option that can assist in diversifying their portfolio and provide large returns faster than any other type of investing.
Closing Thoughts
One certain thing is that Bitcoin is unpredictably volatile, with a history of rise and crash fluctuations. So many wonder whether it is wise to invest or not. Furthermore, Bitcoin's next goal is to surpass $27,500 and give hope to investors. However, before making investments in Bitcoin, one should know the fundamentals that will allow them to make economically sound choices.