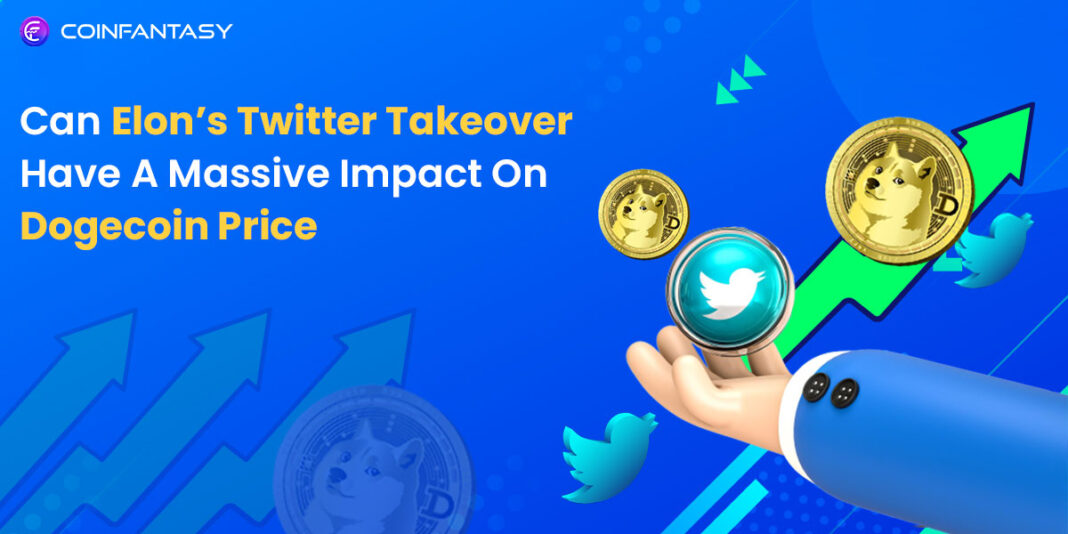 With the announcement that Dogefather Elon Musk will takeover Twitter by soon has increased the Dogecoin price by 24%. According to a report by Bloomberg on October 24, Musk has promised loan bankers helping him with his $13 billion acquisition that the Twitter sale will be finalized by the weekend.
Musk visited Twitter's offices after changing his Twitter bio to "Chief Twit" on October 26.
According to data from CryptoSlate, Dogecoin's market value surged over the course of the last 48 hours from roughly $7.95 billion to over $10.30 billion, reflecting an influx of about $2.35 billion as of press time.
Since its humorous launch by two software engineers in 2013, Musk has, in fact, had a significant impact on Dogecoin's growth. His tweets endorsing the coin, including one that referred to it as "the people's crypto," saw its price rise by approximately 4,000% in 2021, seemingly out of nowhere.
Crypto observers claimed that investor wagers that Musk will integrate Doge into the platform's payment mechanism were what caused the most recent price increase, which came after the Twitter purchase. Doge has inspired several canine-themed coins, most notably Shiba Inu, which shares the same motif as Doge and is built to work with the Ethereum network.
Will the price of Doge rise?
Indeed.
Elon Musk is well-known for his humorous and educational tweets, and he has more than millions of followers on Twitter. His Twitter account has been used to announce developments regarding Tesla, SpaceX, and a number of other projects he is working on. Yet, his statements about Dogecoin have significantly impacted the price of the cryptocurrency.
For instance, Elon Musk tweeted, "One word: Doge" in December 2020. The price of Dogecoin shot up due to this tweet, rising by almost 20% in just a few hours. Dogecoin is the people's cryptocurrency, he stated in a subsequent tweet from February 2021. The price of Dogecoin has increased as a result of this tweet.
There is no doubt that Elon Musk's tweets significantly impact the price of Dogecoin, despite some detractors' claims that they are just a ruse to manipulate the cryptocurrency market. People start to purchase Dogecoin when he tweets about it, which attracts a lot of attention. As more individuals purchase, the price of Dogecoin rises due to increased demand.
It's important to note that other factors besides Elon Musk's comments impact the price of Dogecoin. Other elements like market sentiment, the state of the world economy, and changes in regulatory requirements can also influence the value of the currency. The price of Dogecoin can, however, be significantly impacted by Elon Musk's comments due to his big Twitter following and his reputation as a successful entrepreneur.
How far will Dogecoin make progress?
Dogecoin and Twitter have been connected by Elon Musk, and this love-hate connection is anticipated to continue after the Twitter acquisition. So how would that affect the price of DOGE?
After falling more than 99% over the crypto winter, DOGE's price has been rising this week and is already 100% higher than its monthly low of $0.00574. Technically speaking, Dogecoin's recent ascent is showing indications of weariness as its price encounters significant resistance.
The MACD histogram shows a bullish trend as the MACD line goes above the signal line, and the DOGE price momentum is increasing upward. The ascending rise is consistent with the William alligator trendlines. The DOGE is overbought, with a strong indication of a price reversal and plenty of room for downward price movement, according to the 14-day Relative Strength Index.
Long-term holders have significantly benefited from the surge, but danger signs may be seen in DOGE's price swings on the daily chart.
Final note!
Elon Musk's purchase of Twitter may significantly impact the price of Dogecoin. His tweets are widely read, which might result in a spike in demand for the cryptocurrency and an increase in its price. While other factors that influence Dogecoin's price must be considered, it is evident that Elon Musk's tweets can considerably impact the currency's value.