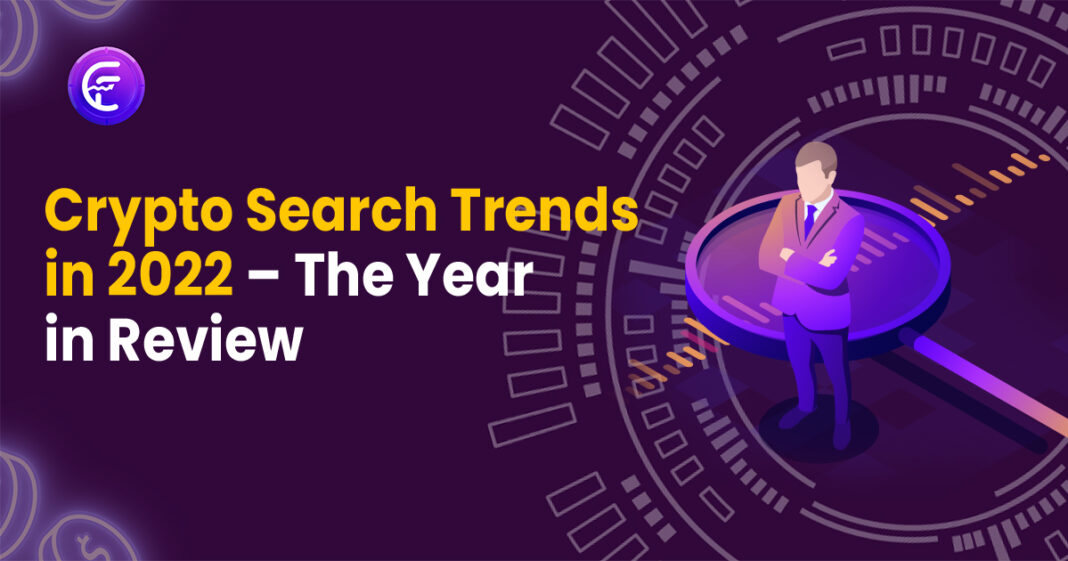 Cryptocurrency has gained enormous popularity and is currently a hot issue. The cryptocurrency market is growing more fascinating as it experiences both all-time highs and significant losses.
It makes sense that people are becoming more interested in crypto trends and want to know how they will develop in 2023.
Also, the interest in cryptocurrencies has increased significantly. Globally, it has grown in popularity. Cryptocurrencies are still a relatively new phenomenon, therefore there is a lot to discover and learn about them.
You'll get a glimpse of 2022's crypto search trends in this blog.
Top Crypto Search Trends of 2022
Following are some crypto search trends:
#1. What are Play-to-Earn Crypto Games?
Play-to-earn crypto games like CoinFantasy, sometimes known as P2E, is a trend in gaming that encourages players to earn money while playing. The development of games with in-game microtransactions as a means of earning NFT or cryptocurrency illustrates the trend. By playing the game more frequently, gamers in these games have the opportunity to receive rewards.
As of last month, there were 40K searches each month for Play To Earn, an increase of 41% over the previous year compared to the year before.
CoinFantasy is one such decentralizest invest-gaming platform where players get to explore the volatility of the cryptocurrencies while earning at zero investment.
#2. Ethereum 2.0
In December 2020, Ethereum 2.0 (also known as Serenity) was introduced (launched) to the commercial world. Its improvement, though, is planned to happen in phases. In the end, the Proof of Stake (PoS) blockchain network's complete switchover to Proof of Work (PoW) demonstrates how the most recent Serenity upgrade has not yet reached its full potential.
What is to be anticipated in 2023? The switchover of Ethereum from PoW to PoS is anticipated to take place in 2023.
#3. How Does the Drop in NFTs Affect Investors?
Over the past year, many people have purchased NFTs as investments or just for fun or happiness. Regardless of the source, the recent decline in the value of the cryptocurrency market has significantly reduced the value of many of those digital assets.
Since NFTs are much riskier and more speculative than crypto, you should probably avoid them, especially as the price of crypto is generally declining. Most long-term investors, according to experts, would be better off investing in bitcoin or Ethereum instead of an NFT with a modest amount of their portfolio (less than 5%, and never at the price of achieving other financial goals).
#4. What is Defi?
Decentralized Finance. The cryptocurrency market has been most heavily covered by DeFi. The idea includes standard financial transactions on the blockchain. Smart contracts make these trades possible.
People searching for "DeFi" have increased their interest in the city by a total of about 5600% since 2017. From conventional lead to derivative creation, the Defi transactions span both.
Yield farming is one of the most well-liked DeFi applications. It entails lending cryptocurrency to other sites in exchange for interest or fresh cryptocurrency. It is often referred to as the method of utilizing DeFi to increase profits.
DeFi has undoubtedly become one of the most well-known crypto search trends that people need to be aware of due to its enormous increase.
#5. Layer 2 Smart Contracts
Smart contracts for Layer 2 (L2) are gaining popularity, and experts believe that this trend will continue. Because they have their own settlement layer, cryptocurrencies like Bitcoin and Ethereum fall under the category of "Layer 1" cryptocurrencies.
Blockchain networks at Layer 1 cannot scale, though. In order to gain higher scalability, it was thought that a different framework (i.e., Layer 2 smart contracts) should be built on top of them. Because they enable the infinite scaling of cryptocurrencies, L2 smart contracts are crucial for achieving widespread adoption of cryptocurrencies.
#6. Crypto Crash
Although 2021 was a fantastic year for crypto and NFT fans, no cryptocurrency investor or even miner would want to look back on 2022. The values of the majority of cryptocurrencies fell precipitously during the year. The market became much more erratic after the Terra-Luna catastrophe. The worst came when the cryptocurrency exchange FTX filed for bankruptcy, though.
The FTX fraud was the worst incident to occur in a market that was already in trouble. Additionally, Ethereum transitioned from proof of work to proof of stake, which is a major setback for cryptocurrency miners, especially those who have just made large investments in GPUs and mining equipment.
#7. What is Move to Earn?
The idea behind Move to Earn, also known as M2E, is to encourage people to move more in order to enhance their general health and well-being. Users that participate in activities like exercises, running, or walking are rewarded with cryptos in move-to-earn games.
#8. What is Yield Farming?
A DeFi (decentralized finance) investment method known as "yield farming" is lending or staking cryptocurrency or tokens in order to produce significant returns. By keeping their cryptocurrency in a liquidity pool, yield farmers generate passive income.
As of last month, there were 8.1K searches each month related to yield farming, an increase of -16% in interest over the previous year.
#9. What is Crypto Staking?
Staking cryptocurrency is a method via which holders of cryptocurrencies can get benefits. Users can benefit from the network by participating by receiving a portion of the block rewards by securing money in a staking wallet. As of last month, there were 13K searches each month for "Crypto Staking," an increase of -24% in interest from the previous year.
In recent years, the crypto market has been erratic. Being properly informed about cryptocurrency trading and market fluctuations will help you choose the best investment because the crypto industry is full of trends like these. Although there will be more innovation in this field, here are some current tendencies in the crypto realm. People are making investments and enthusiastically embracing these trends. You should definitely keep an eye out for these developments.
Conclusion
It is essential to keep an eye out for crypto search trends given the explosive rise of cryptocurrencies in 2022.
One might anticipate the emergence of a more clearly defined regulatory framework with the single-minded goal of bridging the cryptosphere with established financial institutions.
However, cryptocurrency will spread throughout society. Therefore, one must take the chance!