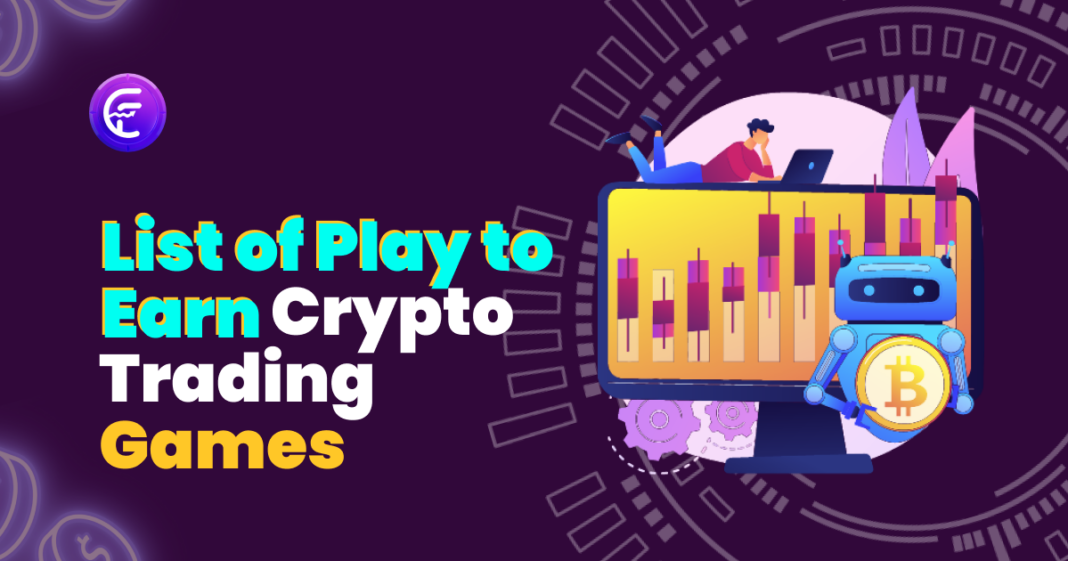 Crypto trading is an investment strategy that is gaining popularity worldwide. The popularity of web3 is rising with big names like Instagram, Reddit, Starbucks, etc., adopting it, and crypto trading games are also catching on. Crypto trading games allow each player to earn regardless of their experience or prior experience. Further, it does not involve the risks usually associated with crypto trading.
In this article, we look at what crypto trading games are and check out their pros and cons. Our final discussion focuses on the future of crypto trading games.
What is a Crypto Trading Game?
Crypto trading games are those where the international crypto market is used as a reference in a gaming environment. The movements of the tokens will be similar to that of the real crypto market, but the implications are different since it is just a game.
The best crypto trading games allow players to earn rewards which include in-game assets, NFTs, or cryptocurrencies. The terms and conditions would be clearly mentioned on the respective game website.
The best part of crypto trading games is that it stimulates the crypto trading environment just as it is on the real market. So players get a similar experience while playing these fantasy trading games. Besides, there are no risks involved in these games as the real markets.
Future of Crypto Games
Gaming is one of the world's biggest media categories, already ahead of categories like film, TV, and music. However, most traditional games have centralization at their core. Game developers and publishers hold every right from game revenue, to the game advertisement, subscriptions, and digital items.
In traditional games, users are required to invest in these games apart from their subscription fee. For instance, players have to buy items, make upgrades, and add-ons which give more revenue to the developers.
With crypto games, this scenario takes a U-turn. Players have a role to play in creating value through blockchain. In many games, NFTs are commonly used for this value transfer.
Crypto games are already surging in popularity. As the world is edging closer to digitization, many people see gaming as a career option. For instance, many gamers in the Philippines are reported to earn money from blockchain gaming alone.
Hence, the future of crypto games looks bright. Emerging economies and web2 brands are rapidly adopting web3 and crypto games will play a huge role in it too.
Pros of Crypto Trading Games
Earning potential
Play-to-earn or P2E crypto trading games allow players to generate income from their gaming efforts. In most p2e crypto games, you have to complete certain tasks, accomplish certain levels or finish with a certain rank to win rewards.
Real-world value
Unlike conventional games, fantasy trading games allow you to earn value from games and change it into useful currency. For instance, you can earn CoinFantasy tokens by winning CoinFantasy contests and later convert it to your preferred currency.
Low-risk factor
Best crypto trading games allow you to learn crypto trading without facing the high-risk factors of crypto markets. In these games, you don't risk losing your life investments if the prices of a currency fall. However, if your preferred token rises in value, you stand a chance to win rewards.
Easy to play
Most crypto trading games don't require you to own sophisticated gaming equipment or ask you to install anything special. Anyone with an internet connection can take part in such games. You can log in from anywhere, and join any contest on the platforms. Also, you don't need prior gaming experience to start playing a crypto game.
Cons of Crypto Trading Games
Volatility
Cryptocurrencies are highly volatile, which means your likelihood of predicting the accurate crypto token performance is low. Cryptocurrency prices are influenced by a variety of reasons which makes them hard to predict.
Games focus on earning
Games involve entertainment, but crypto trading games may feel boring to some because it is purely numbers game. Play-learn-earn crypto trading games lack that audio-visual appeal.
CoinFantasy's Crypto Trading Game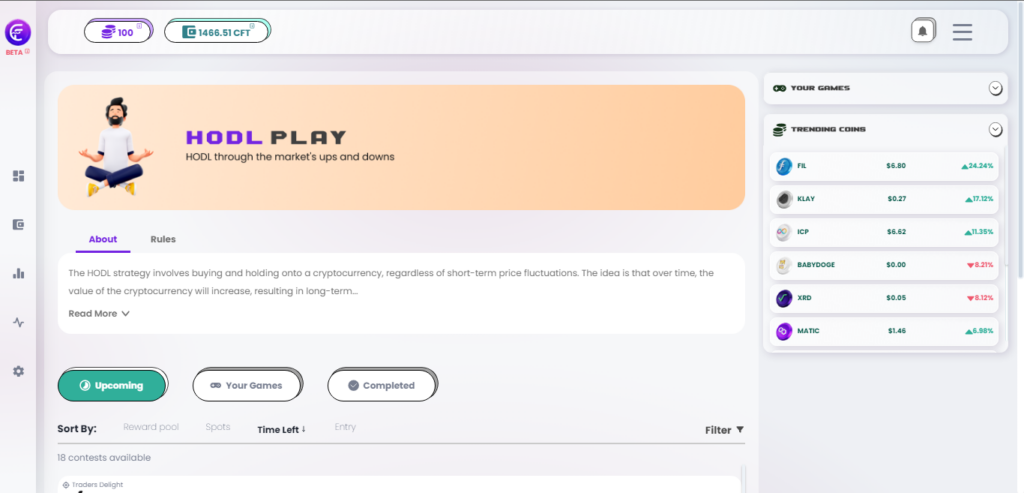 CoinFanstasy is a decentralized blockchain-based gaming platform where you can play a fascinating crypto trading game. It uses Avalanche integration to give you smooth gaming experiences and has big prizes in store for those who win contests.
Playing CoinFantasy is similar to managing your portfolio—you can pick certain coins which you're sure to perform well. Based on how well your coins perform, you can move up the leaderboard and stand a chance to win contests to earn CFTs or CoinFantasy tokens.
Remember that CoinFantasy employs a no-loss gaming model. In other words, you don't need a budget to get started. You can win contests and keep progressing without losing your money.
Final Words
As you have seen above, crypto trading games are a rising category of blockchain games that offer plenty of advantages to players. You can participate in crypto trading without risking the loss of your possessions. Meanwhile, as you progress, you can learn how to deal with the real crypto markets. However, the only concern is the fluctuating nature of cryptocurrency which makes accurate prediction difficult. Also, the best crypto trading games involve numbers and lists and have no visual or audio aspect which many gamers may not like.
If you're looking to get started on your crypto fantasy gaming journey, head over to CoinFantasy. It is the world's first play-to-earn crypto fantasy trading game where you can earn big rewards every week!