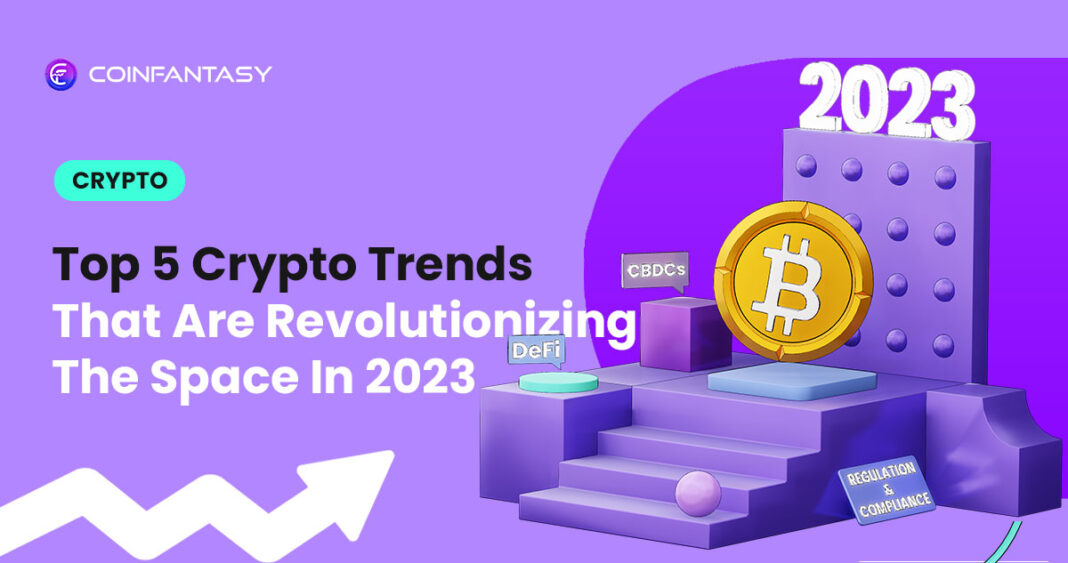 The cryptocurrency sector is no stranger to upheaval, and the last year has been nothing short of a crazy journey. Bitcoin and other cryptocurrencies have seen its fair share of difficulties, ranging from fraudulent schemes to price drops. But keeping a tab on crypto trends is mandatory to have a great DeFi experience.
Its robustness and long-term viability have been called into question. Despite the pandemonium, one clear reality remains: the digital currency sector attracts 320 million individuals globally.
In this article, we go deep into the ever-changing cryptocurrency ecosystem to find the main trends influencing the sector in 2023. Let's get started.
Top 5 Crypto Trends to Lookout for in 2023
Below given crypto drifts are most noted by crypto enthusiasts globally. This brings many changes in the crypto market.
Bitcoin ETFs: Bringing Bitcoin to the People
The idea of a Bitcoin Exchange-Traded Fund (ETF) is once again in the spotlight, amidst excitement and expectation. With financial behemoth BlackRock joining the ETF competition, chances for SEC approval are skyrocketing, possibly providing regular investors simple access to Bitcoin as an asset.
As one of the major crypto trends, it may potentially attract sophisticated investors such as family offices looking for regulated and safe Bitcoin exposure.
While a recent court verdict in favor of Grayscale did not guarantee a Bitcoin ETF, it did spark a surge of confidence, culminating in the liquidation of over $80 million in Bitcoin short positions and a two-week high for Bitcoin at $27,322.
🚨 JUST IN 🚨

The D.C. Circuit ruled in favor of @Grayscale in our lawsuit challenging the SEC's decision to deny $GBTC's conversion to an ETF!

Thank you to everyone who has been on this journey with us, especially our investors. We are grateful for your support and…

— Sonnenshein (@Sonnenshein) August 29, 2023
The first Bitcoin ETF appeared on the New York Stock Exchange in 2021, marking a significant milestone. The development is a new and more traditional method of investing in cryptocurrency.
Investors may acquire cryptocurrencies directly from regular investing brokerages using the BITO Bitcoin ETF. This may be done from existing accounts such as Fidelity or Vanguard.
However, other experts argue that the BITO ETF is insufficient since it may not own the cryptocurrency directly, even though the fund is tied to Bitcoin. Bitcoin futures contracts are held by the fund.
According to experts, while Bitcoin futures follow the overall patterns of the actual cryptocurrency, they may not accurately mirror the price of Bitcoin. As a result, investors may wish to continue waiting for a Bitcoin ETF.
The SEC has previously examined ETF clearance in this setting, but BITO is the first to receive support. Ultimately, investing in a crypto ETF like BITO is equally dangerous as any other cryptocurrency investment.
Real-World Assets Tokenization
Tokenizing real-world assets (RWA) is transforming cryptocurrency. Consider owning a portion of a high-value artwork or a stake in a commercial building using digital tokens. This notion democratizes investing by making assets like art and real estate available to a wider audience.
ABN AMRO, Siemens, and Hamilton Lane are among the institutions that have previously issued digital bonds and tokenized private equity funds. Due to blockchain's ability to fractionalize ownership, experts anticipate that RWAs might reach their $16 trillion potential by 2030. This is one of the crypto trends that will have a great impact on the industry. 
One crypto sector is estimated to reach $16 Trillion by 2030:

Real World Assets.

This will be the CATALYST for mainstream Crypto adoption.

Here's your 2023 guide to RWAs (and the top protocols): pic.twitter.com/bGudNQX0zq

— Edgy – The DeFi Edge 🗡️ (@thedefiedge) March 30, 2023
Decentralized Social Networks (SocialFi)
According to reports, SocialFi is threatening the supremacy of Web 2.0 behemoths like Facebook and Twitter. SocialFi promotes user privacy and asset security by combining social networking with decentralized financing (DeFi).
This next generation of social networks uses blockchain, NFTs, and DeFi to reimagine social media. With the SocialFi industry projected to be between $2 to $20 billion, businesses like Friend.tech have grown in prominence quickly. Krafton, the PUBG developer, has also joined the blockchain arena with Settlus, which aims to provide transparent settlements for content providers.
the company behind @PUBG (Krafton) announced they're launching a cosmos chain.https://t.co/ItSnDiEhag

— josh lee (@dogemos) September 4, 2023
Zero Knowledge: Privacy Protection DeFi
Zero-knowledge proofs (ZKPs) are being heralded as the future of DeFi. These cryptographic techniques allow parties to demonstrate the veracity of a statement without disclosing further information. ZKPs enable privacy-preserving transactions in DeFi, increasing security by obscuring transaction data.
ZKP innovations such as zk-SNARKs and zk-Rollups are leading the way as one of the major crypto trends. zk-SNARKs have been successful in privacy-focused cryptocurrencies such as Zcash, whereas zk-Rollups address scalability difficulties by bundling transactions. Vitalik Buterin, the founder of Ethereum, has praised zk-Rollups, claiming they might be a game changer for Bitcoin and Ethereum.
Crypto Regulation: Creating a More Secure Future
Cryptocurrency legislation is taking form throughout the world to safeguard investors and prevent fraudsters. Lawmakers all around the world are developing regulations and standards for the cryptocurrency business. For example, in the United States, a bipartisan infrastructure plan contains crypto tax reporting requirements, making it easier for the IRS to trace crypto activities.
These rules are intended to assist investors in keeping track of financial gains and losses, and they may have an impact on cryptocurrency values. While regulatory pronouncements increase volatility, experts think that prudent regulation would eventually benefit the business by establishing a safer environment for all players.
Furthermore, India's (G20) presidency has addressed critical problems connected to regulating crypto assets or acknowledging the need for a framework to deal with them.
While the bear market has recently had the upper hand, the crypto universe is recognized for its quick development. The bull market might re-emerge at any time.
However, as crypto trends grow, so do concerns about fraud and environmental effects. These worries appear to be heralding a new age of tougher rules. While these restrictions may disrupt the environment, they also have the potential to improve stability and confidence in the cryptosphere.
Today, more businesses are firmly embracing cryptocurrency. Behemoth companies such as Disney, Microsoft, Google, and Apple have made their forays into the crypto arena. Furthermore, there is a surge in the dynamic use cases of crypto assets, such as NFTs and metaverse integrations.
In this context, for example, Microsoft is now developing a 'SharePoint '-based solution that will allow workers to engage with one another more effectively, regardless of their actual location. The 'Virtual Office,' a blockchain-based concept, is anticipated to increase the vitality of business engagement.
Furthermore, as corporate enterprises' interest in crypto expands, more use cases for crypto goods and services may emerge.
What Impact will the New Legislation have on Investors?
The $1.2 trillion bipartisan infrastructure plan approved by the United States president in 2021 includes crypto tax reporting features that are likely to make it simpler for the IRS to trace crypto activity among Americans.
The new legislation is anticipated to assist investors in keeping track of capital gains and losses on their crypto assets. Furthermore, the new guidelines may make it easier for investors to legally disclose crypto transactions.
Regulatory pronouncements may have an impact on cryptocurrency prices in already chaotic markets. Many experts, however, maintain that regulation is beneficial to the sector. In the end, reasonable regulation will be a game-changer for everyone.
Closing Thoughts
Over the previous few years, the cryptocurrency market has been nearly utterly unexpected. Although the bear market has been in charge for the previous few months, the bull market may retake control shortly. The future of cryptocurrencies will be volatile, but the crypto trends appear to be favorable, and the moment is right to venture into the crypto area.