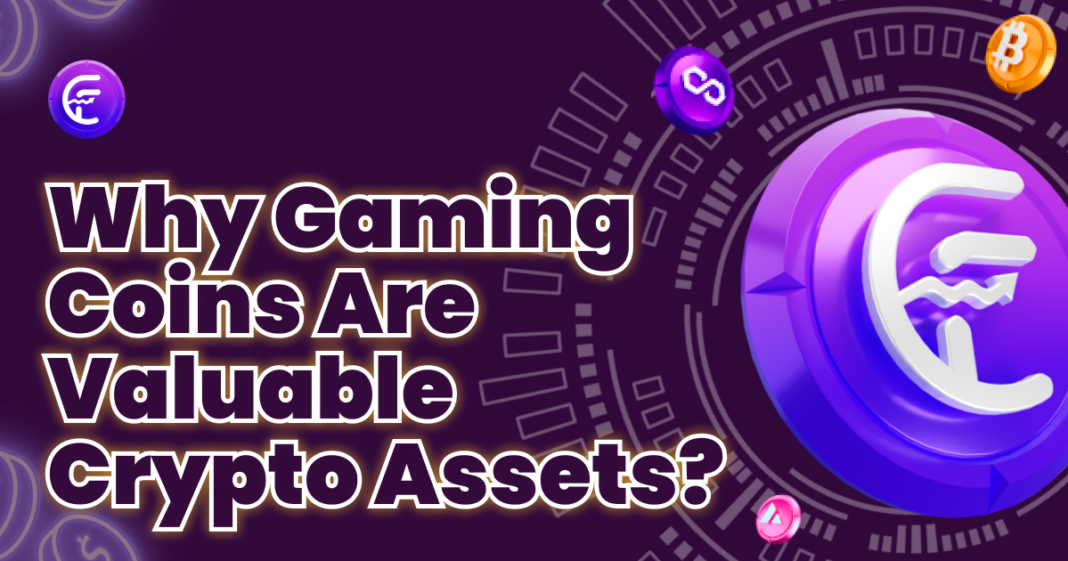 As cryptocurrency has gained popularity, game developers have started taking notes and creating titles based on blockchain technology.
Still, in its infancy, the crypto gaming industry has attracted a dedicated following. Decentralized gaming aims to give players unattainable independence in conventional gaming environments.
With crypto assets, the conventional concept is turned on its head and everyone can own a small portion of the game. Imagine transferring earnings or purchases made in one game to another or owning the crypto assets you make while playing. All of this is made possible by Crypto gaming, which gives digital assets monetary worth.
Read on to discover what gaming coins are and why they are significant crypto assets.
Let's start with,
What are Crypto Assets?
Crypto assets don't reside on a centralized server, as in conventional games. Instead, the XP, weapons, and skins you earn while playing crypto games are yours to keep. When you finish playing a game, you don't have to lose all of your in-game possessions; instead, you can trade, sell, or take them with you.
What are Crypto Gaming Coins?
Players of a game can buy the aforementioned in-game things with cryptocurrency gaming coins. These digital game coins have recently grown in popularity and evolved to become one of the best investment prospects because of their high demand, distinctiveness, diversity, and use.
Investors are pouring money into this new category of cryptocurrency designed for blockchain gaming as video games and cryptocurrencies combined through crypto gaming coins are trending.
Coins used for cryptocurrency gaming are closely linked to another thriving crypto-based business that is governed by non-fungible tokens (NFTs). The concept of a crypto gaming token is used by most blockchain-based games including CoinFantasy, the well-known gaming platform that lets players take advantage of their play-to-earn paradigm.
In this manner, investors participate in the NFT world, which is lucrative in and of itself, by investing in cryptocurrency game currencies. Thousands of participants have also won numerous real money prizes through blockchain games like CoinFantasy.
Moving ahead, let's discuss this,
Benefits of Crypto gaming coins
The following are some:
#1. Ownership
Your in-game assets would have been in the gaming company's possession if not for tokens. Put another way; they have the authority to manage or dispose of that asset. You can only observe that from a distance.
However, you now have the chance to demonstrate your ownership of those assets thanks to trending gaming tokens. This ownership may be quite helpful in the event of failures and hackers. Additionally, you are not required to start over if you decide to set up several accounts for a particular reason. Games may more easily request that you connect your wallet and bring all of your earned and owned assets with you by doing this. 
#2. Acquisition
The total transparency of blockchain transactions greatly facilitates cross-brand promotions. Let's say you develop a game and think it is superior to all of your rivals. To advertise that, you can run hyper-niche campaigns.
#3. Monetary rewards
In the Country, several people have chosen P2E gaming as a respectable job path. That is the extent of the potential. The players can be amused while also having the possibility, if necessary, to choose these games as their full-time jobs.
As you've seen the benefits; now, let's move forward and discuss,
Important Gaming Coins Aspects
It's crucial to comprehend the economic structure of a crypto-gaming project. The following criteria can be used to gauge a coin:
#1. Performance
The top 5 Crypto gaming coins projects by market cap as of March 2022, as per Footprint Analytics, are Decentraland, Axie Infinity, The Sandbox, Defi Kingdoms, and Illuvium.
Playability and a positive user experience are equally important. The game has released gameplay trailers with gorgeous visuals and complex game characters, even though it isn't yet officially online.
#2. Utility
Players are more drawn to gaming coins that have a wider range of applications. Most games have tokens for daily quests, in-game leveling up, purchases, PVP, and other activities. These tokens can also be staked for extra NFTs or token rewards.
The coin will develop greater capabilities by expanding the use cases outside of the game, such as trading on the secondary market and integrating with other projects to generate revenue, among other things.
#3. Distribution
It is also interesting how the team distributes coins, giving the community greater weight in order to increase player preference.
The project is significantly impacted by an effective allocation process. Community involvement is ultimately what makes a game effective.
#4. Issuance & burning
While an unlimited economic model may result in token devaluation and cause participants to lose trust in holding them for a long time, a realistic and constrained issuance amount might prevent token inflation.
Active burn mechanisms can aid in price stabilization, and destruction processes are crucial for limiting inflation.
What Roles Will Crypto Gaming Play in the Future?
Crypto gaming is here to stay and has the potential to change the way we play games. The significance of blockchain in gaming is in its capacity to establish a mini-economy within a game that lets users buy and trade Crypto assets.
Undoubtedly, crypto gaming will draw more gamers to the category. There's a significant likelihood that decentralization and blockchain technology will shape the future of gaming.
But,
Can You Make Money in Crypto Gaming Coins?
Anyone who participates in web3 and invests in gaming platforms may find gaming currencies beneficial. And we are aware that some gaming coins have shown significant gains in recent years, even when used outside of their original platforms. It is obvious that they could be a wise investment.
However, purchasing a gaming coin entails much greater risk than buying cryptocurrencies as a whole. The corresponding gaming platform is mainly responsible for these coins' success.
Therefore, while investing in gaming coins and other cryptocurrencies might be beneficial, it is also very speculative. Consequently, it is advised that you keep your investment in them to a modest fraction of your portfolio if you do decide to do so in order to lower your overall risk.
Conclusion
There is no lack of Crypto assets as more money enters the GameFi market.
Crypto gaming coins are still in their infancy compared to more advanced traditional games. However, it does create a new blue ocean in the red sea of the playing field because of its financial benefits and high level of community involvement.
Your character and what is most important to you ultimately determine the outcome of your investment. Before making an investment in blockchain gaming, it might be a good idea to spend some time researching the top crypto gaming coins if you enjoy playing video games and find the industry to be intriguing.