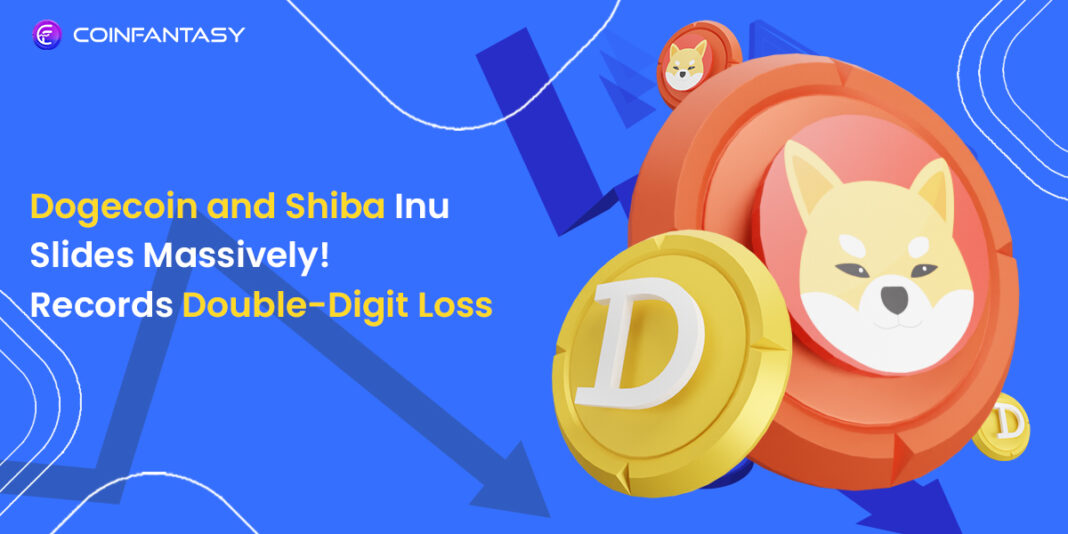 The fall of crypto interest has caused Dogecoin and Shiba Inu to struggle, significantly impacting their performance in the recent past. These meme coins have suffered remarkable losses among the most prominent cryptocurrencies.
Dogecoin lost all of its gains from the prior week due to a 12.8% drop in price over the last week. On the 24-hour chart, it is not doing any better either. The meme coin has recently dropped 2.8%, putting it perilously close to another test of its $0.07 support level.
Shiba Inu has experienced the same fate as DOGE's intense competitors, as bears have relentlessly pressed down on its price. SHIB's price, on the other hand, has dropped more than 11% in the past week, causing its worth per coin to fall by $0.00001084.
While there is a 0.64 price link between Dogecoin and the most valuable digital currency, Bitcoin (BTC), the trend might only last for a while. Meanwhile, 74% of all DOGE holders are regarded as long-term investors holding their shares for at least a year.
On the other hand, Shiba Inu has a 66% long-term investment rate, whereas the correlation with Bitcoin is currently only 0.6. When Shibarium, the Layer-2 solution, finally drops, it is anticipated that only 30% of present SHIB investors will be profitable.
Why Is Dogecoin Losing Ground?
The proposed liquidation of Silvergate Capital Corp. has weighed on banks with cryptocurrency exposure, which has resulted in a notable decline in the overall cryptocurrency market.
After the company's announcement that it will voluntarily liquidate Silvergate Bank and wind down operations, Silvergate shares are falling and taking cryptocurrency with them on Thursday. With the crypto-related company, several popular cryptocurrencies are falling in value.
The liquidation strategy for Silvergate calls for complete payback of all deposits. The business added that it is thinking about the best ways to handle claims and protect the remaining value of its assets.
The reports state that DOGE's 52-week high is $0.178, and its 52-week low is $0.049.
Do You Think the Prices of Dogecoin and Shiba Inu will Increase in 2023?
Whether the prices of Dogecoin and Shiba Inu will increase once more in 2023 is difficult to say with precision. Both cryptocurrencies are incredibly erratic and prone to sudden price changes. These changes can occur for several reasons, such as modifications in the market, breaking news, or investor sentiment.
Shiba Inu's price, however, may range between $0.000016 to $0.000024 in 2023, according to specific pricing forecasts, whereas Dogecoin's price is trickier to forecast. It's key to remember that investing in cryptocurrencies entails a high level of risk. Before purchasing any cryptocurrency, including Dogecoin and Shiba Inu, investors should carefully consider their investment objectives, risk tolerance, and financial situation.
According to the SHIB token price forecast, the Shiba token might be worth $0.00004930 in 2025. According to reports, Shiba Inu's price for 2030 ranges between $0.00018 and $0.00028, and the average price of SHIB should be around $0.00023. 
Is it Profitable to Invest in Dogecoin and Shiba Inu?
Any investment decision, including those made in cryptocurrencies like Dogecoin and Shiba Inu, must be focused on thorough research, examining market trends, and assessing your risk tolerance and financial circumstances.
It is crucial to remember that buying cryptocurrencies can be risky and speculative and that their prices fluctuate wildly. Although it is possible to lose all of your investment, it is also feasible to gain substantial profits. Hence, before making any investment decisions, it is crucial to grasp the inherent risks fully.
Additionally, several variables, such as market sentiment, institutional adoption, legislative developments, and technological improvements, can impact the value of cryptocurrencies like Dogecoin and Shiba Inu. To make wise investing selections, staying current on these factors is critical.
Cryptocurrency investing may prove profitable in the future, but it's vital to proceed cautiously and only invest money you can afford to lose. Before making any investment decisions, it is always advisable to do proper research.