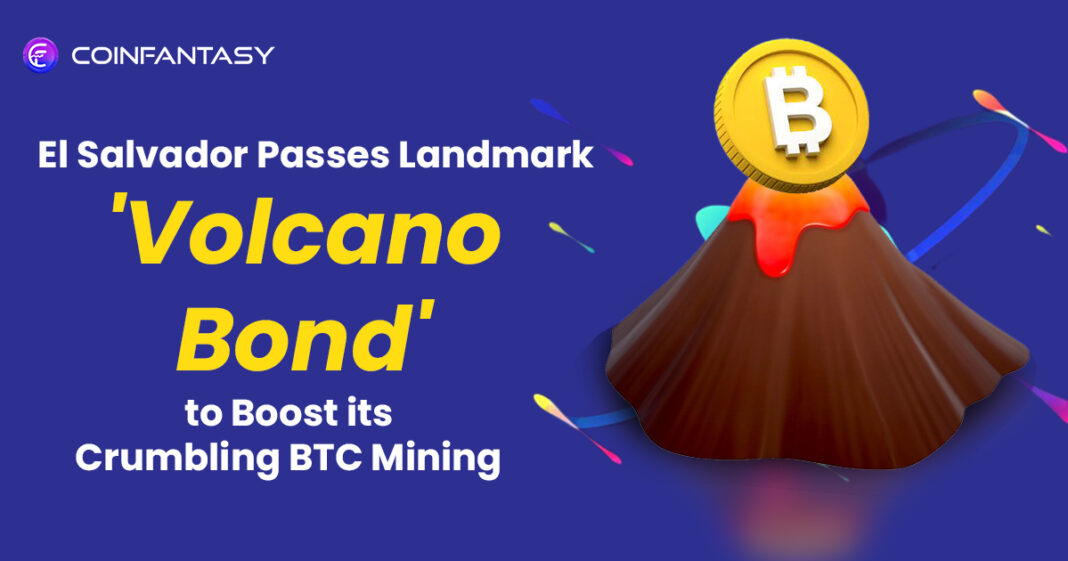 In 2021, El Salvador's President Nayib Bukele declared that the Central American nation, which had made bitcoin (BTC) legal tender earlier that year, into intending to raise $1 billion using bonds backed by the digital currency. The money was to be used for, among other things, developing a bitcoin mining industry reliant only on renewable energy generated by the country's active volcanoes. The proposed paper quickly took the name 'Volcano Bonds'.
El Salvador enacted a historic law establishing the legal foundation for a Bitcoin bond called a "Volcano bond" which will indeed be used to pay off the debt owed to the government and finance the creation of "Bitcoin city."
El Salvador Passes Landmark 'Volcano Bond' – What Will It Offer?
The Volcano Bonds, or Volcano Tokens, would enable El Salvador to raise money to pay down its sovereign debt, support the development of the Bitcoin City, and establish infrastructure for bitcoin mining, according to cryptocurrency exchange Bitfinex, which provided the bonds' technology.
The country's Bitcoin City, which is slated to become a center for renewable cryptocurrency mining driven by hydrothermal energy from the close-by Conchagua volcano, is where the bonds' volcano description originated.
The bill establishes a new regulatory body that will be in charge of enforcing the securities laws and offering protection against dishonest actors. It also includes a legal framework for all digital assets generated on platforms other than Bitcoin.
Bitcoin City: The Aim!
The goal of Bitcoin City is to give its citizens a new way of life that is exempt from income, property, and payroll taxes.
Through Bitcoin City, El Salvador hopes to usher in a new era of green mining, renewable energy sources, and digital education. When the city is built, it will be powered by geothermal energy and have a goal of producing no carbon dioxide emissions.
Bukele compared his idea to the towns built by Alexander the Great, saying that Bitcoin City would be circular, have an airport, neighborhoods, and commercial spaces, as well as a central plaza that would appear to be the Bitcoin symbol from above.
Bukele, a tech-savvy 40-year-old, who in September declared himself the "dictator" of El Salvador once said:
"If you want Bitcoin to expand across the world, we should establish some Alexandria."
President Bukele Increases His Support for Bitcoin
President Nayib Bukele of El Salvador, which only has 6.3 million people, declared in September 2021 that he would make Bitcoin legal tender there.
Despite the resistance of many of his compatriots, he has since increased his commitment to Bitcoin.
Bukele promised to purchase one Bitcoin daily, even during the 2022 crypto winter, increasing the nation's current holdings of 2,300 BTC.
Following the denial of an IMF loan, the nation is likely to proceed rapidly with the issue of bonds to pay $667 million in maturing obligations.
What Lies Beneath?
The direction that the cryptocurrency markets take will determine what happens to the nation's future and its bitcoin bet.
"In the not too distant future, if Bitcoin's price increases, to say $1,000,000 or more, then El Salvador's Bitcoin bet does succeed, and other countries which have no own currency may adopt Bitcoin as a legal tender and follow El Salvador's path," said Hitesh Malviya, founder of itsblockchain.com in a press engagement.
It is no surprise that the El Salvador case will be used as a poor example if the cryptocurrency market stays as unpredictable as it is now or declines even further. Many experts have previously described such a move as being extremely dangerous and speculative.
Bitcoin City's Benefits for the People Of El Salvador
It is difficult to discern whether the citizens of El Salvador will profit from the crypto city because the entire financing approach is predicated on the future rise in the value of the BTC. The loaned capital will be returned with a profit if the value of BTC rises sufficiently.
If that's not the case, or if there is a global financial crisis at the time of repayment that destabilizes the value of the credit or it is no longer used in some countries, the people of El Salvador would be required to pay a multi-million dollar debt with fiat money totaling roughly $1.65 billion.