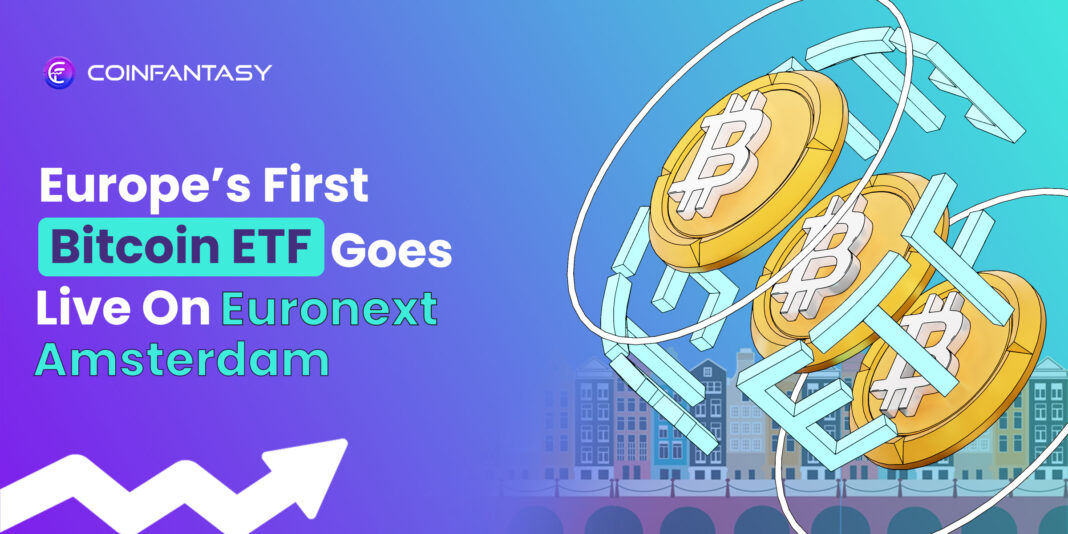 Following the most anticipated release of Jacobi Asset Management's Jacobi FT Wilshire Bitcoin ETF, Europe will be pleased with its first Bitcoin ETF.
The London-based digital asset administration business said on August 15 that its new investment offering will go live on the Euronext Amsterdam stock market, more than a year later than expected.
As previously stated, the public offering was billed as the initial spot or physical-backed Bitcoin money, giving participants access to a financial asset that is backed by BTC.
The new exchange-traded fund will be traded under the symbol BCOIN, and it was authorized by the Guernsey Financial Services Commission in October 2021. Fidelity Digital Assets, as previously reported, will manage the custodial aspects of the BCOIN ETF. 
BREAKING: 🇪🇺 Europe's first #Bitcoin spot ETF has officially launched.

— Bitcoin Magazine (@BitcoinMagazine) August 15, 2023
Martin Bednall and Others Comment on the Launch of the First Bitcoin ETF
Jacobi Asset Management (Jacobi) has launched Bitcoin ETF in Europe on Euronext Amsterdam. The Jacobi FT Wilshire Bitcoin ETF is the first decarbonized digital currency fund by SFDR Article 8. Jacobi has established a verified integrated Renewable Energy Certificate (REC) approach allowing financial institutions to make money from Bitcoin while simultaneously achieving ESG objectives.
"It is thrilling to know that Europe is going ahead of the US in allowing Bitcoin trading for financial investors who seek secure, reliable means of enjoying the advantages of digital assets using recognizable and authorized structures like our ETF," said Martin Bednall, CEO of Jacobi Asset Management.
Unlike other debt-based products on the European marketplace, our fund effectively owns the fundamental business. Jacobi is happy to have Tier 1 partnerships at the top of this digital asset market transformation, as well as to be developing a creative, ecologically sound option for European investors.
"The initial public offering of the Jacobi FT Wilshire Bitcoin ETF is a significant turning point for the field of digital assets and an era of change for the global economic sector," said Mark Makepeace, CEO of Wilshire Indexes. "We are delighted about our collaboration with Jacobi, and as a pioneer in the development of institutional quality digital asset standards, we are dedicated to accelerating the evolution of the whole digital asset ecosystem."
The Jacobi FT Wilshire Bitcoin ETF provides an ESG-aligned digital asset solution, allowing economically conscientious ETF buyers to include Bitcoin in their investing portfolio while also independently auditing the environmental claims. Jacobi's approach is distinct from offsets for carbon solutions in that it quantifies Bitcoin's electricity use in the ETF and purchases equivalent RECs, the specified mechanism for obtaining clean power. This gives openly recorded digital verification of RECs on a blockchain.
"The carbon reduction in crypto is one of the greatest obstacles affecting the emerging digital assets field, and there is growing competition for each company to have realistic strategies to decarbonize," said Kirsteen Harrison, Environmental Manager at Zumo. "We've been collaborating with Jacobi Asset Management to assist them develop an ESG-aligned, secure-for-the-future crypto service for its consumers. It's thrilling to see it bring to fruition in the form of Europe's first Bitcoin ETF. We're developing investing products for the future – what an exciting time for the industry."
Kennedy Van der Laan attorney Emanuel van Praag stated, "We feel honored to have supplied legal guidance to Jacobi AM in its launching of the first SFDR Article 8 digital assets fund."
Europe Takes the Initiative, but US Policy Stays Ambiguous
The inability of the Securities and Exchange Commission (SEC) to approve a similar product, citing worries of possible manipulation of the markets, was a big talking topic in crypto communities before the debut of the spot ETF.
Bednall saw it as a stimulus for more acceptance, noting that the EU is currently taking a position of strength against the US in establishing a secure, regulated, and welcoming marketplace for Bitcoin.
Following the submission of BlackRock and other institutional investors such as Fidelity, Valkyrie, and others, Bitcoin supporters in the United States are highly hopeful about the likely acceptance of a spot Bitcoin ETF.
If the US approves a spot BTC ETF, experts predict significant adoption of assets able to ignite an entirely new phase marked by new liquidity and large volumes.
The asset's price has remained steady since its introduction in Europe, with it now trading at $29,122 at the time of this writing, while Ethereum (ETH) is trading at $1,821.
Closing Thoughts
While Europe introduces its first Bitcoin ETF, the US seeks to postpone the inevitable launching of one. Last week, the SEC postponed its judgment on whether to accept or refuse Cathie Wood's ARK Invest spot Bitcoin ETF proposal, keeping many investors wondering when one will be issued or if it will be denied till the end.