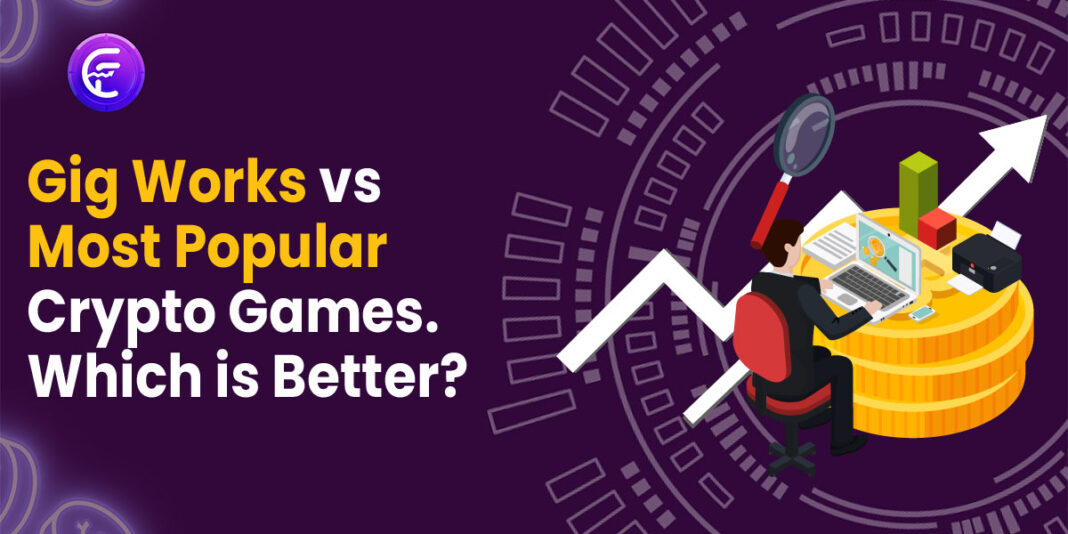 Are you looking for a new way to earn some cryptocurrency? Look no further than gig work and the most popular crypto games! 

Both offer unique ways to earn digital assets, but which one is right for you?
In this blog post, we'll be taking a closer look at gig works and the most popular crypto games, and comparing the pros and cons of each.
The gig economy and the world of cryptocurrency have both exploded in popularity. As a result, it's no surprise that a number of platforms have emerged with a combination of these two trends. On the one hand, there are gig work platforms that allow people to earn cryptocurrency for completing various tasks.
On the other hand, there are popular crypto games that allow players to earn cryptocurrency as they play. Here, we will compare these two types of platforms and discuss which one is better in terms of earning potential, fun factor, and overall experience.
What are Gig Works?
Gig works, also known as micro-tasks, are small jobs that can be completed online for a small amount of cryptocurrency. These tasks can include things like data entry, image tagging, and surveys. Gig works are a great way to earn small amounts of cryptocurrency without having to invest a lot of time or money. They're also a great way to learn about different projects and blockchain technologies.
What are the Most Popular Crypto Games?
Crypto games are digital games that allow players to earn cryptocurrency by playing. The most popular crypto games include blockchain-based games like CoinFantasy, Axie Infinity, and CryptoKitties. These games offer a fun and engaging way to earn cryptocurrency, and can also be a great way to learn about blockchain technology.
#1. CoinFantasy
CoinFantasy is the world's first decentralized invest-gaming platform ever developed, and it was built utilizing the play-to-earn strategy used in crypto trading. Participants in the cutting-edge no-loss game win by analyzing the crypto prices.
To win prizes, participants can assemble a lineup of cryptocurrencies in the company's fantasy portfolio management games.
As more users participate in CoinFantasy's play-to-earn method, the incentives increase. As a result, the awards get more valuable as more individuals enter.
If you want to know more about CoinFantasy, then you must visit the website
#2. Spider Tanks
Spider tanks is a simple multiplayer brawl game in which every user receives a virtual NFT tank that they can use to engage in full-scale battle with other users. Users can play in groups or solo, and winning will give you crypto rewards.
#3. ICE Poker
ICE Poker is played in the decentraland's metaverse. The game offers tournaments with cryptocurrency rewards for the best players. Users can risk and earn actual cryptocurrency by participating in the game.
#4. Axie Infinity
Axie Infinity became the first Ethereum-based NFT game to earn $1 billion in revenue on August 8, 2021. The game is being played actively by more than a million people. This non-fungible token (NFT) game was created by the Vietnamese company Sky Mavis and is currently the most popular.
#5. Gods Unchained
Gods Unchained was created by the same team that created Immutable X, an Ethereum layer-2 scaling solution. Players use a deck, core cards, and Genesis cards to fight one another in the trading card game Gods Unchained.
#6. Illuvium
Illuvium is a 3D open-world auto-battle RPG that runs on the Ethereum Blockchain. The game's primary objectives are for players to engage in combat, complete missions, and advance in rank. They will get a digital currency called ILV Coin in return.
#7. Thetan Arena
Participants in the game Thetan Arena can win cryptocurrencies without spending any money. To continue in the game and earn the native money, Thetan Coin, you are granted three free avatars (THC). To utilize the elite avatars, which you can purchase from the market, they must first be unlocked.
#8. Star Atlas
Players can swap NFTs of planetary systems, stars, and other objects while exploring the galaxy in the cosmological entertainment game Star Atlas. Each planet or star has unique qualities that distinguish them from one another throughout the game. Players can even discover new worlds by swiftly traveling through this virtual galaxy.
#9. Alien Worlds
The simple premise of Alien Worlds, a cyberpunk sci-fi adventure game, is that by playing, mining, and upgrading, you may create an enjoyable gaming experience. A user can use NFT alien species they have captured to dig for or find various game-related items. As a player makes more upgrades, their chances of winning rise.
#10. My Defi Pet
In the game My DeFi Pet, players can raise virtual pets. They can buy, sell, and trade these pets on the blockchain-based commerce system in the game. To create distinctive NFTs of their pets, people can change characteristics like color, fur type, eyes, monogram style, head form, and wings. This game is powered by the Binance Smart Chain and the KardiaChain.
Gig Works vs Most Popular Crypto Games: Find the best one for you?
So, which is better: gig works or crypto games? The answer really depends on your personal preferences and goals. If you're looking for a quick and easy way to earn small amounts of cryptocurrency, gig work may be the better option. However, if you're looking for a more engaging and fun way to earn cryptocurrency, crypto games may be a better fit.
Can Crypto Gaming be a Good Career option?
Crypto gaming is a relatively new field and its potential as a career option is still uncertain. However, if you are interested in the intersection of gaming and cryptocurrency and have the necessary skills, it could be an exciting opportunity to be part of an emerging industry. As with any new field, it is important to stay informed about the latest developments and trends, and to be open to learning new skills. It would be worthwhile to do research and gain knowledge about the various platforms and technologies used in this field before deciding to pursue it as a career option.
Conclusion
Both gigs works and crypto games offer unique ways to earn cryptocurrency, and each has its own set of pros and cons. Gig works are a great way to earn small amounts of cryptocurrency quickly and easily, while crypto games offer a more engaging and fun way to earn cryptocurrency.
Ultimately, the best option for you will depend on your personal preferences and goals.
So, give both a try and see which one you prefer.