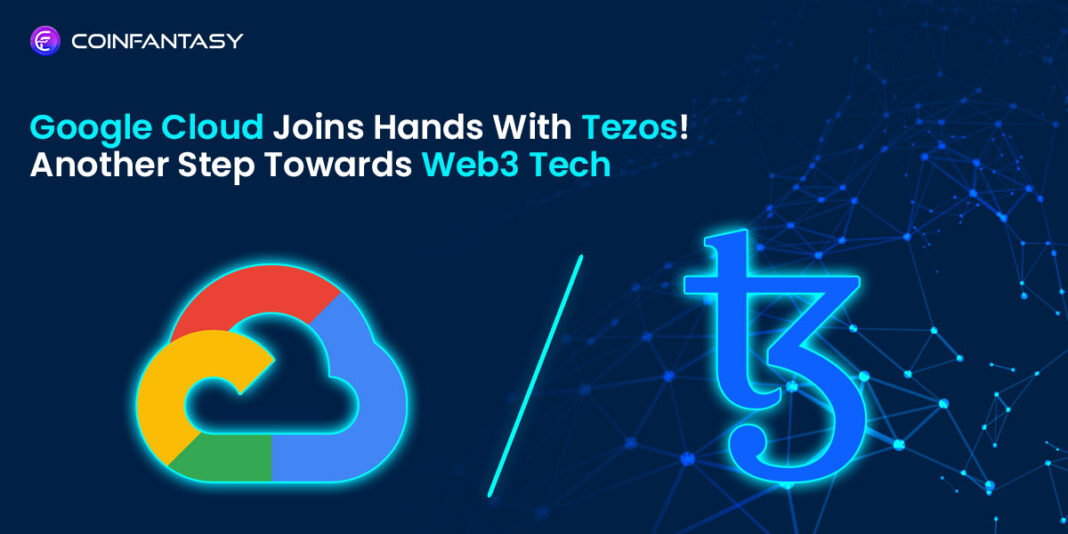 Google cloud joins hands with Tezos Foundation to expand web3 application development and offer new services to users, the firms informed recently.
Mason Edwards, the Chief Commercial Officer of the Tezos Foundation, said, "Tezos as an ecosystem has earned a reputation in institutional and B2B onboarding. This will allow us to welcome institutions even larger institutions into this sphere."
Technology that is dependable, scalable, and safe is crucial to achieving institutional adoption and mass-market potential, according to Mason Edwards. He continued that collaborating with Google Cloud would 'accelerate development and innovation' for the Tezos blockchain ecosystem.
Google Cloud and Tezos will offer enterprise developers support for creating applications in the Tezos ecosystem in addition to enabling developers to host their own nodes for Web3 applications. The alliance will also grant a select group of Tezos entrepreneurs access to Google Cloud credits and mentoring.
According to James Tromans, Engineering Director of Web3 at Google Cloud, "We are offering secure and reliable infrastructure for Web3 founders and developers to experiment and scale their apps."
He added, "Blockchain is producing innovation and value creation for consumers and businesses, just as open source advancements were essential to the early days of the internet."
With a team of specialists focused on Web3 technologies, Google Cloud has introduced several blockchain and Web3 services, such as Node Engine, which enables programmers to deploy Ethereum blockchain nodes. Last year, Google Cloud also partnered with several other blockchains and became a validator on Solana and Aptos. Also, the business collaborated with bitcoin exchange Coinbase Global Inc. to support cryptocurrency payments for cloud services and host some of Coinbase's applications on Google's cloud.
The Google cloud computing division launched its own digital assets and web3 in the first half of 2022. Also, the crypto industry's bear market was in full force at the moment.
Later on in the year, Google unveiled its Blockchain Node Engine, a streamlined tool that allows developers to access and utilize blockchains hosted on the company's servers.
Google Invests in Solana Infrastructure And Ethereum
The dominant search engine has experience interacting with web3 networks. The IT behemoth previously unveiled a node hosting service for the Ethereum ecosystem.
A few days earlier, the business launched node services for Axie Infinity's Ronin network, an Ethereum side-chain for blockchain gaming. Also, the IT business joined the Solana network and released a blockchain node engine in November.
In fact, the Google cloud join hands with Tezos Foundation, and other past partnerships to support the idea that large web2 corporations and developing web3 ventures may coexist. Several well-known companies like Reddit, MasterCard, and Visa have all put a toe into the developing blockchain ecosystem.
About Tezos
Tezos is smart money that redefines what it means to own and trade value in a world where everything is connected to the internet. Tezos is a self-upgradable, low-energy Proof of Stake blockchain with a track record that easily accepts new technologies without causing network outages today.
The Tezos Foundation is a nonprofit organization based in Switzerland that promotes the growth and long-term success of the Tezos protocol, an energy-efficient blockchain with self-upgrading capabilities.
According to Tromans, Google Cloud intends to keep working with "important participants in the Web3 ecosystem" to expand innovation for open-source technologies. As it develops products to meet those demands, Google Cloud also intends to concentrate this year on "the underlying principles at the base layer of blockchain technology." The collaboration between Google Cloud and Tezos Foundation is generally a good thing for the Web3 ecosystem, which has been growing quickly lately. The partnership will probably result in additional chances for programmers and businesses to take advantage of blockchain technology.
Key Takeaways:
The Tezos Foundation works with Google Cloud to hasten the development of Web3 applications on the Tezos network.
A validator for the Tezos network will be Google Cloud.
Tezos will allow the deployment of Tezos nodes by Google Cloud's business clients in order to support Web3 innovation on the Tezos blockchain.
Customers of Google Cloud will have access to the corporate baking program from the Tezos Foundation, allowing them to quickly deploy nodes and indexers on the Tezos protocol for developing Web3 apps.