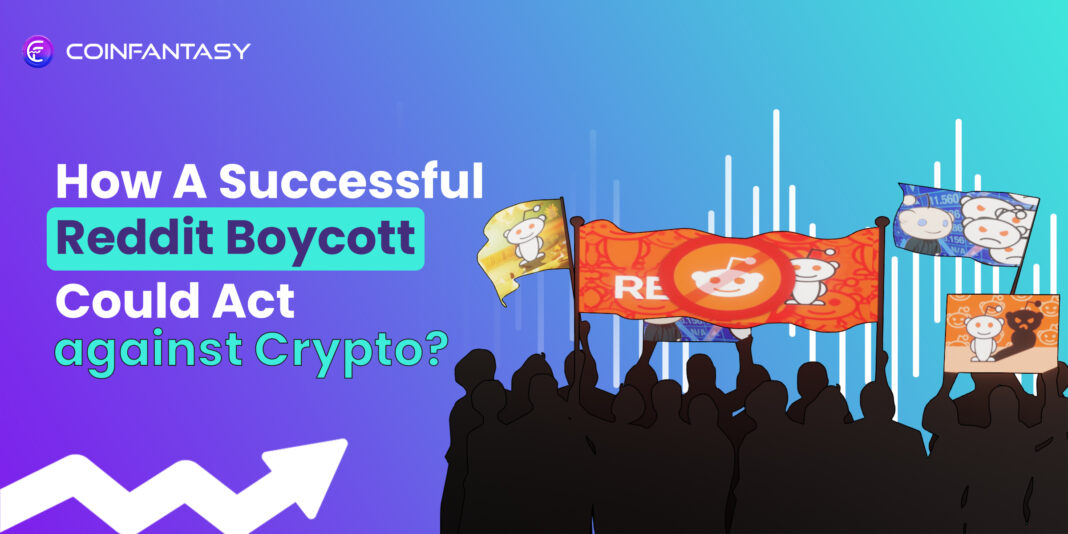 Several Reddit sub-communities, notably major crypto subreddits, simultaneously voted to go quiet for 48 hours in criticism of a new corporate policy prohibiting the usage of applications developed by third parties. This has spurred major spart in the ongoing Reddit boycott.
Reddit revealed intentions in April to change the way users engage with the Reddit Data application programming interface (API), a seven-year-old service that allows programmers to build utilities and tools for regulation and other operations.
The majority of subreddits responded to the move since Reddit's desire to develop native moderator tools has had an immediate impact on the community's capacity to establish and utilize third-party tools often used for regulating material and activities. As a response, communities chose to remain private or read-only between June 12 and 14, to protest the impending shift.
What Is Happening On Reddit?
r/Bitcoin, r/CryptoCurrency, and many others are among notable subreddits committed to exploring blockchain and cryptocurrencies that are criticizing the modification. Reddit has also faced criticism for charging for the use of its data API.
While around 3,500 subreddits are expected to go offline, this amount may climb if additional groups join the rebellion. Reddit CEO Steve Huffman, on the other hand, defended the social networking site's choice by emphasizing the significance of being " a self-sufficient organization."
He stated: "We value it when you and your communities make the effort to attract focus on anything you need, such as turning private on occasion."
Furthermore, Reddit intends to offer mobile administrator tools for Reddit's iOS and Android applications in the coming months to eliminate the widespread usage of third-party moderator services.
About Reddit Avatars
Despite continued community reaction, Reddit is on the verge of reaching a new milestone concerning the number of collectible avatar users on the network. In a year of releasing Reddit NFTs, the platform has amassed 10 million collectors of its unique avatars.
In July 2022, Reddit's collectible avatar marketplace opened on the Ethereum layer-2 scaling network Polygon, allowing creative individuals and Redditors to create personalized nonfungible token portfolios.
Why is Reddit Taking a Sudden Measure?
Reddit CEO Steve Huffman recently arranged an AMA on the forum in a bid to defuse the uproar over the modifications. He explained, "We aim to be an independent company, and in order to do so, we are unable to help companies that require massive amounts of information."
One Redditor requested Huffman to reply to worries that Reddit is becoming more driven by profit, which contrasts sharply with the site's carefree and frequently anti-authoritarian character.
Huffman stated that, unlike certain third-party projects that many people use to browse the site, Reddit is not now profitable.
Furthermore, Huffman has stated that a slew of generative AI tools, such as ChatGPT, browse Reddit for massive amounts of data to assist train AI models. Reddit claims to receive little benefit from the agreement and demands that the firms behind AI technologies pay more.
The modifications to its app programming interface, or API, have been part of a bigger shake-up at the corporation that has involved 5% employee decreases as well as future hires.
The advertising-driven service, created in 2005, is purportedly planning to offer its shares openly on the stock market as early as later this year.
How will the Reddit Boycott Go Against the Crypto Market?
What does it do with the cryptocurrency space? Or how may it assist you in earning money? Well, based on how the issue develops, it may have consequences for crypto as a movement of society.
Undoubtedly, a company's capacity to make independent choices that have a significant impact on consumers is a big plus for an organization that advocates for transparency, freedom of access, and control by users.
However, if the strike is effective, the scenario may work against crypto. To the point that systems like Ethereum are simply seeking to be the foundation of an improved web, requiring individuals to develop and operate different applications and for consumers to switch over, beginning new on a new social media site, all in the belief that things will be more effective if you give others a stake in the platform, people may discover that barriers have more advantages than blockchain to achieve what they desire.
Closing Thoughts
If the crypto community wants to persuade the rest of the tech landscape to adopt more of its beliefs, it turns out that authority has always been in its control. But this Reddit Boycott could become a challenge to the crypto industry, however, there is less chance that it will actually affect the prices.