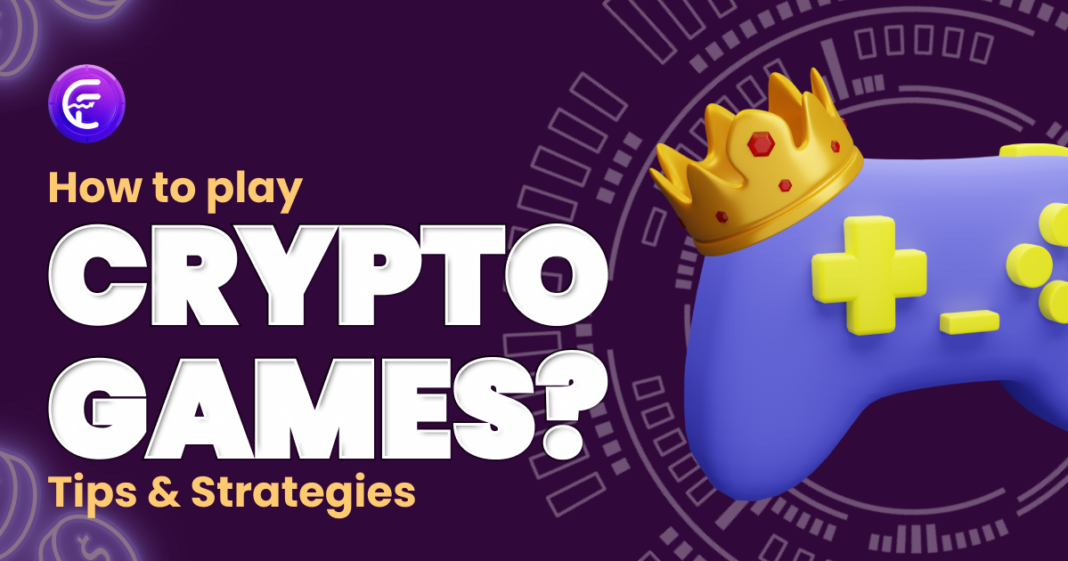 In a short period, cryptocurrency has received a lot of attention. The industry as a whole is being improved by developing advanced blockchain networks.
Gamers are becoming more and more accustomed to the latest trends. Even so, it might be challenging to determine exactly what someone means when they mention crypto games. A number of distinct formats can fall under this general phrase.
Read on to learn more about crypto gaming and how to play it.
What is Crypto Gaming?
Crypto games are video games that operate on the blockchain network.
These games contain distributed ledger architecture that is either fully or partially implemented, enabling players to have verifiable ownership over virtual items in these games. The uniqueness of crypto gaming lies in its capacity to allow customers to raise the value of their purchases.
The in-game digital tokens can be traded for stablecoins anywhere the player wants to go in crypto games. Depending on what the player prefers, it might be centralized or decentralized. For buying or selling these digital assets to convert cryptocurrencies into fiat money immediately, there are a lot of online marketplaces available.
Moving ahead, let's discuss this,
How do Crypto games work?
In classic gaming and development, the creators own all digital assets, including XP, in-game money, weapons, skins, characters, and vehicles. In contrast, in crypto trading games, the player owns the objects they collect as the game progresses.
By February 2022, GameFi's total market capitalization had increased to $55.38 billion USD. By 2025, blockchain gaming is predicted to reach $50 billion, with a growth rate of 10 times that of traditional gaming.
Since these games are built on blockchain networks, all connected computers have access to the same data (all of it), decentralizing information control and granting players and producers equal power and control.
Why are Crypto games gaining so much prominence?
The gaming industry's investment in cryptocurrencies has also significantly expanded as a result of the developments in mobile and PC gaming. With the ability to make money while playing, which compensates players for their time and effort, crypto games have undoubtedly impacted the market for traditional games.
The demand for and interest in the crypto gaming environment are rising across the board. According to the research on crypto-curious gamers conducted in the US in December 2021, 28% of participants were interested in using their gaming time to earn NFTS.
How can gamers make money in crypto games?
Crypto gaming is a decentralized gaming in which users can possess special in-game items and trade them with other users for actual cash. To put it another way, digital assets can be exchanged for cryptocurrencies, which can then be used to buy things in the real world.
In a word, creating crypto games involves using a full or partial blockchain system to record data about unique assets that players fully own. Users profit from crypto gaming in this way.
Want to make huge profits from crypto trading games?
If yes. read the following section carefully!
Top strategies that will help you to earn more profits from crypto games!
There are many fantasy crypto games to choose from, and many more are under development.
Below are some strategies to make more money from crypto games. So, take a look!
1. Check investment
All of the play-to-earn games have an initial investment requirement that you must fulfill.
The first thing that you need to look at while choosing the play-to-earn crypto games is "Required Investment". There are so many games available in the market which require zero upfront investment, for example, CoinFantasy! CoinFantasy is the first decentralized gaming platform in the world. If you want to know more about CoinFantasy, click here!
2. Setup your wallet
The kind of prizes you're looking for is an additional aspect to consider before you begin playing. Various incentives are given out by different games, frequently in the form of NFTs and in-game money that may be exchanged for real money.
Players occasionally have the opportunity to earn the platform's money, which rewards users for solving puzzles with cryptocurrencies. Additionally, you must create a digital wallet so that you can store these currencies and attach them to your preferred game.
3. Look for a better platform
Different online crypto games exist. You must be careful because some of them are phishing sites made solely to steal your info. But how can you indeed be sure that the website you've selected is trustworthy? There are several hints to look for, and the license is one of them.
Avoid a site if it doesn't have a valid license and can't be found on the page. You can also check for insightful reviews. Numerous independent websites provide reviews of crypto games, and there are forums where you can read what other players have said about various sports betting.
4. Look for usefulness
Crypto games entice new customers with incredible bonuses. These raise your chances of winning because they let you wager more than you initially invested. Make sure a new site you are considering has a welcome bonus for new customers. Your account will be credited with these bonuses, but refrain from overspending.
Your no-deposit bonus is only suitable for gambling; you cannot withdraw it. Know what you are getting into because each has specific regulations.
5. Keep track of everything
You must monitor your cryptocurrency's value every day if you have chosen to wager with cryptocurrencies. This is fairly simple because there are various websites that provide you with a chart of the cryptocurrency's movement and exact value. You may keep track of its value to find out how much you are now betting and how much money you have in your wallet overall.
Conclusion
The play-to-earn crypto games' enduring popularity has attracted a lot of attention. Innovative landscape design and cutting-edge technology have enhanced gameplay in game projects. The opportunity to get fresh insights and experience amazing growth is now.
The potential for the crypto-verse can be fully realized through gaming, and the future of crypto-gaming is exciting!