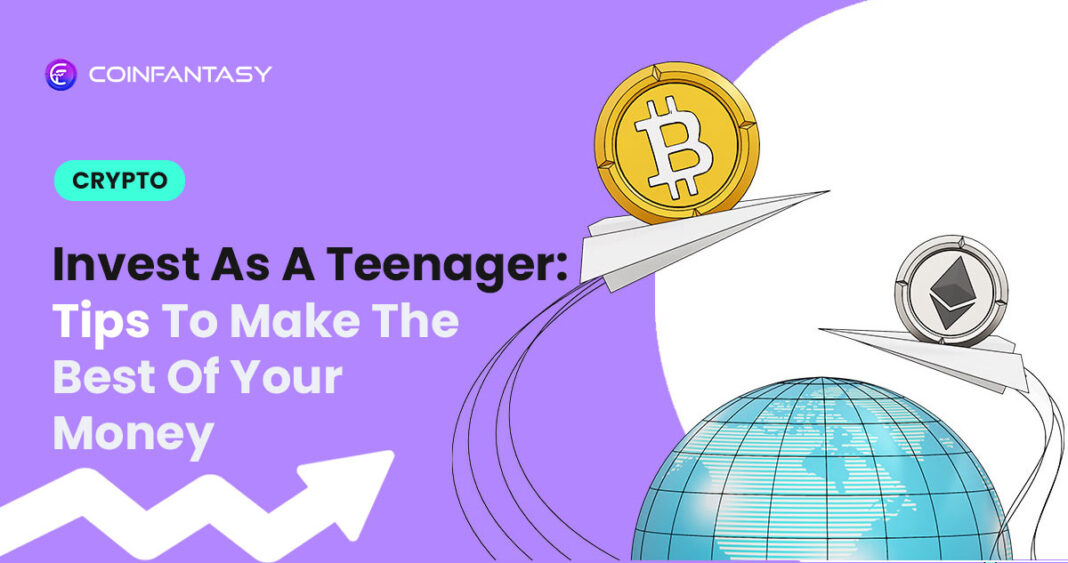 Bitcoin, Ethereum, and other cryptocurrencies are becoming increasingly prevalent these days. They are seen as the payment system of the future. Teen investors are especially intrigued by cryptocurrency since it is novel and fundamentally different from how their parents spend and invest money. But how to invest as a teenager? With the best investment apps around crypto, this is possible. 
Whereas previous generations considered the stock market as a tried-and-true financial enterprise, many youths see it as "old school", and prefer to invest in assets that, in their opinion, are the wave of future prosperity and a more appropriate means of exchange.
Furthermore, unlike previous generations, today's adolescents do not need fiat currency, and, given the ease of Apple Pay, card payments, and other electronic payment systems, it's evident that digital currencies neatly correspond with how modern teenagers function and perceive the world.
Cryptocurrency: Know What It Is
In its most basic form, a cryptocurrency is a digital representation of value that may be used to purchase and sell products and services, as well as to invest in. Unlike fiat currencies (such as the US dollar), cryptocurrency can rise dramatically depending on market conditions. The worth of cryptocurrencies varies like any other money. So investing for teens here is a wise option.
Many websites started to accept crypto as a payment option, and some countries throughout the world, like El Salvador and the Central African Republic, have already opted to accept cryptocurrency as legal cash. At present, many countries have passed laws regulating cryptocurrency as a legal mode of payment, and still, some countries are waiting for the law to be accepted. All these factors teach how to invest as a teenager and get away from the centralized ecosystem.
Learn How Cryptocurrencies Work in Simple Terms
Although Bitcoin is a well-known cryptocurrency, there are lakhs of other cryptocurrencies and crypto tokens available for purchase. However, most of them have similarities:
They make use of blockchain technology: Blockchain technology is the fundamental concept of cryptocurrencies. These are public databases that are used to log transactions that cannot be modified once fresh data (a block) is added to the existing chain. This transparency and reliability aid in preventing cryptocurrencies from being replicated, spent twice, or otherwise manipulated.
There are several blockchains: Each cryptocurrency may have its blockchain. There are different blockchains for Bitcoin, Cardano, and Ethereum, for example.
They are decentralized: People and businesses all across the world utilize their computers to assist with the operation of blockchains and get compensated in exchange. Because the database and computer power are distributed, there is no centralized authority such as a firm or government that can regulate what has occurred.
No scams or Frauds: While cryptocurrencies are decentralized, they are not governed by anyone. It is anonymous and utilized by various people all around the world. Even if one node fails, other operating nodes will do their work regularly to support the network. So points of attack and scams are reduced. Even the spent crypto cannot be duplicated once again. It is completely private to make transactions and no one knows to whom you are sending it.
While the fundamental technology is identical, you may invest as a teenager in cryptocurrencies that are designed for diverse objectives. Bitcoin, for example, was designed as a digital form of payment, whilst other coins allow you to utilize certain crypto platforms or apps.
3 Things to Keep In Mind Before Investing as a Teenager in Crypto
Anyone, including teens, may easily begin investing. Simply take these five steps to go on an incredible lifetime adventure:
Learn the fundamentals of investing.
Discover your investing persona.
Determine the best assets for you.
Learn the Fundamentals of Investment
Investing, like any new endeavor, may appear difficult at first. However, if you grasp the fundamentals of the crypto market and how to invest as a teenager, it becomes pretty straightforward. Read as much as you can about investing so that you understand how it works, what pitfalls to avoid, and what best practices to follow.
Discover your Investing Persona
Finding your investing identity is a vital aspect of the process. Do you like to take chances? Growth investing could be ideal for you. Do you enjoy being rewarded? Consider some old cryptocurrencies. Do you enjoy a good deal? You may be an ideal admirer investor.
As you discover more about investing, you'll find what interests you the most, which is essential for remaining engaged over time and reaping the benefits of future gains.
Determine the Best Assets for You
If you catch the interest, start learning crypto investing. Then, choose a crypto that intrigues you and begin researching the white paper and what it leads to. Discover where the project received funds, who is behind it, and where it may expand in the future.
Get to know yourself with its core concept and road map to determine whether it is adaptable enough to withstand unavoidable economic downturns. Repeat this procedure for each cryptocurrency you prefer, narrowing it down to a list of those you wish to purchase.
How To Invest As A Teenager In Cryptocurrency Wisely?
Don't Go For the Buzz
Though digital currencies may dominate discussions about business and finance, investing in cryptocurrencies for the novelty of the buzz may not be the greatest plan.
The greatest technique for a successful investment is to examine your financial holdings while completing a comprehensive study before diving in. Furthermore, the digital currency market is by far an uncontrolled sector, which makes investing in it riskier if done without a goal or plan for every circumstance.
Understand the Risks of Investing in Cryptocurrency
Investing usually includes taking a risk, and a huge risk can occasionally result in a great return. However, you may lose most (if not all) of your money. Cryptocurrency investment can be particularly dangerous since it entails investing in a brand-new sort of asset with volatile value changes.
When investing in cryptocurrencies, there are extra hazards, such as numerous cryptocurrency-related frauds. These are especially risky if you are unfamiliar with the cryptocurrency industry and are under pressure to move quickly because you are afraid of losing out on the next great chance. Furthermore, users have been able to create hacks to take other people's cryptocurrency.
Invest Only What You Can Afford
As a teenager, you need to decide what you are willing to lose because no one can guarantee 100% returns in any crypto project. The prices will go up and down at any time and they will keep fluctuating always. Know this before investing. 
You may also wish to diversify your cryptocurrency assets by investigating several currencies and projects. Follow the 5% rule for crypto. If you choose to invest in some asset, invest only 5% in cryptocurrencies. Try well-known coins like Bitcoin and Ethereum initially. The remaining 5% might be used for various upcoming new cryptocurrencies. Mastering this strategy will teach you the best way to invest as a teenager.
Have The Patience For The Good Returns
Patience is essential for considerably increasing your money, and this applies to all types of market investments. The cryptocurrency market is much more favorable for long-term investors; this is because short-term investors rely on trade prices and the asset's previous performance to predict how it will perform in the future.
Though short-term investments may prove to be a profitable approach for some, there is a considerable likelihood that they will fail or provide lower earnings than planned.
With that in mind, it is strongly advised to invest in a cryptocurrency and then forget about it, since it is most likely to be a better investment in the future when it reaches a certain level.
Choose Your Investment Platform
When you're ready to purchase your first cryptocurrency, you must pick whether to use a centralized or decentralized exchange.
For-profit corporations build centralized exchanges that are simple to use but have fees that eat into the value of your coins and may leave you exposed to hackers.
Although decentralized exchanges are secure, creating an account is complicated. Invest as a teenager; it will be challenging as well. However, when it comes to safety, it is the best alternative.
You may be able to send funds through a bank transfer, debit card, or credit card in any scenario. The platform may charge fees for depositing funds and for each trade.
Once you purchase your first cryptocurrency, you can store it in a wallet. You can create your wallet from third-party apps or use exchanges in-built wallets. But it is safer to move your funds to your wallet than to keep it on exchanges.
Closing Thoughts
When it comes to investing in the crypto market, each individual has various goals and periods. So, before you begin your crypto investment adventure, consider how much money you need in your holdings and when you want to reach your objective to invest as a teenager to succeed.
Furthermore, consider your initial commitment, how much you are prepared to invest over time, and, most importantly, what return you would require to meet your financial objectives. Do your research and start investing in it.