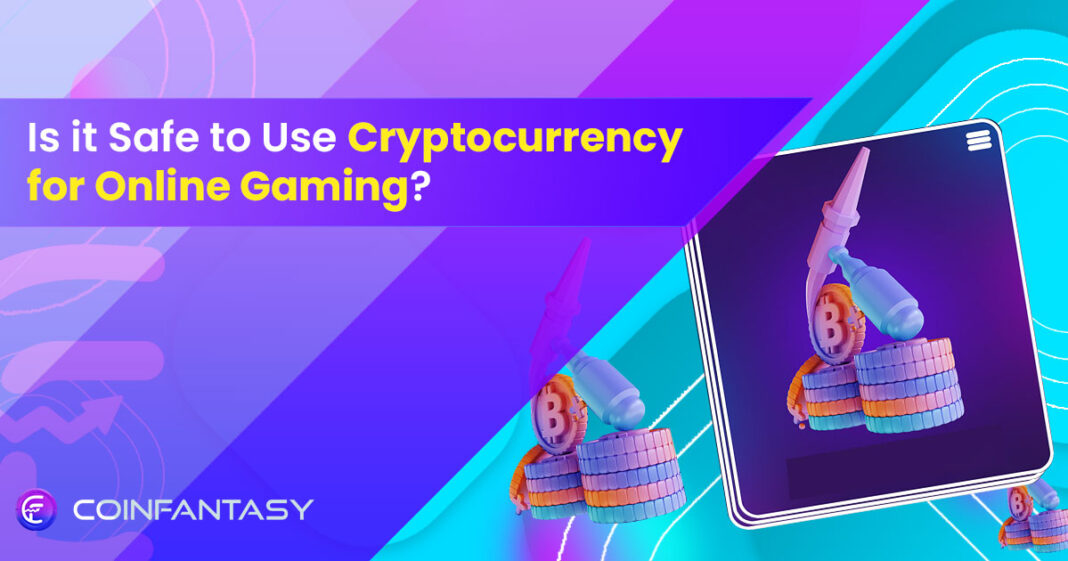 One characteristic of tech that makes it fascinating is continuous innovation. The technological industry is constantly reiterating products and services to make them better. However, one industry area known for slow innovation is 'Gaming.' Fortunately, crypto gaming platforms are changing the narrative.
Recent paradigm shifts are impressive despite the world spending about two decades in the console gaming age. Novel concepts like the crypto game coin, Metaverse, play-to-earn, yield farming, etc., redefine online gaming experiences.
Thanks to these concepts, the gaming industry is experiencing innovations faster. As a result, it's become effortless to accumulate the best value possible for gaming time.
One technology powers these drastic changes currently characterizing the gaming industry – cryptocurrency. The buzz is everywhere, and like every new technology, criminals are always looking to exploit its vulnerabilities.
Hence, the question, 'Is it safe to use cryptocurrency for games online? The rest of this article provides suitable answers.
How Do Online Games Work?
The advent, popularity, and powerful internet technology helped the world scale beyond console gaming. Rather than owning physical consoles, online games facilitate seamless and wireless gameplay on both mobile and desktop devices.
Online games rely on data infrastructures from the developer, where the content and utilities of games are processed via the internet. A couple of years back, Google Stadia, Xbox Series X, etc., were the leading precursor of online gaming. These games were rightly dubbed cloud games – with access to their databases aided by the internet.
They were the future. For instance, Xbox Series X delivered an incredible 4K gaming experience up to 120 frames per second. The video game plunges gamers into excellent visuals and gameplay – value worth paying for. As an online game, Google Stadia delivers a gaming experience via a web browser – which was innovative. The near real-time response rate was a significant selling point.
However, the advent of blockchain – technology powering cryptocurrencies – in the gaming industry redefines gamers' online gaming expectations. Playing the crypto game online delivers value both ways – to the players and developers. This trend is against traditional online gaming, which usually costs gamers to benefit developers.
Thanks to cryptocurrency, gaming experiences ride on concepts like Metaverse, play-to-earn, yield farming, staking, etc. Several experts posit that the introduction of blockchain to gaming will aid crypto's adoption. The early signs support the theory already. However, we also can't understate the positive impact crypto technology has on gaming.
Crypto for gaming is playing out exceptionally with the early decentralized applications in circulation. Moreover, as a part of the predicted web3 revolution, crypto games offer benefits like redeemable financial rewards, ownership, investing by staking, etc. Summarily, the crypto designs its gaming economy to benefit the users.
Unfortunately, while the intentions of cryptocurrency in gaming are pure, as evident in innovations like Axie Infinity, CoinFantasy, Decentraland, etc., security remains a big question. Skeptics continue to worry about the safety of so-called immutable blockchain infrastructures. Hence, let's talk beyond the gaming tokens crypto games offer to how crypto secures online gaming.
How Cryptocurrency Secures Online Gaming?
The gaming industry had a value of $173.7 billion in 2020, on course to break the $300 billion mark by 2026. There's enormous money flowing in the market, which means safety always has to remain a priority. To answer the burning question; 'Can we expect security from crypto for gaming?' Yes. The various characteristics of cryptocurrency reinforce the ideals of security.
Anonymity
The most concerning issue of today's technological reality is data protection. Cyber threats are at an all-time high. Companies are investing millions into cyber security but, unfortunately, still fall victim to hackers.
However, using cryptocurrency for games solves data issues. The fundamental of the blockchain infrastructure is anonymity. Users don't have to leave trails of their personal information online to conduct transactions.
Crypto game users can participate in different games across the blockchain with a wallet address. If current traditional games adopt cryptocurrency infrastructures, users' transactions will remain anonymous.
The anonymity also benefits gamers because it eliminates gender, race, age, sexuality, etc. Hence, discrimination during activities and interactions like buying gaming coins, collaborating, selling NFTs, etc., are non-existent.
VPNs won't provide the level of anonymity blockchain offers.
Hacking
Data is gold in current times. Everyone wants access to data and information about their interest groups. Owing to this, there's an alarming trend of cyber breaches. In addition, systems used by current gaming platforms are mutable, irrespective of the security protocols put in place.
However, every blockchain-powered crypto gaming platform is resistant to such. It's tough to hack into crypto-based transaction systems. While basic information on the blockchain is public, data is encrypted by the hashing technology. Accessing such data requires verification across different nodes on the network, which is arduous work.
Hackers will need massive computing power to decipher the security protocols in place for cryptocurrencies. Beyond the computational infrastructure necessary, hacking blockchains will require too much time, with success still not guaranteed.
Hence, crypto game users are less susceptible to hacking.
Value Fluctuation
Beyond data security, financial security is another primary concern. Playing a crypto game to make money necessitates basic business skills. The economics of crypto games is like every other financial market. Cryptocurrency (and its gaming platforms) create a vast market, affected by demand, supply, scarcity, etc.
The factors combine to influence value per time. For context, you can earn gaming tokens by playing a crypto game. These tokens are liquid assets; you have to sell them to convert them to fiat currencies – dollars, pounds, etc. So for your sales to proceed, it means someone is willing to buy.
Hence, market-influencing factors like demand and supply affect the real-time value of your token.
Also, everything related to cryptocurrency has the reputation of being volatile. Hence, financial security with blockchain is always a game of chess. However, Crypto game rewards can be financially free when you navigate the markets expertly.
Hence, you don't just dabble into crypto gaming because of social media buzz. Mastering gameplay and the subsequent economics is vital to success.
How CoinFantasy Crypto Platform Function?
CoinFantasy is a decentralized fantasy gaming platform. As the world's first decentralized fantasy gaming platform, you experience the gamified version of crypto-stock markets, where you can earn based on the play-to-earn financial model.
Conclusion
The blockchain infrastructure is designed to be highly secure. Hence, essentially, crypto gaming platforms are intrinsically safe. Though, some platforms surely invest in better-added security than others. Consequently, since your hard-earned money is involved in crypto gaming, it's best to find and use highly secured platforms like CoinFantasy.
Frequently Asked Questions (FAQs)
1. What are Crypto Gaming Coins?
These are coins related to particular games. These coins can be in-game or represent the game itself as a utility. For instance, the in-game currency of Axie Infinity is SLP (Smooth Love Potion), while AXS is the gaming platform's governance token. You can trade these coins in exchanges for profit.
2. Is Crypto Coin a Good Investment?
A crypto game investment can be costly upfront. However, when you spend ample time playing smartly, the returns are worth it. You can start with free crypto games, though, to minimize risk. Whether you are playing a free or premium game, you are investing time. 
3. Is Crypto Coin Real Money?
You have to trade liquid assets on exchange platforms for fiat currencies. You can convert gaming tokens to real money. Hence, essentially, crypto coins on their own aren't real money; you can't spend them in the real world – they are digital virtual assets. 
4. How to Buy Crypto Gaming Coins?
Each game has compatible exchange platforms. Find out your game of interest's coin platform to start playing. Many popular games have their coins available on exchanges like Binance, Pancakeswap, etc. Find out the infrastructure required for the specific gaming coin of interest.
5. Where to buy Crypto Game Coins?
Find out the coin name for the game you want to play. Then, buy these tokens on Binance, PancakeSwap, SushiSwap, etc. Check through the coin list for the price. Finally, make sure you buy crypto game coins from a trusted platform. To avoid being scammed.