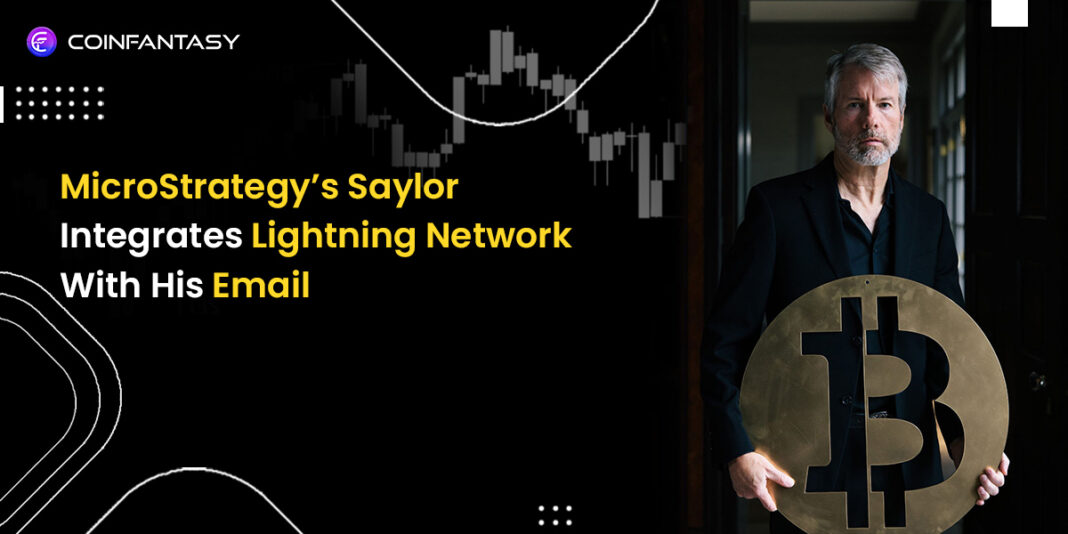 MicroStrategy's CEO, Michael Saylor, is known for his bullish stance on Bitcoin, and he has been making headlines for his company's massive investments in cryptocurrency. Now, MicroStrategy's Saylor is taking things to the next level by integrating the Lightning Network with his email.
The integration makes use of the Lightning Address protocol, which enables programmers to replace a typical Lightning invoice or payment request with an email address or other Internet-based identifier.
The Lightning Address protocol, which allows users to link an "Internet Identifier" like an email address instead of copying wallet addresses or utilizing QR codes, makes it easier to integrate MicroStrategy. It's unknown if MicroStrategy included the function in all of the business's internal communications.
For 1 Satoshi or around four cents, the Lightning Network can process 1 million transactions per second (TPS). The layer 2 scaling option for Bitcoin, the Lightning Network, seeks to reduce transaction costs and increase transaction speed.
Integrating Lightning Network with Email for Better Bitcoin Transactions
For those who are not familiar, the Lightning Network is a layer-two payment protocol that allows for instant and low-cost Bitcoin transactions. It works by creating a network of payment channels between two parties, which can be used to send and receive Bitcoin without the need for on-chain transactions.
MicroStrategy's Saylor has been a vocal supporter of the Lightning Network, and he believes that it is the key to unlocking Bitcoin's potential as a global currency. By integrating the Lightning Network with his email, Saylor is making it even easier for people to use Bitcoin for everyday transactions.
How the Integration Process Goes?
The integration process was carried out by Bottle Pay, a UK-based Bitcoin payment platform. The platform allows users to send and receive Bitcoin via social media platforms and messaging apps, and now, with the integration of the Lightning Network, it can be used to send and receive Bitcoin via email.
The process is straightforward. Users simply need to download the Bottle Pay browser extension, connect it to their Lightning wallet, and then start sending and receiving Bitcoin via email. The platform also allows for automatic conversion to fiat currency, which makes it even more convenient for everyday use.
Bitcoin Investment by MicroStrategy
MicroStrategy started buying in March 2021 and has already spent $4.17 billion to acquire 140,000 BTC. Data from Buy Bitcoin Worldwide shows that the company's typical buying price is $29,800.
At the $29,400 price at which Bitcoin is currently trading, MicroStrategy has only lost 1.3% of its total investment. However, when the price of Bitcoin hit $30,000 last week, the business briefly returned to profitability.
Saylor's action demonstrates his unshakeable faith in the potential of Bitcoin as a world currency and payment system. Saylor has been driving MicroStrategy's corporate plan to acquire Bitcoin as a treasury reserve asset as an outspoken supporter of the cryptocurrency.
When MicroStrategy invested a sizable amount of its cash reserves in Bitcoin in 2020, it made headlines as the first publicly traded firm to do so. Since then, the investment company has kept up its rapid Bitcoin accumulation.
MicroStrategy's Saylor integration of his company email address with the Lightning Network shows his dedication to the widespread use of Bitcoin and his eagerness to investigate cutting-edge crypto-use cases. This innovation has the potential to transform the way businesses use Bitcoin by making daily transactions quicker, less expensive, and more accessible.
According to year-to-date data, institutional ownership of MicroStrategy shares climbed by 121% in the first quarter of this year, including some unexpected increases in exposure by significant entities.
What does this Email Integration Mean for the Future of Bitcoin Transactions?
Saylor's integration of the Lightning Network with his email is just one example of how Bitcoin transactions are becoming more accessible and user-friendly. As more people start to use Bitcoin for everyday transactions, we can expect to see more innovative solutions like this one.
The Lightning Network has been gaining traction in recent years, and it has the potential to revolutionize the way we think about Bitcoin transactions. With its instant and low-cost transactions, it could make Bitcoin a viable alternative to traditional payment methods.
Conclusion
MicroStrategy's Saylor integrating the Lightning Network with his email is an exciting development for the Bitcoin community. It shows that there are innovative solutions out there that can make Bitcoin transactions more accessible and user-friendly. As we continue to see more developments in this space, it's clear that Bitcoin has the potential to become a global currency that can be used for everyday transactions.