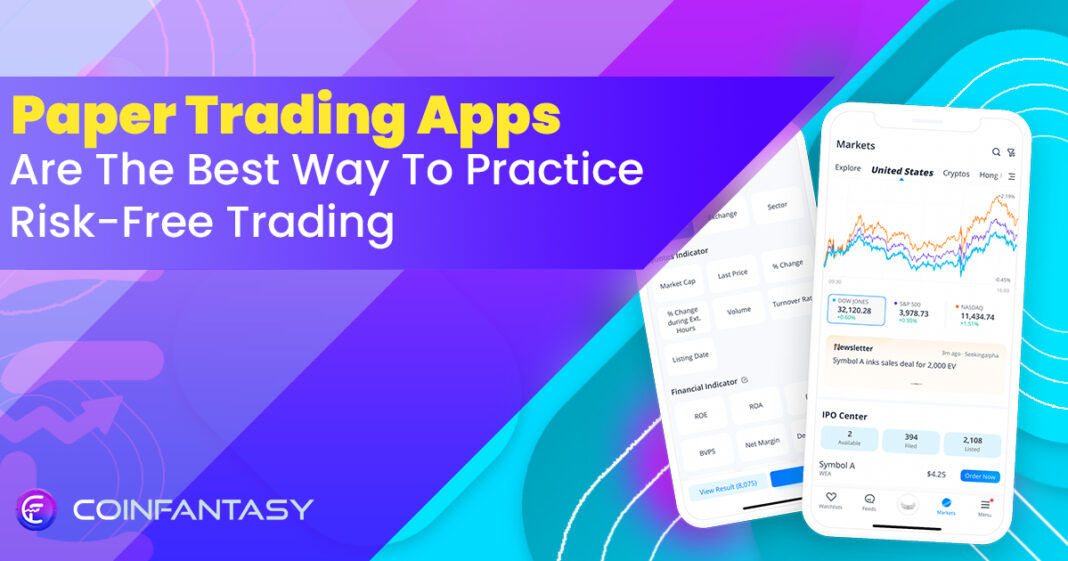 Do you want to start trading cryptocurrencies but are scared to put your hard-earned money at risk? Or are you a seasoned trader eager to experiment with fresh approaches without worrying about losing your money? No matter how experienced you are, paper trading apps could just be the answer you've been waiting for. Using virtual cash to purchase and sell assets while trading in a simulated environment using Paper Trading options, you may practice trading without risking any real money. 
Before making actual investments, the paper trading options simulator offers a chance to learn knowledge and test out various tactics. It's a great way to get the hang of things and boost your trading confidence without having to worry about losing your money. 
There are already a number of trading applications available exclusively for crypto trading due to the increasing popularity of trading. These programs include a variety of features such as real-time market data and customized trading parameters, enabling you to practice trading without taking any risks.
What are Paper Trading Apps?
Paper trading apps are simulated virtual trading platforms that enable users to practice trading without risking real money. Before placing actual money, traders may practice trading in a secure environment and try out various techniques.
The majority of these applications provide users access to a virtual trading account with virtual money that can be used to purchase and sell assets in a fictitious market. Due to the lack of actual financial risk, traders may test their trading tactics in real-time and see how market changes affect their investments.
Stocks, options, futures, and cryptocurrency are just a few of the financial assets that may be traded using these applications. They are a great resource for both new and seasoned traders to hone their abilities and boost their trading.
Benefits of Using Paper Trading Apps
Risk-Free Practice: These applications provide traders with a risk-free setting where they can test out various trading methods without putting any real money at risk. As a result, traders may gain experience and improve their confidence before investing actual money.
Real-Time Experience: The simulation games provide a real-time trading experience with access to the most recent news and market data. This enables traders to practice trading in a genuine market setting without running the risk of losing money.
Testing Strategies: Trading strategy testing is made possible by paper trading applications, which give users a simulated market setting in which to test and improve their trading methods. This offers a priceless chance to evaluate the effects of various investing techniques and base choices on the findings.
Easy Account Maintenance: Strategy games often do not demand any minimum account balances or trading volumes, in contrast to genuine trading accounts. This gives traders a low-cost opportunity to practice their talents and try out various trading strategies.
Educational Tool: Apps may be used as a teaching tool to teach people about trading and the financial markets. They provide a secure and useful way to practice trading without putting real money at risk or suffering a financial loss.
Best Paper Trading Apps for Risk-Free Trading
CoinFantasy: The world's first decentralized invest-gaming platform, CoinFantasy acts as a pre-stop destination for traders who wants to master the financial market. Investors can participate in a variety of games that imitate the actual financial market and acquire investment strategies. The biggest advantage is that players don't have to fear losing money in the game. 
Thinkorswim by TD Ameritrade: Thinkorswim is a comprehensive trading platform that gives users access to a wide range of financial products, such as stocks, options, futures, and FX. The app is a fantastic choice for seasoned traders since it offers real-time market data and cutting-edge charting features with a good refresh rate.
TradingView: A well-liked tool for technical analysis and charting, TradingView also has a paper trading component. The app is an excellent choice for new traders since it gives them access to a variety of financial products and has an intuitive layout.
Webull: Webull is a trading application that doesn't charge commissions. The app delivers real-time market data and news along with access to a number of financial products, such as stocks, options, and cryptocurrencies. The app being free to use has attracted a huge amount of user base.
NinjaTrader: The app provides access to a range of advanced charting and analysis tools, making it a great option for experienced traders. This app is super fast compared to others when it comes to market orders and refresh rates.
ETRADE: ETRADE platform, a well-known online broker ETRADE provides offers real-time market data and news along with access to a number of financial products, such as stocks, options, and futures. Their data and information about market news is the biggest strength of their users.
These applications provide traders with a variety of tools and features that allow them to test and improve their methods in a risk-free setting. They are a fantastic choice for both new and seasoned traders who want to develop their abilities and acquire confidence in their trading methodology.
Minimal Risk Features to Consider When Choosing a Paper Trading App
There are a few key aspects to think about when selecting trading software to make sure you have a good experience. The first thing you must do is search for an app that gives you access to a variety of financial assets, such as stocks, options, futures, and currency. You'll be able to try out various strategies and investment kinds as a result.
Another essential aspect to look for is real-time market statistics and news, which provide you with the most recent details on market movements and trends. For experienced traders in particular, advanced charting and analysis tools are crucial since they help you recognize patterns and trends in market data and make wise trading decisions.
Features for risk management and performance tracking are also crucial to take into account. You should be able to monitor your progress over time and get analytics on your transactions with a competent trading program. Lastly, take into account the app's charges and commissions, as well as its customer service and instructive materials. Search for an app that provides fair pricing, dependable customer care, and access to learning materials to help you develop your trading abilities.
Summing Up!
The top 10 global cryptocurrency exchanges account for 79% of daily average trade volume. But these are typical trading apps. On the other hand, paper trading apps provide traders with a useful chance to hone their abilities and try out various tactics without putting their own money in danger. Whether you're a novice or a seasoned trader, simulation platforms may boost your self-assurance and increase the likelihood that you'll be successful in live trading.