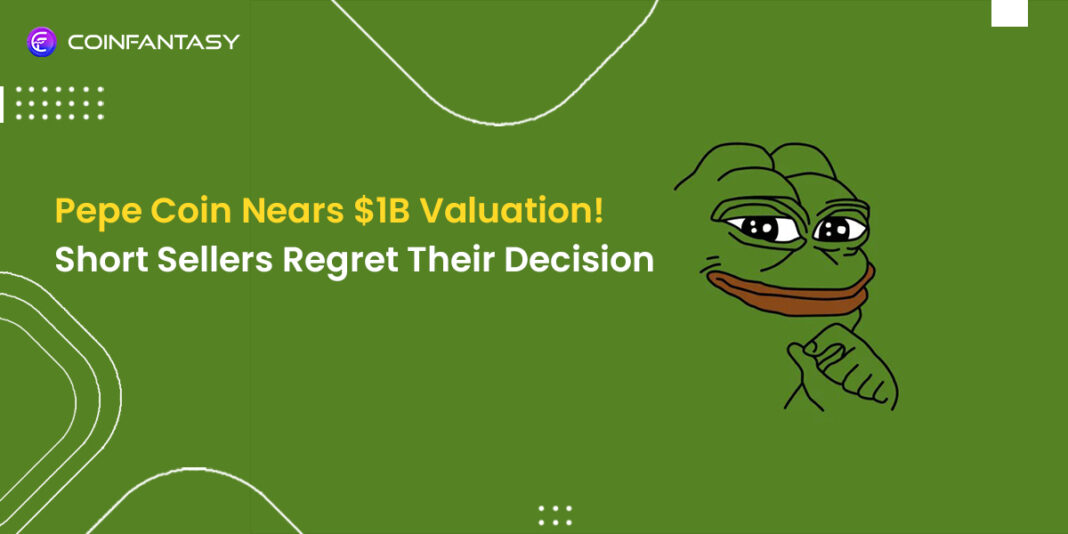 There is a new popular meme cryptocurrency in the market right now- Pepe Coin. This memecoin adopts the avatar of 'Pepe the Frog'. The most astonishing news is that Pepe Coins nears $1B, settling next to Dogecoin and Shiba Inu.
The memecoin's fans, followers, and whales urged for a major rise to increase its value. They are now enjoying the benefits of its new popularity. Pepe appears to be following in the footsteps of its more recognized meme coin peers Dogecoin and Shiba Inu at the moment.
DOGE increased by more than 23,000% in 2021, owing primarily to billionaire Elon Musk's outspoken endorsement of the token on Twitter. Similarly, SHIB increased by approximately 1,250% during the 2021 crypto bull market after utilizing Dogecoin as its starting platform. However, there are questions about whether this memecoin buzz can take Pepe any further.
What Creates The Hype Around Pepe Coin?
Pepe Coin, a newcomer to the crypto market and meme coin sector, is now trending in the cryptocurrency market. "Pepe the Frog" is a cartoon figure and well-known internet meme designed by artist Matt Furie, portraying a green animated frog.
PEPE also overwhelmed Shiba Inu, Dogecoin, and FLOKI in terms of all-time highs. Shiba Inu is currently the second most popular meme currency, with PEPE coming in third. The coin's market capitalization increased dramatically, hitting a high of $0.00000426.
Traders have gradually bought this new currency over the last week, bringing the meme coin to its peak. According to CoinMarketCap, PEPE has returned 2790% to its first investors since its start.
What is Triggering the Pepe Coin's Journey Towards $1B?
Pepecoin is making ripples in the digital currency market as its worth approaches $1 billion. According to CoinGecko, Pepecoin has increased by 500% in the last two weeks, putting short sellers who wagered against the cryptocurrency calculating their losses as the price skyrockets.
Pepe, named after the popular online meme Pepe the Frog, has developed a significant following among meme enthusiasts who like its humorous and cheerful attitude. However, the recent price increase has caught the interest of professional investors as well.
The mix of meme culture and the prospect of huge financial rewards has driven purchasing excitement, pushing Pepecoin's value to new heights. There is no exact reason for its hype at present.
Furthermore, Binance has published an official PEPE buying guide, which the cryptocurrency Twitter community perceives as a sign that the coin will be listed on the exchange. Following the listing, there was more anticipation and it hit $1 billion, which might be the major cause for the recent jump.
Why Do Pepe Short Sellers Regret Their Decision?
The spectacular ascent of Pepecoin has put short traders at risk. Short selling is the act of betting against an asset's price to benefit from its drop.
However, when pepe breaks, short sellers face significant losses. While short selling is typical in financial markets, the volatile and unpredictable nature of cryptocurrencies can pose considerable risks to individuals who want to go against the current trend.
According to a report, short traders have already lost $11 million on PEPE shorts in the last 24 hours, with $5.5 million of that loss occurring on OKX alone.
Will Pepe Continue Its Success Rally In The Future?
While the reliability of PEPE remains unknown, its trading volume shows that it is attracting investor attention. PEPE tokens follow a popular pattern that is fueled by social media interest. However, it is too early to tell if it will be discarded like many others before it or whether it will keep breaking records.
PEPE's future development will be based on a combination of variables such as community growth, recognizable branding, and memetic contribution. It is crucial to note, however, that $PEPE currently has no use case, implying that its current value is completely based on enthusiasm. For it to survive and succeed in the market, the Pepe currency must develop some use cases.
Closing Thoughts
For the time being, Pepe Coin Neats $1B valuation and has effectively attracted the curiosity of the internet. If PEPE can hold people's attention for a lengthy period, it might join the exclusive group of memecoins that have firmly carved themselves into the memory of crypto communities throughout the world. Due to the Binance listing, there is a chance for more price surges in the future. But always remember to invest only what you can lose and don't go with the trend.