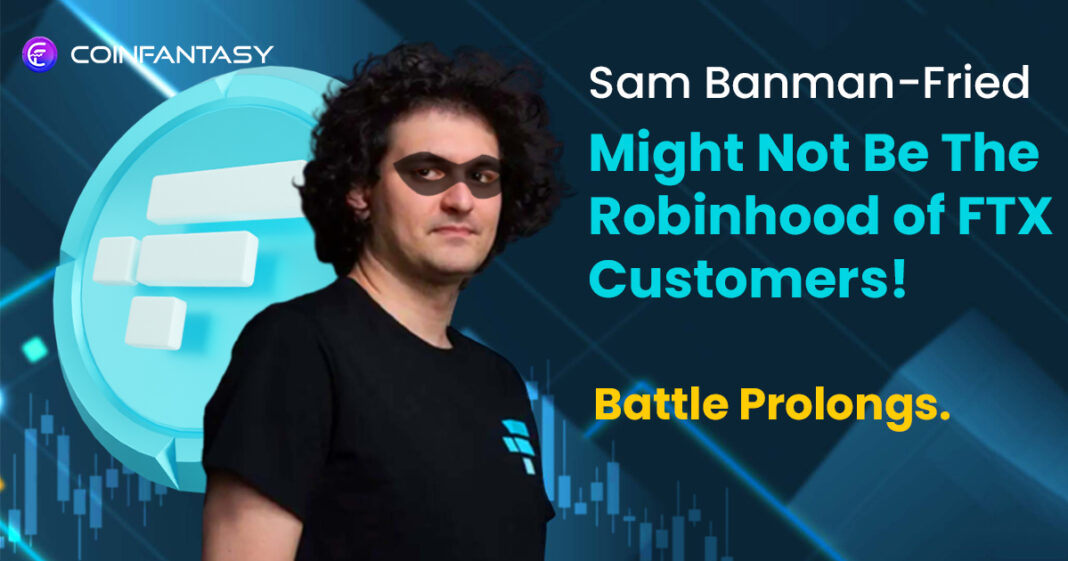 Last year, the billionaire former CEO of the cryptocurrency exchange FTX acquired 7.5% of Robinhood through a holding company he owns. At the time, he still had a thriving empire and was regarded as the industry's brightest prospect. Less than a year after FTX's $32 billion valuation, the exchange has filed for bankruptcy, with billions of dollars in missing customer funds and Bankman-Fried detained on suspicion of fraud and a long list of other financial offenses.
The Real Question!
The ownership of the 7.6% of Robinhood shares that the convicted FTX founder Bankman-Fried bought, allegedly to acquire the stock-and-crypto exchange platform, was already a contentious issue. The shares were used as security for a $600 million loan made by bankrupt cryptocurrency lender BlockFi to Alameda Research, the Bankman-Fried-owned company whose massive trading losses caused the exchange's demise. BlockFi now claims ownership of the shares.
They have also been claimed by Bahamian liquidators working for the SCB as well as the current FTX Group leadership, who is in charge of managing the estate of Bankman-empire, Fried's, which includes FTX, FTX US, Alameda, and about 100 other businesses established for a variety of objectives.
Bankman-Fried and Wang established one of those, Emergent, to borrow $456 million from Alameda for the purpose of purchasing the Robinhood shares.
Instead, Emergent Fidelity Technology Ltd., a business that he owns 90% of, is their rightful owner.
The Background: The Real Story!
On November 11, FTX declared bankruptcy due to the exchange's solvency problems and worries regarding improper connections between FTX and Alameda. Later reports claimed that the company tried in vain to save Alameda by spending billions of dollars from customers.
This sparked a legal storm for Bankman-Fried, who stepped down as CEO of the Bahamas-based company after the filing. Bankman-Fried was detained by Bahamas police on December 12 on behalf of American authorities after being charged with eight criminal offenses, including wire fraud, money laundering, and securities fraud, last month.
He was released on a $250 million recognizance bail on December 22 after being extradited to the United States the previous week and only having his parents' ownership in their Stanford, California, house as security.
How the FTX Empire Collapsed!?
Investors can borrow funds to place significant wagers.
While cutting back on hiring, Bankman-Fried built a sizable philanthropic organization, made investments in dozens of other cryptocurrency businesses, purchased shares of the trading platform Robinhood and contributed to political campaigns.
According to Coin Bureau, this information sparked concerns regarding the connection between Alameda Research and FTX and the potential for using cash on FTX to end up at Alameda Research.
This led to rumors that, should such a moment ever arrive, FTX would require additional funding to honor all customer withdrawals.
Surprisingly, it happened just a few days later.
Following CZ's announcement that his company will sell off $2.1 billion worth of FTT tokens that it had acquired after SBF acquired Bianace's share in FTX, there was a significant sell-off.
FTX was overrun with large withdrawals and was unable to keep up.
On November 8, 2022, CZ tweeted that Binance had a non-binding letter of intent (LOI) in place with the goal of fully acquiring FTX.com.
The FTX fiasco exposed a severe regulatory error. Instead of ensuring that the exchanges themselves are not criminal actors, regulators around the world have traditionally been more concerned with catching bad actors among users of cryptocurrency exchanges.
Investors can only hope that crypto will recover as FTX collapses the entire market.