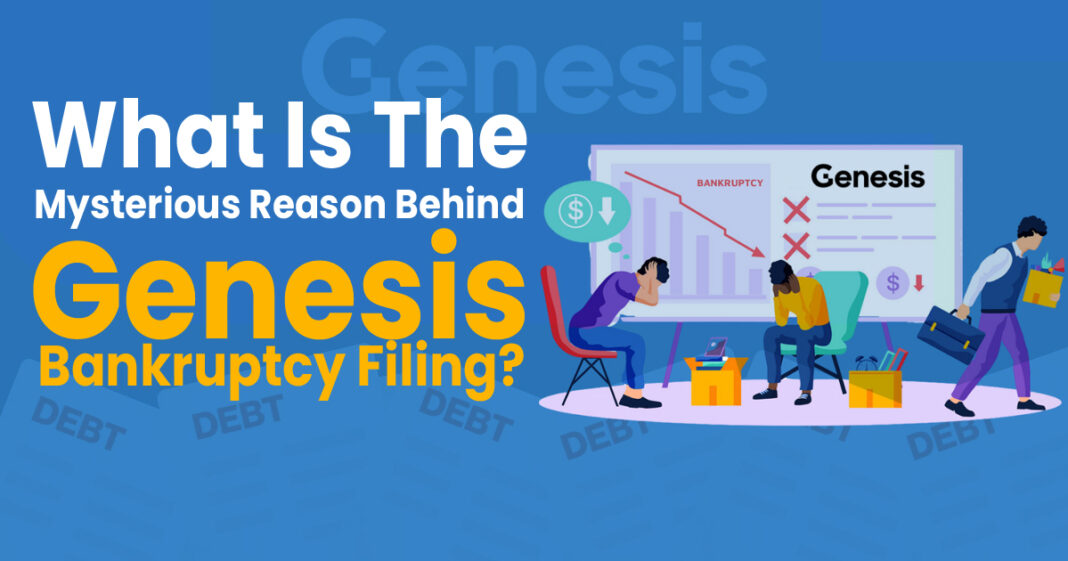 In a "mega" bankruptcy filing, Genesis, a cryptocurrency lender, named over one million creditors, with total obligations ranging from $1.2 billion to $11 billion, according to court filings.
Genesis halted redemptions and new loans on November 16 as it could not fulfill customer withdrawal requests in the wake of FTX's bankruptcy.
The Origin of "Genesis Bankruptcy Filing"
Genesis Global Holdco stated that it would contemplate a sale or an equity agreement to settle creditors and that it has $150 million in cash on hand to support the restructuring.
The possibility of Genesis declaring bankruptcy had been rumored for several months, and the U.S. Securities and Exchange Commission had recently opened an investigation against Genesis and its former partner Gemini for the alleged unauthorized sale of securities.
The business halted withdrawals from its loan division in November of last year. According to the statement, the FTX collapse had sparked a rush of withdrawal demands that exceeded its "current liquidity."
An in-court restructuring is the most efficient way to preserve assets and produce the best result for all Genesis stakeholders, according to Derar Islim, interim CEO of Genesis.
In its bankruptcy petition, Genesis proposes the trust distribute assets to creditors as a way of a "global resolution of all claims."
According to the company, it has far more than $150 million in cash, offering "ample liquidity" to sustain its ongoing business activities and speed up the restructuring process.
It stated that claims will be handled through the Chapter 11 process, adding that redemptions and new loan originations in the lending company are still on hold.
According to independent Genesis director Paul Aronzon, "We have developed a deliberate methodology and roadmap through which we feel we can attain the greatest answer for clients and other stakeholders."
All about Genesis!
Genesis is a part of the US-based venture capital company Digital Currency Group (DCG), which also manages the cryptocurrency asset manager Greyscale and the CoinDesk news site.
Genesis is similar to a bank in certain aspects. It often accepts deposits from clients while guaranteeing a significant return. These deposits are lent out at an even higher rate to hedge funds and other parties. The borrowers frequently utilize the funds, typically in the form of various coins and tokens, to make predictions about market movements in cryptocurrencies.
After the third quarter, the company's lending desk had active loans totaling $2.8 billion, according to Genesis financial records. When cryptocurrencies were still surging the year prior, that was down from $11.1bn.
To adopt a strategy to maximize value and provide our business the best chance to emerge well-positioned for the future, Derar Islim, interim CEO of Genesis, was cited as stating.
In addition, Gemini, which is owned by the former Olympic rowers Cameron and Tyler Winklevoss, and Genesis are involved in a highly publicized legal battle over the disposition of $900 million.
The collapse of FTX and the subsequent arrest of its founder, Sam Bankman-Fried, dealt another serious setback to the cryptocurrency industry, which is still recovering from it.