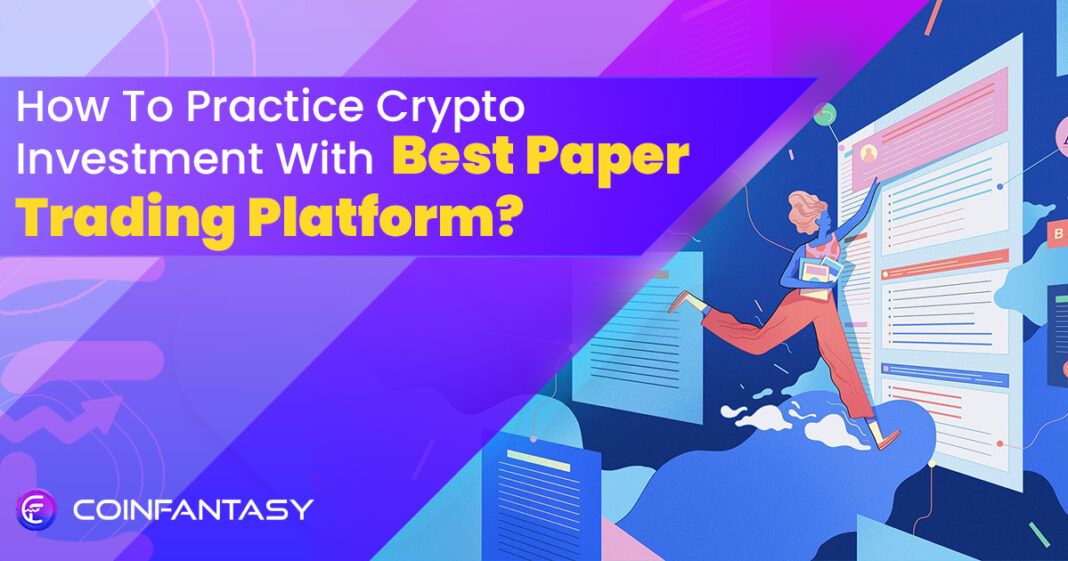 In recent years, cryptocurrencies have become a well-liked investment choice because of the skyrocketing prices of Bitcoin and other digital assets. However, it might be challenging for traders to get started because of the volatile nature of the market. Thankfully, the best paper trading platform gives investors a method to learn cryptocurrency trading without having to risk any real money. Paper trading options help investors shape their trading strategies before jumping into the real market.
Paper trading with options is a virtual trading environment that replicates actual trading circumstances. Without the financial risk involved with using real money to invest, they enable traders to test out various tactics and gain market knowledge. Investors may develop their abilities and acquire significant experience by using a trading platform to practice crypto trading before making actual deposits.
Understanding the Best Paper Trading Platform for Crypto Investment
Paper trading platforms are a common approach for investors to hone their abilities and acquire confidence before making real bets in the realm of bitcoin.
Users are given a virtual balance of bitcoin to purchase and sell as they wish while utilizing a trading platform for cryptocurrency investing. Users may assess their success and improve their tactics by using the platform's real-time data and insights, which record the user's transactions. Several trading platforms also give users access to a variety of charting and analytical tools to aid with trend identification and decision-making.
It is crucial to remember that although trading simulators offer a useful learning opportunity, they are not a replica of actual trading. In a trading simulator platform, the market conditions and liquidity may be different from those in the real world, and there are no emotions or psychological variables that come with real money investments. But, before making a real-money investment, trading platforms are a great method to gain confidence and learn the fundamentals of cryptocurrency investing.
Benefits of Using a Paper Trading Platform for Crypto Investment
No Risk Setting: One of the main advantages of utilizing the best trading platform for cryptocurrency investments is that it offers a risk-free setting for users to test out various investing methods without putting their money in danger. Users can do this to develop confidence and experience before making actual investments.
Data and analysis in real-time: Trading systems offer users data and analysis in real-time on their transactions, allowing them to gain knowledge of the market and its performance. Users may utilize this to spot trends and patterns, hone their tactics, and come to wise financial conclusions.
Access to a range of cryptos: Trading simulator platforms frequently provide users with a large selection of cryptocurrencies to trade, enabling them to investigate various investment options and diversify their portfolios.
No financial barriers: Unlike traditional trading, trading platforms do not demand that customers have a certain sum of money to invest. As a result, users have the freedom to test out various techniques and approaches while practicing cryptocurrency investing with any amount they choose.
Simple to use: Most trading systems are intended to be straightforward and user-friendly, making them available to both inexperienced and seasoned investors. They frequently include a variety of instructional materials and tutorials to assist users in getting started and developing their knowledge and abilities over time.
Top Features to Look for in the Best Paper Trading Platforms
When it comes to choosing a trading platform for crypto investment, there are several key features to look for to ensure that you are getting the most out of your experience. Here are some of the top features to look for:
Market Data Updates: Real-time market data should be made available to users of a good investing game platform, including pricing, volume, and historical patterns. This information is crucial for developing your trading strategy and making wise investing selections.
Listed Cryptocurrencies: Search for a platform that provides a large selection of cryptocurrencies to trade, including well-known coins like Bitcoin and Ethereum as well as more recent and obscure coins.
User-friendly Interface: Both inexperienced and seasoned investors should be able to easily use the platform's user-friendly layout. To get started and develop your knowledge and abilities, look for a platform that offers user-friendly tools and resources.
Analytical Tools: To assist you in seeing trends and making wise decisions, the platform should provide a variety of analytical tools and charting features. To keep you informed of market movements, look for a platform that offers technical analysis, news feeds, and notifications.
Customizable Settings: Search for a platform that lets you alter your preferences and settings, such as trading costs, portfolio management, and risk management. You may then customize your experience to suit your unique requirements and interests.
Mobile App: For investors who wish to keep up with their transactions while on the road, a mobile app might be a handy tool. Choose a platform that offers a user-friendly mobile app that gives you access to all the same functions as the desktop version.
Here are the Best Paper Trading Platforms for Crypto Trading
CoinFantasy: The world's first invest-gaming platform, CoinFantasy offers an immersive gaming experience to players who want to know the financial sphere better. Besides helping players master the art of trading, the platform also rewards the top gamers in the leaderboard.
TradingView: TradingView is a well-known platform that provides a variety of analytical tools and charting capabilities to aid with trend identification and decision-making. Users may model deals and follow their development over time, and it gives real-time market data.
Coinigy: Another well-liked platform, Coinigy provides a full variety of analytical tools, charting capabilities, real-time market data, and access to several exchanges. A smartphone app is also available for trading while on the go.
BitMEX: BitMEX is a well-known derivatives exchange that allows users to test their trading methods on trading accounts. Users may simulate trades on a variety of products, including futures and perpetual swaps, and it offers real-time market data.
Binance: Binance is a well-known cryptocurrency exchange that lets customers test out their trading methods using a trading function. It offers access to a variety of trading pairs and cryptocurrencies, as well as real-time market information and analytical tools.
Kraken: Another well-known exchange, Kraken, allows users to practice their trading methods with its trading simulation function. It offers access to a variety of trading pairs and cryptocurrencies, as well as real-time market information and analytical tools.
It's essential to take into account both your unique demands and preferences when selecting a paper trading platform for crypto trading, as well as the features and advantages of the platform. You may select a platform that will offer you the greatest possible experience and aid in the development of your abilities and confidence as a crypto investor by taking the time to research and evaluate various possibilities.
Wrapping Up
In conclusion, the best paper trading platforms offer wonderful chances for potential cryptocurrency investors to hone their abilities without having to invest real money. By utilizing these platforms, individuals may increase their overall investment performance, gain invaluable expertise and information about the bitcoin market, and create efficient trading methods. It's essential to pick a trading platform that accommodates your unique requirements and preferences and provides the features and advantages necessary for you to succeed in your investing objectives.