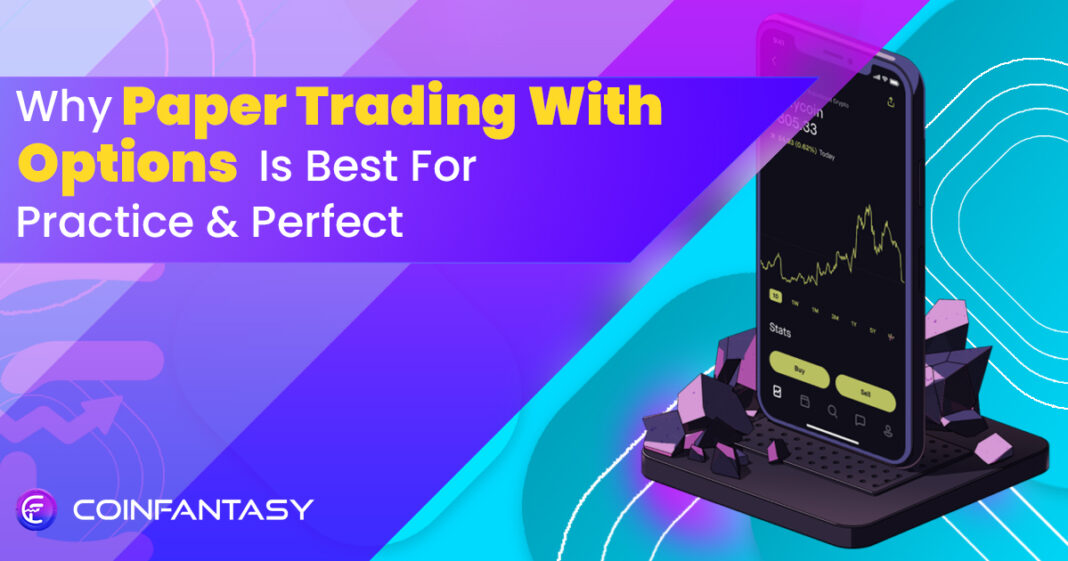 The world of trading can be both thrilling and difficult for traders. Options trading bears a high level of volatility, but it can provide huge chances for profit. Because of this, paper trading with options has gained popularity among traders of all experience levels. Simulated trading, commonly referred to as virtual trading, enables traders to test their abilities and refine their tactics without putting their own money at risk.
Using live market data and trading tools entails employing simulated trading accounts that mimic the real market, paper trading app functions. This virtual setting may give traders a risk-free method to test out various trading tactics, pick up new skills, and hone their approach to trading options.
Let's explore why paper trading is the best way to practice and perfect your trading skills. We will examine the benefits of paper trading, how to get started with virtual trading, and how to use it to improve your performance in the live market. Whether you are a novice trader looking to learn the basics or an experienced trader looking to fine-tune your strategies, simulated trading can help you achieve your trading goals.
Benefits of Using Paper Trading with Options
Risk-free trading: One of the biggest advantages of mock trading is that it allows you to practice trading without taking any risks. It is a great alternative for new traders or those who are afraid to risk their cash since it allows traders to test out various tactics and approaches without putting their money at risk.
Learning opportunity: Trading options on paper enables traders to gain a thorough grasp of how the options market operates. Traders may practice placing trades, controlling risk, and making wise judgments in a real market setting by using virtual trading accounts.
Practicing trading strategies: By using paper trading with options, traders may practice their trading techniques in a controlled setting. This involves evaluating how their tactics perform under various market circumstances, which may aid traders in honing their strategy and aid in making wiser choices in the live market.
Building confidence: Simulation trading can aid traders in gaining self-assurance in their skills. Traders may gain experience and improve their comfort level with the mechanics of options trading by practicing in a risk-free environment.
Cheap training: Options mock trading is a cheap approach to getting trading expertise. Paper trading enables traders to experiment without spending any money, in contrast to real-money trading, which necessitates traders risking their cash.
How to Use Paper Trading Options to Improve Your Trading Skills?
Start by establishing reasonable objectives for yourself. Decide what you hope to accomplish with paper trading and how you intend to do it. Your objectives can be to obtain more experience, develop your decision-making abilities, or master a new trading technique. You can stay focused, track your progress, and find areas for growth by setting objectives.
Second, treat mock trading just like you would trade with real money trading. Because there is no actual money at stake, it is simple to make snap judgments, ignore stop-loss orders, or take unwarranted risks. Paper trading with options, however, have to be treated just as seriously as dealing with actual money. This will support the formation of risk management and disciplined good trading practices.
Finally, establish a trading journal to keep tabs on your development. You may examine your transactions, assess your performance, and pinpoint areas for development by using a trading log. You may improve your trading techniques, learn from your errors, and reflect on your trading selections.
How Paper Trading with Options can Help You Become a Successful Trader?
Options paper trading may be a very effective instrument for you to learn how to trade successfully. Simulated trading provides traders with an environment where they may test various trading methods, hone their abilities, and make judgments without putting their money at risk. Here are a few ways that simulated trading might assist you in developing into a profitable trader:
First off, practicing your trading technique on paper might be beneficial. There is no one-size-fits-all approach to trading, and what works for one trader might not work for another. By paper trading, you may experiment with various tactics and adjust them to your requirements and preferences.
Also, simulated trading options aid in improving your market knowledge. You may learn how the market functions, how options are valued, and how to recognize prospective trading opportunities by practicing in a simulated environment.
Lastly, paper trading options can assist you in acquiring the self-discipline and emotional control required to succeed as a trader. Mock trading allows you to practice making judgments in a controlled, simulated setting because emotions may frequently interfere with making reasonable trading decisions.
Wrapping Up!
Paper trading with options is the most effective technique to hone your trading abilities. It is a virtual trading environment that enables traders to test out various strategies, grow from their errors, and make wise selections without putting actual money at risk. Trading methods may be developed and improved, as well as the discipline and emotional control necessary to thrive in the realm of trading, by adopting paper trading.