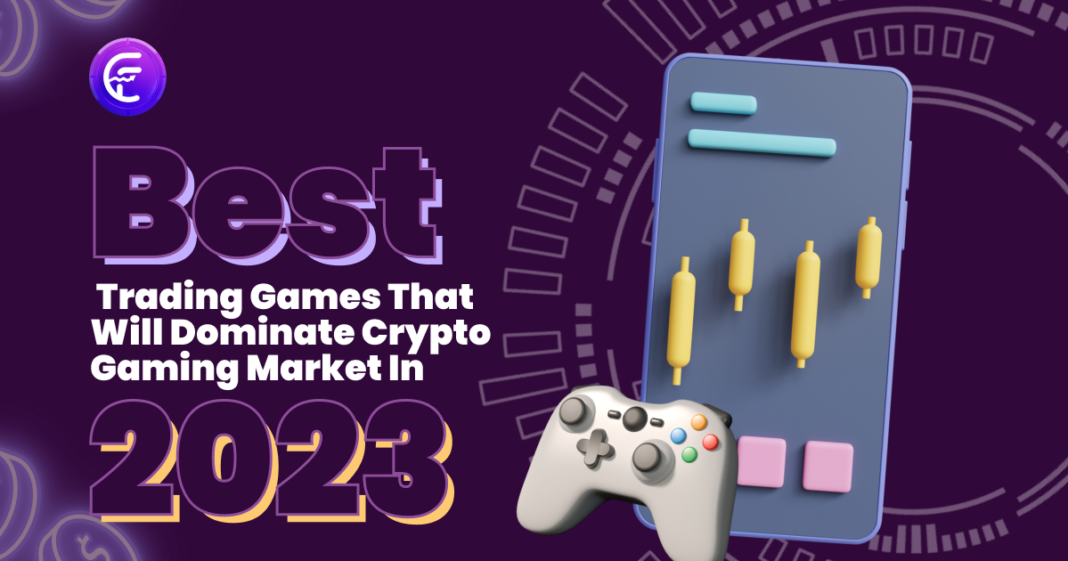 The number of individuals playing games has increased dramatically over the past few decades. According to incredibly encouraging figures, the game industry, currently valued at $173 billion, is anticipated to surpass the $300 billion milestone over the next five years. This expansion is due to a recent surge in new players, especially on mobile platforms. It has improved the game's functionality and accessibility for nearly 2.6 billion gamers worldwide.
Gamers have undoubtedly observed that they are spending time in virtual experiences with not much return because time is money. Consequently, they have started to look into ways to monetize their enthusiasm. In recent years, casual players have not had many opportunities to make profits from gaming outside of the esports industry.
Top Crypto trading games to look out for in 2023!
Interested in learning more about the top trading games of 2023? In this blog, we'll discuss our top choices and explain how they work.
CoinFantasy is the world's first decentralized investment gaming platform ever developed, and it was built utilizing the play-to-earn strategy used in crypto trading. Participants in our cutting-edge no-loss gaming only win by participating.
By gamifying the crypto-stock markets, CoinFantasy hopes to create a layer two platform on top of the primary markets. To win prizes, participants can assemble a lineup of stocks or cryptocurrencies in the company's fantasy portfolio management games.
As more users participate in CoinFantasy's play-to-earn method, the incentives increase. As a result, the awards get more valuable as more individuals enter.
The popularity of The Sandbox has overtaken that of Minecraft.
A cutting-edge GameFi digital coin platform called The Sandbox immerses users in a vibrant metaverse where they may create virtual worlds and make money from their gaming activities. Many galaxies are available, such as Summer Jam Land and The Walking Dead Land. Within the game, you can buy land pieces, which are virtual property.
Unlike real estate, the SAND currency can be used to buy and sell other assets. Users can also trade NFTs on the website, which they can use to customize their Avatar skills.
Metaverse Game with Excellent Opportunity.
In the virtual environment of Decentraland, you can exchange land parcels for bitcoin. Landlords in this game have the power to make the rules that control how the universe functions.
To start, You need to make a unique avatar if you want to play Decentraland. You can then discover the virtual world and interact with other players. If you wish to buy land in this reality, you'll have to buy MANA tokens.
Decentraland can be purchased, traded, and swapped on the open markets. MANA has had over 25,000% growth since its launch in 2020, making it one of the best cryptocurrencies in recent history with a market cap of 717.38 million dollars.
Axie Infinity became the first Ethereum-based NFT game to earn $1 billion in revenue on August 8, 2021. The game is being played actively by more than a million people. This non-fungible token (NFT) game was created by the Vietnamese company Sky Mavis and is currently the most popular.
In Axie Infinity, which is essentially a Pokemon-inspired game, you may construct a group of creatures called Axies and use them to battle other players in the Arena mode or face enemies in the Adventure mode.
The other two are the Smooth Love Potion and the Axie Infinity Token (AXS), the game's main cryptocurrency (SLP). While SLP is gained by completing the stages in adventure gameplay and winning arena battles, AXS is obtained by moving up the game's PVP leaderboard. You need both coins in order to breed an Axie, and you can only do this if you own both Axies.
Gods Unchained was created by the same team that created Immutable X, an Ethereum layer-2 scaling solution. Players use a deck, core cards, and genesis cards to fight one another in the trading card game Gods Unchained.
The basic decks are the ones you get for free just by playing the game. However, players can spend money on deck packs instead of grinding if they like.
The only cryptocurrency available in the video game Gods Unchained is the GODS coin, an ERC-20 coin. The GODS coin, now trading at US$6.69, is one of the most valuable gaming tokens available in the cryptocurrency business, making Gods Unchained a worthwhile game to play.
6. Illuvium
Illuvium is a 3D open-world auto-battle RPG that runs on the Ethereum Blockchain. The game's primary objectives are for players to engage in combat, complete missions, and advance in rank. They will get a digital currency called ILV Coin in return.
Illuvium is currently receiving more attention due to its merging with Immutable X, the protocols of Layer 2 solutions for NFTs with no charge costs. Illuviums can provide its consumers with peer-to-peer trade without levying a GAS fee, in contrast to other games accessible via the Ethereum network.
7. Thetan Arena
Participants in the game Thetan Arena can win cryptocurrencies without spending any money. To continue in the game and earn the native money, Thetan Coin, you are granted three free avatars (THC). To utilize the elite avatars, which you can purchase from the market, they must first be unlocked.
The elite avatars are the game's beating heart. These have the capacity to change, engage in new events, and trade as NFTs.
THG is the name of the utility and governance token that powers the in-game money (Thetan Gem). The THG token can also be staked to receive stake rewards. THC can be traded for fiat money through cryptocurrency exchanges.
8. Star Atlas
Players can swap NFTs of planetary systems, stars, and other objects while exploring the galaxy in the cosmological entertainment game Star Atlas. Each planet or star has unique qualities that distinguish them from one another throughout the game. Players can even discover new worlds by swiftly traveling through this virtual galaxy.
The governance token POLIS and the utility token ATLAS are both crucial to the operation of this blockchain-based game. Players have the opportunity to win POLIS by risking their ATLAS tokens.
9. Alien Worlds
The simple premise of Alien Worlds, a cyberpunk sci-fi adventure game, is that by playing, mining, and upgrading, you may create an enjoyable gaming experience. A user can use NFT alien species they have captured to dig for or find various game-related items. As a player makes more upgrades, their chances of winning rise.
A player can use the TLM coin to guarantee success and tasks and trade NFTs with other players. Games need drilling equipment, land, and TLM reserves to start.
According to the research, sales for ALien Worlds exceeded 570,000 USD.
10. My Defi Pet
In the game My Defi Pet, players can raise virtual pets. They can buy, sell, and trade these pets on the blockchain-based commerce system in the game. To create distinctive NFTs of their pets, people can change characteristics like color, fur type, eyes, monogram style, head form, and wings. This game is powered by the Binance Smart Chain and the KardiaChain.
The in-game currency, DPET, can be converted into NFTs or used to make purchases on the game's official website. The DPET currency can be used in the market to buy items for virtual pets, including accessories, food, and other supplies.
Conclusion
It's not unusual for gamers to want to make money from their gaming prowess and the time they spend staring at screens. The potential for blockchain gaming is endless. You can engage in a community-driven ecosystem (DAO), claim actual ownership of gameplay goods, and influence decisions that have an impact on the game in addition to making money in an open and equal virtual economy. None of this was possible in the centralized, traditional gaming business, and as more crypto games come online, people have greater opportunities to take part in virtual experiences that are more open and equal.