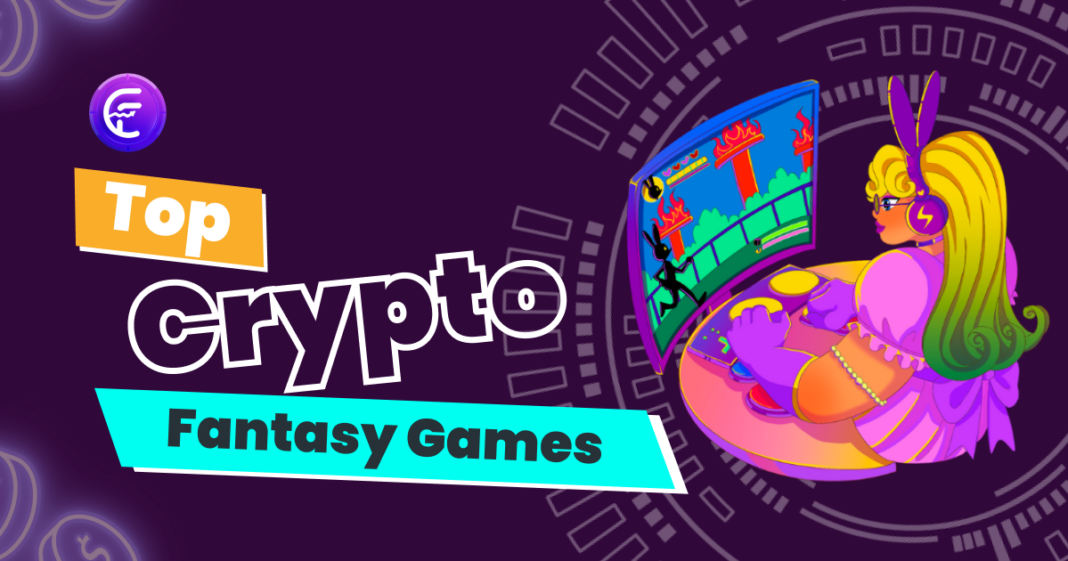 Video games were highly popular in the last 4-5 decades, but were always seen as an activity to pass the time. It had little or no connection with the real world. For instance, FIFA was immensely popular among youth but success in the game had no tangible use in real life. Your achievements stayed inside the game, on your personal computer. 
Note that whatever assets you earned during the game always stayed with the developers.
In a situation where developers decided to close the game, you had no option but to let all your earnings and in-game items go. No recovery.
But the gaming industry took a u-turn with the entry of play-to-earn crypto games.
All of a sudden, you could earn from playing games and you could carry over whatever you earn from games, into the real world. Crypto fantasy games are a type of play-to-earn game that let you earn cryptocurrency. In this blog, we'll discuss some of the top crypto fantasy games out there. But first, let's understand crypto fantasy games better.
What are crypto fantasy games?
The games are hosted on blockchains and use cryptocurrency as a key element in the game. For instance, CoinFanstasy is a crypto trading game that lets players manage a fantasy portfolio and earn CFTs (CoinFantasy tokens) or rewards based on the accuracy of predictions.
It is a subcategory of play-to-earn games where players can earn cryptocurrencies or NFTs by playing the blockchain-hosted game. Later, players can sell their earnings and turn the cryptocurrency or NFT into cash in multiple ways.
Benefits of crypto fantasy game
Crypto fantasy games or play-to-earn fantasy games are more than what traditional games used to be. It promise rewards for your efforts. Here are some of the key benefits of crypto fantasy games:
It is worth investing in because as players, you can earn rewards in proportion to the effort you put in. Once you complete activities or tasks in the game, you can win multiple rewards, mainly in the form of crypto, NFT, avatars, virtual land, etc
Unlike traditional games, crypto fantasy games allow you to turn your in-game earnings into currency. For instance, if you win crypto by playing a crypto trading game, you can get currency in exchange.
The top crypto fantasy games
Here are some of the best crypto fantasy games to try:
CoinFantasy
Coinfantasy is a decentralized gaming platform that allows you to try trading in real-time. It has big rewards for players who win the designated tasks and contests. The game employs Avalanche integration for seamless gaming.
In the game, players can use a specific budget to pick a lineup of tokens, which they believe performs well. If your lineup does well in the real-world market, you can win rewards aka CFTs (CoinFantasy tokens) based on how well they performed.
Another notable feature is the no-loss model. You don't have to spend anything, start playing and progress at your pace.
Trade The Games
Trade the Games is a gaming platform that lets you apply your trading skills and earn prizes and rewards. Rewards also include money.
To participate in Trade the Games, you have to sign up on the platform and become a member. Then you can start playing in contests by paying the entry fee. You can play in multiple contests at a time to increase your chances of winning.
Trade The Games contests resemble the real-world crypto market in many ways. For one, it trains you to deal with day-to-day trading scenarios. Factors like fluctuations are similar to the real crypto market.
Coins11
Coins11 is yet another crypto game that is easy to play. There are different types of contests on the platform and the fee varies with each contest. You can play as many contests as you wish. In the games, you can perfect the price movements of the chosen coins. Plus, you can bid on a certain amount of tokens.
If your predictions come true, you win contests and advance. If you end your game having locked your forecast for a winning position, you will win the rewards and cash awards. There is a Coins11 app to play the game.
Conclusion
As you have seen, play-to-earn crypto fantasy games are promising in nature and offer many rewards for players. If you're a gamer, you can earn rewards for your efforts if you possess excellent cryptocurrency knowledge. Play-to-earn games like the above have the potential to bring blockchain technology closer to mass adoption as they make these crypto games more familiar in society. We have to wait and see the further opportunities that these games open up for gamers.
Frequently Asked Questions
1. How do crypto fantasy games work?
The blockchain-based games work on the concept of play-to-earn gaming, where players can earn money or other rewards by playing and winning in-game contests. In crypto fantasy games, the contest usually predicts the good performance of major cryptocurrencies in the market.
2. Are crypto fantasy games profitable?
It is profitable because if you spend your time and effort playing these games, you can be sure of earning a reward from them. If you get really good at the games, you can earn big rewards on the crypto fantasy platforms, making them profitable.
3. Can you earn from crypto games?
Yes, you can earn from the fantasy games crypto. Games like CoinFantasy offer attractive rewards for winners of contests.