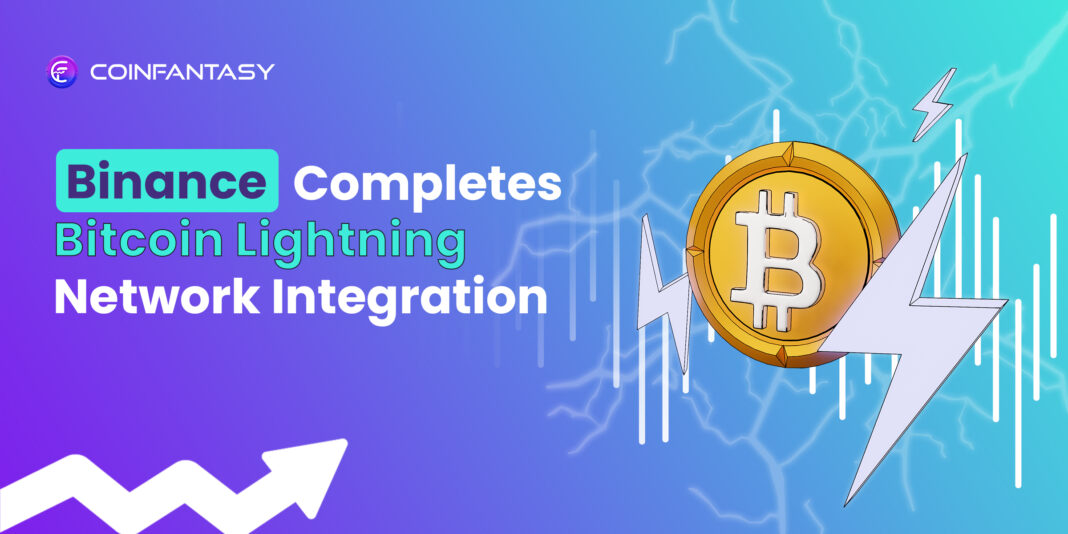 Binance, one of the biggest cryptocurrency exchanges, accomplished the integration of the Bitcoin Lightning Network, allowing customers to make BTC transactions more quickly and economically.
The crypto exchange originally hinted about Lightning Network integration in May and subsequently built up Lightning nodes in June. With the current complete integration, Binance users may now deposit and receive Bitcoin over the Layer 2 network.
This integration establishes instantaneous payment routes between users, enabling them to execute off-chain transactions with cheap costs that are subsequently compensated on the main Bitcoin network. Direct channels for payment facilitate Bitcoin sending and receiving without clogging the main network.
Binance Finished Integrating Bitcoin Lightning Network
Binance, the world's premier Centralized Exchange (CEX), has now completed the integration of Bitcoin (BTC) on the Lightning Network, which will provide significant advantages to its customers.
The company's customers may now select the Lightning Network as an alternative when making BTC deposits or withdrawals, in addition to BNB Smart Chain (BEP-20), Bitcoin, BNB Beacon Chain (BEP2), BIC (SegWit), and Ethereum ERC-20.
https://twitter.com/binance/status/1655380303383261185 (embed)
Binance chose to implement the Lightning Network after experiencing a short halt in BTC transactions in May. The interruption was necessitated by a rush of pending transactions and the resulting increase in BTC network gas prices.
The development of meme coins on the network of Bitcoin in the type of BRC-20 tokens, a new token norm, was one of the key causes for this peak.
The Importance of Bitcoin Lightning Network Integration
To realize the relevance of Binance's Lightning Network integration, you must initially comprehend the notion of a Lightning node as well as its role in the Lightning Network itself.
A Lightning node is a device that routes and processes Lightning Network transactions. The Lightning Network is a Layer 2 solution developed on top of the Bitcoin blockchain that addresses the Bitcoin network's two primary issues: scalability and rapidity.
The network frequently experiences congestion as the number of Bitcoin users and transactions rises, leading to longer completion times and increased transaction fees. Lightning Network addresses this issue by allowing for near-instantaneous and low-cost transactions. Binance provides its consumers with a faster and more affordable Bitcoin transaction mechanism by adopting the Lightning Network.
Advantages of Lightning Network's for Customers
The Bitcoin Lightning Network's capacity to handle transactions outside of the chain is one of its main benefits. This implies that rather than recording every transaction on the Bitcoin blockchain, just the opening and closing values are kept track of, lowering the load on the main network.
Customers can utilize payment methods to create direct connections and execute many transactions without having to post and approve each transaction on the network of Bitcoins.
The Lightning Network additionally provides the notion of "micropayments," which enable customers to make incredibly small-value operations that would be impossible to complete on the standard Bitcoin network. This gives up new opportunities for a variety of use cases, including microtransactions in gaming, content earning money, and others.
Customers could anticipate a more seamless and effective Bitcoin trading procedure with Binance's incorporation of the Lightning Network. Transactions will be processed more quickly, lowering the time necessary for verification and allowing users to capitalize on price movements more quickly. Furthermore, decreased transaction costs allow users to deal with smaller quantities of Bitcoin without charges surpassing the worth of the transaction.
Binance Maintains its Development Mission
Binance describes itself as the world's top blockchain environment and crypto-asset technology supplier, with an investment product portfolio comprising the world's largest digital currency exchange in terms of volume. Recently, it got caught up in a lawsuit against the SEC.
The Binance platform strives to promote users' financial independence by delivering a diverse portfolio of crypto-asset goods and services such as trading and financial services, educational research and information, societal benefit, funding and development, decentralization, and network services.
While the integration of Bitcoin Lightning Network incorporation has many advantages, it is still in its earliest phases. The Lightning Network is an emerging technology, and as with any new application, there may be certain hurdles or obstacles to overcome.
Binance's drive to embrace creative ideas and offer superior user experiences, on the other hand, underlines its goal to remain at the top of the cryptocurrency business.
Closing Thoughts
Finally, Binance's utilization of the Lightning Network for Bitcoin transactions is a huge step forward for the exchange and its consumers. Binance is simplifying BTC transactions and solving network jams and excessive fees by exploiting the Lightning Network's scalability and performance benefits.
Users can anticipate even greater transaction effectiveness and affordability benefits as the Bitcoin Lightning Network matures and gains wider use. Binance's dedication to integrating cutting-edge technology underlines its position as an authority in the cryptocurrency exchange field, seeking to deliver the greatest trading interface available to its consumers.