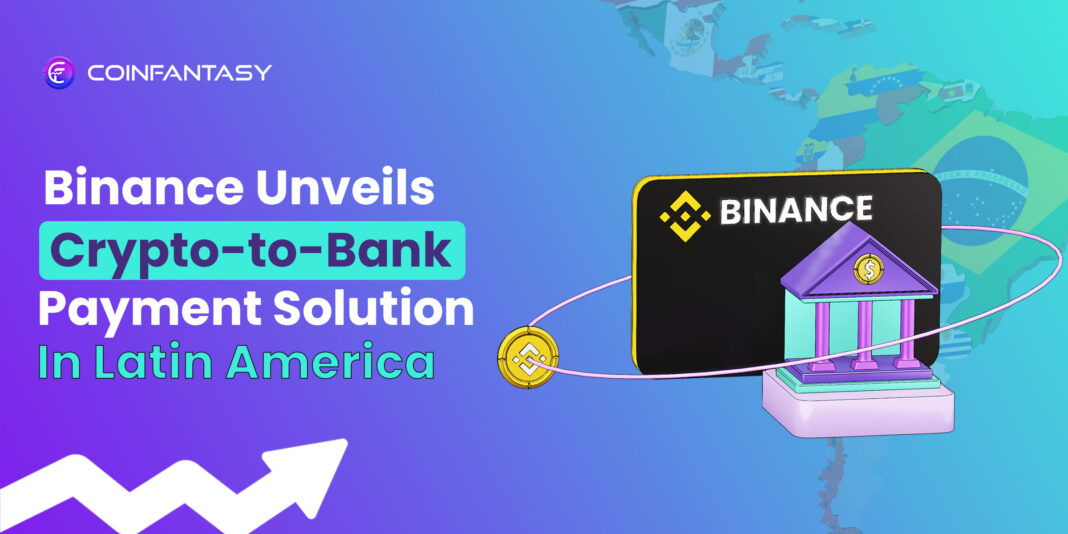 Binance has announced a new Crypto-to-bank payment solution enabling cryptocurrency transfers from Binance Pay in nine Latin American countries. 
The payment solution called Send Cash allows customers to transfer digital currencies at lower rates and faster through approved providers, according to a statement issued by Binance on 29th August.
Colombia, Honduras, Guatemala, Argentina, Costa Rica, Paraguay, Dominican Republic, Panama, and Mexico will be the first countries to have access to the platform. In the initial phase of rollout, users in the nine nations can send money to bank accounts in Colombia and Argentina.
Binance Introduces "Send Cash" in Latin America
Send Cash, according to Binance, will make it possible for customers in these countries to send and receive their digital assets using the company's borderless payment platform, Binance Pay. Send Cash will also enable customers of the exchange in these locations to receive fiat cash comparable to the worth of their digital assets automatically into their bank accounts.
Binance has said that its new crypto-to-bank payment solution is backed by approved transfer processing companies in Latin America, allowing for smoother and quicker digital asset transfers at lower rates.
Min Lin, Binance's Regional Vice President for Latin America, was thrilled about the newly announced service. He stated that the launch of Send Cash in Latin America was a long-awaited initiative that represents a huge step forward for the exchange while also confirming its status as the world's biggest crypto exchange.
He claimed that the expansion into Latin American markets will improve inclusion and enhance cryptocurrency acceptance, allowing users in the region to overcome payment restrictions while also meeting the payment demands of people inside the country.
"This is a further move ahead for Binance, which extends its dedication to the Latin American crypto sector, to expanding the advantages that it provides as a means of financial acceptance, and to developing novel approaches to use cryptocurrency in daily life," Lin added.
"Individuals and companies in the area are particularly welcoming of developments that may address the specific difficulties they experience, and Binance is going to continue to collaborate with them to react with solutions that meet those local demands."
Crypto Service Increases in Latin America Despite Rampant Inflation
Based on a World Economic Forum survey, 42% of individuals in Latin America lack access to bank accounts, which remains a concern. It accounts for 24% of the worldwide adult population. Crypto-to-bank payment solution strive to fill this need while also lowering financial transaction expenses for those who already use the old system.
In the face of out-of-control inflation in several Latin American nations, cryptocurrency is being utilized for remittances across the area. Venezuela is not included in this service since it has the world's highest inflation rate of 398%. Argentina has the fourth-highest inflation rate at 113%. Binance has removed Banco de Venezuela from its P2P platform.
Latin America Crypto Development
On August 24, Binance concluded a crypto card payment scheme with Mastercard in four countries, notably Colombia and Argentina.
Earlier this week, Ark Invest emphasized rising crypto acceptance in Argentina, which has been plagued by severe inflation. The state of the economy has paved the way for Javier Milei, a pro-bitcoin libertarian presidential candidate, to ascend to popularity.
Meanwhile, stablecoin issuer Circle said on 29th August that it has partnered with Latin American payments giant Mercado Pago to bring USDC to users in Chile. Num Finance stated earlier this month that the release of a new stablecoin on Polygon linked to the Colombian Peso presents a "unique opportunity" to tokenize payments in the area.
Before Establishing a New Latin American Payment Approach, the Company is Engaged in Legal Proceedings
The debut of the new Send Cash payment mechanism coincides with Binance's announcement that it will cease crypto activities in Russia due to regulatory scrutiny over its activities in the nation.
Binance has also been involved in a legal dispute with the Securities and Exchange Commission (SEC) of the United States, which claimed that the exchange was trading unregistered securities.
In recent times, the crypto exchange has faced regulatory issues, prompting it to cease its crypto activities in Belgium after allegedly breaking Belgian rules by providing exchange services. The crypto exchange relocated its Belgian clients to its Polish office to save some of its customers and fulfill regulatory obligations.
Overall, Binance has seen a fair amount of regulatory challenges. However, the crypto exchange has received some good news.
The move into Brazilian markets may aid in the cryptocurrency exchange's acceptance. According to reports, the Bitcoin lightning network, which is incorporated into Binance, is seeing some of the greatest adoption rates ever.
Closing Thoughts
Binance Pay broadens the availability of crypto-to-bank payment solutions through strategic collaborations. Binance Pay and Credential Payments, a leading payment processor in Latin America, announced another big cooperation on August 6. 
The platform users may now make real-time crypto payments at any merchant that supports Credential Payments thanks to this collaboration. This novel payment option offers great potential for local companies to not only attract new customers but also to expedite processes and cut expenses.