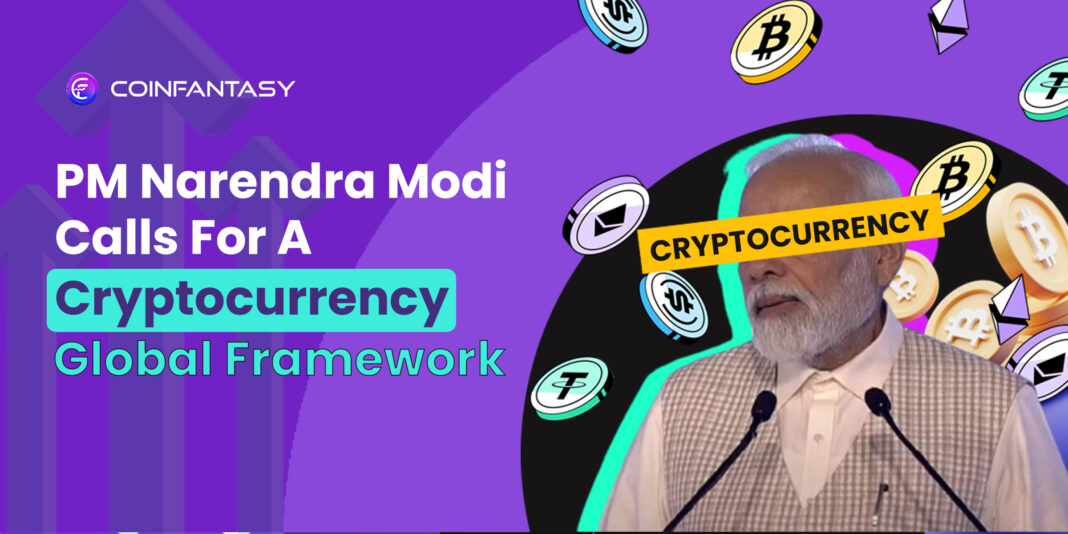 In an exclusive interview with Business Today, Prime Minister Narendra Modi emphasized the importance of having a comprehensive cryptocurrency global framework.
The PM of the world's largest democracy requested that corporate executives discuss AI, cryptocurrency, and other pertinent concerns. He stressed the necessity for a global crypto framework as well as the importance of focusing on "ethical AI" due to how quickly this technology is advancing and upsetting existing systems.
He accepted the inevitability of fast technology innovation and emphasized the significance of embracing, democratizing, and harmonizing its acceptance.
"The fast rate of advancement in technology is a necessity; there is no use in denying it or pushing it away." Rather, the emphasis should be on acceptance, democratization, and a cohesive approach," Prime Minister Modi stated.
At the same time, the laws, regulations, and structure should not be owned by a single country or group of countries. As a result, not only cryptocurrency but all new technologies, require a worldwide framework and rules, he noted.
7️⃣ Summary:

👉 PM Modi sees the rapid growth of technology, including #crypto, as inevitable.

👉 Instead of resisting or ignoring these changes, he believes in a collaborative, global approach to regulation.

— Keyur Rohit (@CryptoKingKeyur) August 27, 2023
A Global Consensus-based Model is Required for Crypto: PM Modi
PM Modi pushed for an integrated approach to developing laws, regulations, and cryptocurrency global framework for new technology. He emphasized that these restrictions should not be limited to specific nations or groups.
"A global consensus-based model is required, particularly one that takes into account the concerns of the Global South. We can learn from the aviation industry. Whether it's air traffic control or air security, some global rules and regulations govern the sector," Prime Minister Modi remarked.
India's G20 Presidency and the Cryptocurrency Agenda
PM Modi emphasized India's G20 presidency efforts over the past nine months, saying a lot of energy and efforts had been poured into debt and crypto objectives. He stated that the emphasis has turned to comprehending the larger macroeconomic ramifications, particularly for emerging markets and developing nations.
"Over the last nine months, enormous efforts and energy have been channeled into debt and cryptocurrency agendas. India's G20 presidency broadened the conversation about cryptocurrency's global framework beyond financial stability by addressing its broader macroeconomic consequences, particularly for markets that are emerging and growing economies," Prime Minister Modi remarked.
The G20 established an agreement on these issues, directing standard-setting bodies accordingly. Our presidency also hosted enlightening seminars and discussions that deepened our understanding of crypto assets, the Prime Minister stated.
Recent Changes and the Future of Crypto
Despite this upbeat prognosis, India has issued a "Presidency Note" aimed at creating a worldwide framework for crypto assets. In July, the Financial Stability Board (FSB) issued guidelines for a global regulatory framework. G20 finance ministers and central bank governors emphasized the need for global policy solutions in April, acknowledging the dangers of restricting crypto regulation to a single area.
According to Brian Armstrong, the CEO of Coinbase, the crypto exchange discontinued its trading operations in India last year owing to "informal pressure" from the Reserve Bank of India. This move was taken in response to regulatory issues.
Green Finance and Consumer Protection
During his talk to the B20, Modi also emphasized the need for businesses to observe International Consumer Care Day every year. He advocates a shift away from carbon credit trading and toward green credit.
He emphasized his country's importance as "the face of the digital revolution in the era of Industry 4.0" and its vital role in establishing a reliable and efficient global supply chain, adding:
The use of cryptocurrency poses a problem. In this case, a fully integrated strategy is required. I believe there is a need to develop a global framework that considers the interests of all parties.
The PM went on to say that enterprises have crossed boundaries and countries, and it is now time for them to look beyond the bottom line. They may do so by concentrating on supply chain resilience and long-term sustainability.
Indian Crypto Community Struggles as a Result of Crippling Taxation
The Indian cryptocurrency business suffered significant losses as the government enacted two debilitating tax legislation on unrealized crypto-related gains and transactions in 2022. The first mandated that unrealized gains be taxed at 30%.
That year was also difficult for Indian cryptocurrency investors. In 2022, they lost $130 million. In most cases, people were attracted to fraudulent cryptocurrency exchanges through social media using strategies like hacking and identity theft.
Closing Thoughts
Finally, India's prospective openness to the cryptocurrency global framework might mark a new era in the country's financial environment. Just as India's demonetization initiative received international recognition for incorporating previously unaccounted taxpayers into the system, a movement toward adopting cryptocurrency could indicate the start of a new age in banking. As the country navigates this changing environment, Prime Minister Narendra Modi's demand for "One Crypto, One Rule" may find support.