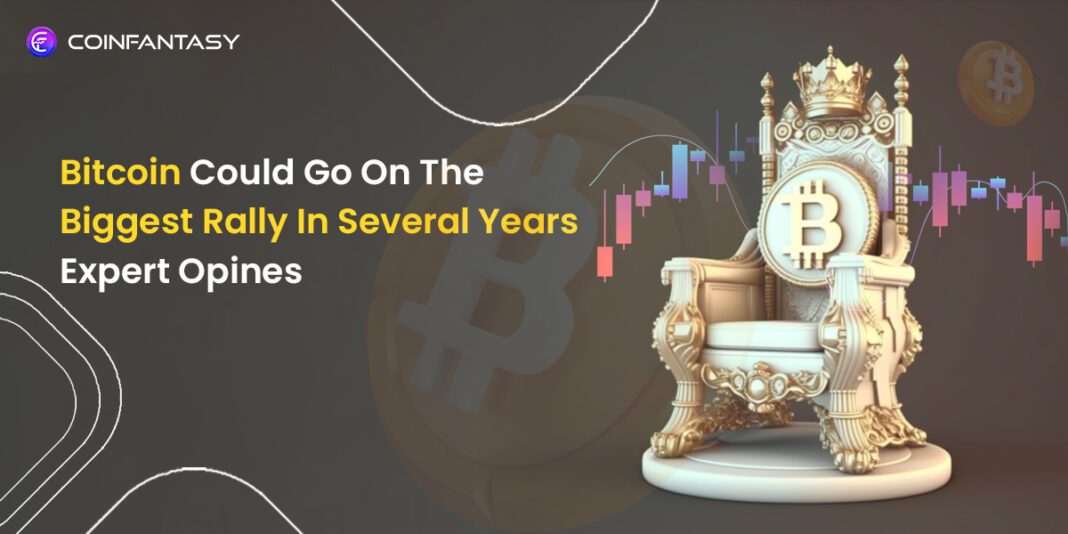 Analysts predict that BTC could go on the biggest rally after rising 70% since the beginning of 2023.
With a market valuation of $545.55 billion at the time of writing, Bitcoin's current price is at $28,230.98. Over $34.52 billion worth of trading occurs every day in BTC. A day before this, the foremost crypto had increased by 1.55%. It has a $19.32 million circulating supply.
According to analysts cited by Bloomberg, Bitcoin could go on the biggest rally since 2021, when the cryptocurrency reached a record high and was seen as a hedge against the problems facing the US and European banking sectors.
Tony Sycamore, market analyst at IG Australia Ltd stated, "There is now a slight tailwind favoring BTC as interest-rate markets have switched from pricing in rate hikes to pricing in rate decreases."
Additionally, Chris Weston, Head of Research at Pepperstone Group Ltd., noted that the recent $300 billion expansion of the US Federal Reserve's balance sheet to boost liquidity in the banking sector is favorable for risk assets. He noted that the action had helped gold and cryptocurrency.
The value of the digital asset market reached roughly $390 billion this year due to the crypto's revival, up from $1.5 trillion in losses in 2023.
Bitcoin Could go on the Biggest Rally: What's Triggering the Price?
Regarding macro shifts and pivots, BTC and other cryptocurrencies "tend to run ahead of stocks, so we're probably seeing indicators of this happening right now," said Les Borsai, the chief strategy officer of crypto asset manager Wave Financial. "An increasing number of investors are gradually directing more and more resources towards Bitcoin and cryptocurrencies. Without any exogenous shocks to the macroeconomic environment, this will likely continue and accelerate.
The cryptocurrency market's latest events are the most unambiguous indication yet that this cycle is almost at its bottom. In addition to BTC, Ether, the second-largest cryptocurrency, was leveling off, rising 3% in the previous day to over $1,750, its highest level in more than two months. Cardano and Polygon gained 3%, demonstrating the strength of smaller tokens or alternative currency: Dogecoin and Shiba Inu, two other meme coins, both experienced price increases.
Elliott Wave Principles & Bitcoin
Ralph Nelson Elliott, a Stock Market Analyst, developed the Elliott Wave theory in the 1920s and 1930s because he thought that markets had a more regular structure than the disheveled appearance observed by the majority of other analysts at the time. Despite differing opinions regarding the effectiveness of his approaches, his work on cycles and waves continues to be one of the most widely used tools technical analysts use to analyze financial markets.
The price of bitcoin fluctuates between periods of intense, unreasonable euphoria and despair. The leading cryptocurrency experiences record-breaking rallies during uptrends. The upside in downtrends is thus eliminated to the extent of up to 80% or more. But all of this is just a result of normal market cycles.
According to the Elliott Wave Principle, there are five waves in each cycle that move in the same general direction. These waves demonstrate the fractal nature of financial markets as they manifest to variable degrees across all timeframes. Elliott Wave adheres to specific principles, rules, numbers, and features as it is a "principle."
As per a specific Elliott Wave rule, wave four cannot enter wave one's price region. Wave one peaked at $13,800 per BTC; hence a line of invalidation may be drawn just above this price. The first crypto reached $15,000 at the very bottom of the most recent correction, but it never entered wave one's course. This fact by itself may be a sign that BTC is preparing for its fifth and last wave of this cycle.
The foremost crypto may also be in the fifth and final wave of a broader five-wave cycle. This may indicate that BTC is more vital than ever in preparation for one final grand finale before a far more painful bear market.
Price Analysis of Bitcoin
According to data on March 21 from CoinMarketCap, BTC was trading for $28,055, registering a slight decrease of 0.74% on the day but holding onto gains of 12.97% made over the previous week and 13.66% on its monthly chart.
The fourth halving event, which is estimated to occur in late April or early May 2024, is expected to result in a significant price increase for the leading digital currency in the months that follow the halving, which is contributing to the current bullish feeling around Bitcoin.
The Bearish View: Will Bitcoin Reverse Its Decline in 2023?
Another group of investors, corporations, and major institutions have a different perspective on BTC and are adamant that it will likely decline in the near future. They saw this rally as a significant "bull trap" rather than a "bull run."
According to experts, the stricter monetary policy and rising interest rates will prevent a swift recovery for Bitcoin in the near future. Investors will not choose to buy or invest in risky assets like BTC because of the uncertain nature of the market. Also, those who have been holding BTC may sell their holdings, putting additional pressure on the markets.
Conclusion
There are many opinions and forecasts about the first crypto, some of which are bullish and some of which are gloomy. But one strong thing that we have been hearing for a while now is that Bitcoin could go on the biggest rally in many years. Where Bitcoin will go next can only be determined with time. BTC has a significant capability for comebacks and is renowned for being robust.