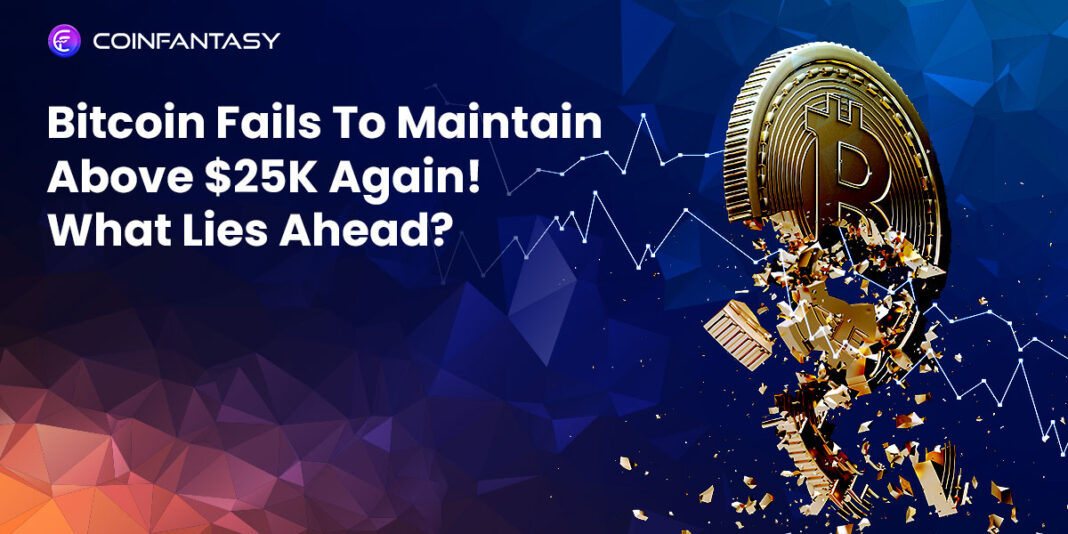 With a gain of more than $2K in a single day, the Bitcoin price has displayed an unexpectedly bullish turnaround from its support level.
The price of the biggest cryptocurrency by market capitalization, which has increased more than 9% in the last day, was about $24,920. BTC was trading below $22,000 as recently as 14th Feb before it started to rise as investors ignored the most recent mediocre inflation statistics and a government crackdown on stablecoins.
Major bitcoin holding MicroStrategy (MSTR) saw gains of 3% and 2%, respectively. Marathon Digital Holdings' (MARA) stock increased by more than 4% today. The Nasdaq and S&P 500 each lost approximately a half percentage point as equity markets began to trend downward more broadly.
Investors and industry professionals were baffled by the exponential price growth and attempted to figure out what was causing this strong positive trend. Because of this, the Bitcoin market is now eagerly awaiting the next price trend to see whether BTC will be able to start a trend continuation or experience a significant decline.
What Lies Ahead?
The price of bitcoin has established a solid base near $22,000 and has been able to push past various barriers close to the $23,000 resistance level. However, it appears that the Bitcoin price could be rejected near $25K and start a little downward correction as it falls close to the 23.6% Fib retracement.
Bitcoin is currently trading at $24.5K, up more than 8% over the last day. As it encounters a modest rejection near $25K, according to the analysis of the daily price chart, Bitcoin may start a downward correction below its 61.8% Fib level. Bitcoin may fall by 1.5% if the price is unable to surpass $25K in the next two days due to sellers opening short positions.
Bitcoin may once more move towards the bottom at $21.5K if it breaks below EMA-20 at $22.6K. But, if Bitcoin starts a weekly candle above $25K, from which the next resistance would be at $30K, it might invalidate its bearish interpretation.
2023 Price Forecast for Bitcoin
The Bitcoin price is currently below $25,000 as a result of a prolonged slump over the last few months and a significant drop in recent days. We've provided our price prediction for the upcoming years below to help give you a general idea of BTC's long-term outlook:
End of 2023: When a bull run in the price of Bitcoin starts, it might last for many weeks (or even months). By the end of 2023, when the next halving will take place, Bitcoin may reach new highs and trade above $75,000.
Why Did the Price of Bitcoin Rise?
The optimum market regime that seems to be emerging is one of the main factors behind the current increase in the price of bitcoin. Since US inflation has decreased from a peak of 9.1% in June 2022 to 6.5%, the Fed has been able to gradually raise interest rates. Markets are pricing interest rate reductions for 2023, which is supporting risk assets like equities and cryptocurrencies. A lot of recent negative news has already been priced into the cryptocurrency market, opening the door for upward movements.
Additionally, Bitcoin is now accepted as payment for products and services by many small businesses, and two developing countries have made it their official currency.
The usage of physical kiosks to deposit cash and buy BTC (or other cryptocurrencies) using bitcoin has also grown in popularity. A quick and simple way to buy virtual currencies is by scanning a QR code, which delivers the purchased cryptocurrency to the user's digital wallet. There are currently over 30,000 Bitcoin ATMs installed worldwide, according to sources.
Is This the Right Moment to Buy Bitcoin?
Bitcoin experienced its second-best January in ten years, and risk sentiment is shifting in favor of the formerly troubled currency. The price of bitcoin has increased dramatically (42%), starting in 2023 at about $16,600 and currently sitting at over $23,700 as of 2 February.
More crucially, the macroeconomic environment is also encouraging, with the Federal Reserve slowing its interest rate increases to 25 basis points at its meeting this month. Hence, if you are an investor with a short-term time horizon, now might be a good moment to acquire bitcoin. But, there are dangers ahead, such as a potential global recession.