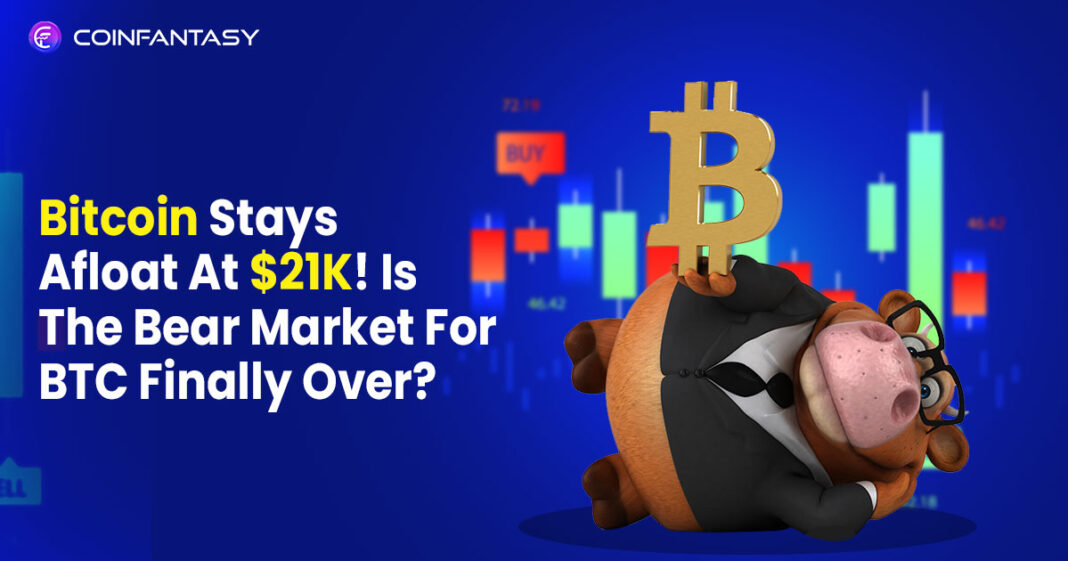 The cryptocurrency market's long-term viewpoint is getting better as Bitcoin (BTC) holds onto its recent gains and stays afloat at $21k. The total market cap briefly returns to $1 trillion as well.
The leading cryptocurrency has reached a four-month high, thanks to Bitcoin's ongoing uptrend.
Signs of Revival in The Cryptocurrency Market
In normal market conditions, the percentage is always in the neighbourhood of 20%. According to the Sentiment research, three additional occurrences would be necessary for a cryptocurrency market recovery.
Additionally, it is the first indication of an accelerating rise in BTC since the bull market of 2021.
Bitcoin Stays Afloat at $21k
From around $16,624 to $21,282, the price of bitcoin has increased by 29% in just 11 days. The bullish divergence seen between July 2022 and November 2022, among other things, contributed to this spectacular advance.
Bitcoin: Quick Overview!
Bitcoin is the first cryptocurrency developed by a person or group going by the alias "Satoshi Nakamoto." It was introduced in 2009 and is based on blockchain technology. In essence, Bitcoin is a form of peer-to-peer, decentralized electronic cash. Bitcoin transactions are entirely transparent, and the network isn't governed by any one institution of government or banks. Twenty-one million Bitcoins are the maximum number that will ever exist.
By using processing power to validate transactions on the Bitcoin network, a process known as "mine" yields new Bitcoins. Either mining the cryptocurrency or buying it from a cryptocurrency exchange are options.
Other cryptocurrencies like Ethereum, Ripple, Litecoin, and others were developed due to the popularity of Bitcoin and its open-source design. Around 6000 cryptocurrencies are expected to be in use by 2021. Despite initial doubts about its viability in the mainstream economy, Bitcoin gradually acquired tremendous support with the growing user base and is now accepted for payments by significant businesses like Microsoft and Tesla. Bitcoin's price fluctuates periodically when traded on cryptocurrency exchanges like Coinbase and Binance.
Primary reasons why bitcoins stay afloat at $21K:
Technical indicators are forming a local top simultaneously as significant barriers.
The Relative Strength Index (RSI) levels have never been higher (overbought).
According to the realized profit and loss indicator, an unusually high percentage of investors are profitable during a down market.
A very overbought position may be seen in the 30-day Market Value to Realized Value (MVRV) model, which indicates values last seen in October 2021.
The profit-to-loss ratio of everyday on-chain transactions has eclipsed all-time high levels.
Profit Levels are Reaching Astonishing Heights
Given the state of the market, an unusually high percentage of investors are displaying profits on their investments, according to the Realized Profit and Loss indicator. Realized gains outweigh realized losses by 1.65 times.
Typically, a Realized Profit Loss ratio this high during bear markets is unheard of. Therefore, this might either indicate that the bear market in cryptocurrency markets is giving way to a bull market or that the recent gain is set to reverse as investors attempt to book profits.
Final Note
We are likely already witnessing symptoms. When it comes to macro swings and pivots, bitcoin and cryptocurrencies frequently lead to equities.
More and more investors are progressively investing more money in Bitcoin and other cryptocurrencies. If there are no exogenous shocks to the macro situation, this will probably continue and even speed up.