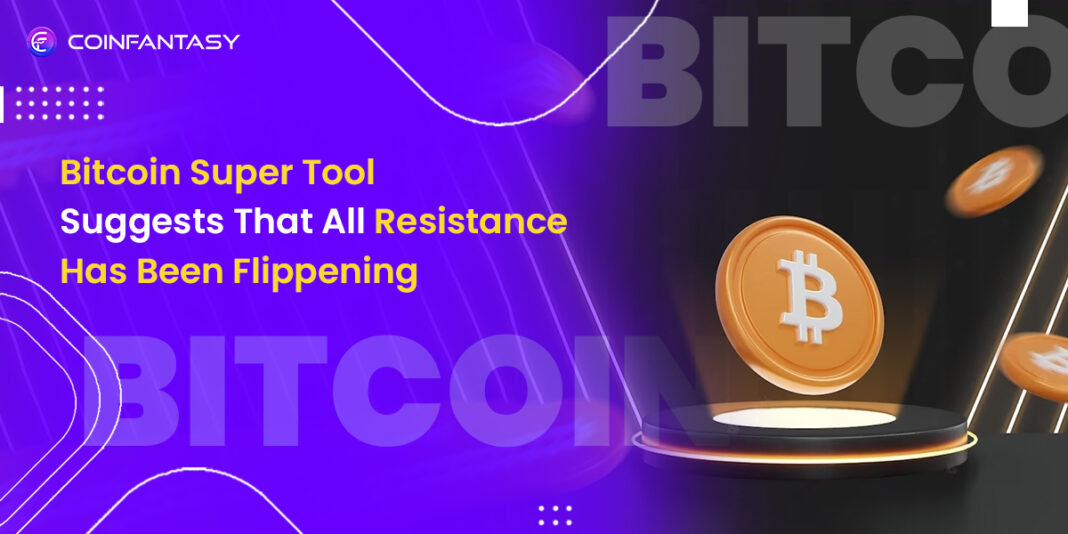 Bitcoin's super tool indicates that the cryptocurrency has flippened all major resistance levels. This is one of the major reasons why BTC's price is maintaining a $28K level for a while.
What Bitcoin's SuperGuppy Indicator Suggests?
A technical indicator called SuperGuppy is used to forecast the price movement of digital assets. This indicator, which can be applied to many timeframes, is based on moving averages. The SuperGuppy line is typically used to forecast whether a price will trend upward or downward.
The fact that BTCUSD was able to break the 1M SuperGuppy level successfully suggests a long-term upward trend. This is a cue for Bitcoin buyers and investors in the cryptocurrency market.
The tool, known as the Bitcoin Super Tool, is a ground-breaking new invention made to evaluate data on Bitcoin's price and volume. The tool's developers claim it can precisely forecast when Bitcoin will pass a critical resistance level. When Bitcoin is prepared to overcome resistance points and maintain its upward trend, the tool uses intricate algorithms and data analysis.
In the realm of cryptocurrencies, the Bitcoin Tool has drawn a lot of attention. Many traders and investors use it to guide their decisions. It has been said that the tool was successful in foreseeing Bitcoin's climb to $60,000 in February of this year. To help investors avoid losses, it has also been used to pinpoint probable sell-off points.
Because the Bitcoin indicator employs artificial intelligence and data analysis, many experts think that its forecasts are reliable. One of the most trustworthy tools on the Bitcoin market, the tool is continually learning and adjusting to new data.
Several traders have expressed doubt about the tool's accuracy, claiming that it is impossible to make precise predictions. However, the developers of this Bitcoin Tool have defended their creation, insisting that it is not intended to be a divining rod but rather a tool to aid traders in making informed decisions based on data analysis.
Amazing Advantages of the Bitcoin Super Tool
The Bitcoin indicator's aptitude for spotting "flipping" resistance is one of its advantages. The previously difficult-to-break resistance levels have now changed to support levels, making price fluctuations more predictable.
By utilizing the Bitcoin Super Tool, traders can improve their trading decisions and increase their profits. By delivering precise signals regarding market patterns for Bitcoin, this technology reduces risks.
Factors Influencing Bitcoin Price in the Recent Bear Market
The price of Bitcoin is impacted by a wide range of factors in addition to technical indications. Among them are:
Institutional adoption: The price of Bitcoin will increase as more financial institutions use it.
Regulation: Depending on how the government handles cryptocurrencies, the price of Bitcoin may increase or decrease.
Market sentiment: The general state of the market can have an impact on Bitcoin's price.
Supply and demand: The price of Bitcoin is influenced by both supply and demand.
Most crypto analysts believe that Bitcoin's price will increase over time. Some think that Bitcoin will hit $100,000 or even $1 million in the following years.
Yet, the price of Bitcoin might change considerably, just like the price of any other investment. Investors in cryptocurrencies are therefore encouraged to do their homework before purchasing Bitcoin.
Conclusion
In the 1M period, BTCUSD was able to breach the SuperGuppy line, pointing to a rising trend in the price of bitcoin. But, several other factors, including institutional acceptance, regulation, market sentiment, and supply and demand, also impact the price of Bitcoin. Yet, the majority of cryptocurrency analysts believe that over time, the price of Bitcoin will keep increasing. For traders who want to improve their possibility for profit when trading Bitcoin, the Bitcoin Super Tool is highly helpful.