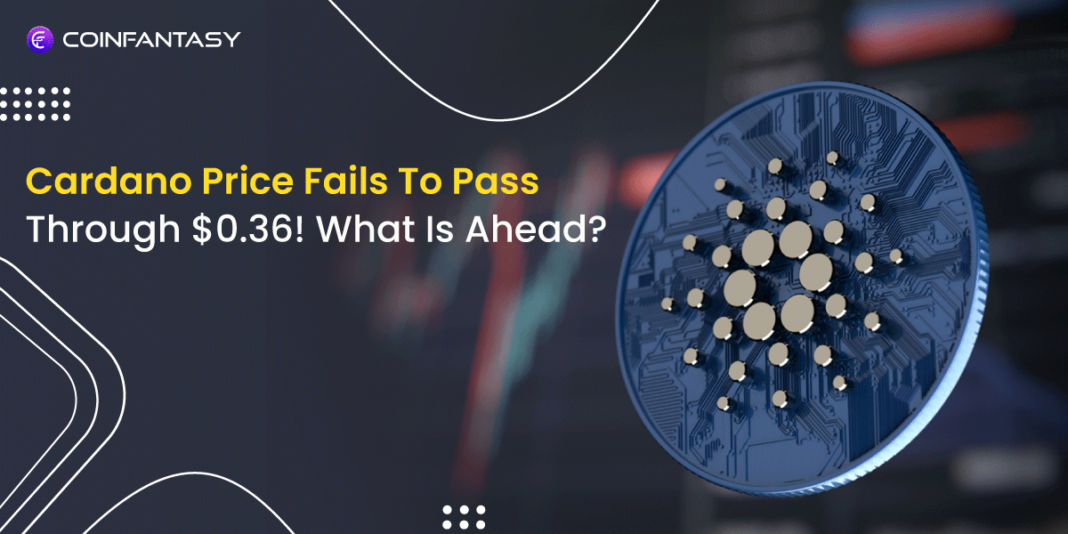 For the past few weeks, the value of Cardano has been declining. However, there have been positive moves during the recent trading hours as purchasers attempted to drive the price higher. Sadly, selling pressure has returned, as Cardano price fails to pass through $0.36, its critical support level.
ADA's technical prognosis is also unfavorable to investors. The purchase demand and accumulation indicators on the graph have been declining, indicating a lack of purchasing activity in the marketplace.
Furthermore, the overall market's resilience remains questionable, with Bitcoin falling below $27,000. As a result, many prominent cryptocurrencies, including Cardano, have faced a decline at their initial resistance levels.
Cardano is currently at a vital pricing point. If it succeeds to break through the above obstacle, the coin may begin to regain. If the price drops from its present level, it will find it difficult to stay above the critical support, perhaps resulting in bearish domination.
If Bitcoin trades over $27,000, it may have a beneficial influence on Cardano's price and maybe lead to a rebound. However, for a substantial price recovery, purchasing enthusiasm must return to the market. Cardano's market cap fall suggests that sellers have taken over the market.
Factors Indicate How Cardano Price Fails to Pass the Resistance Level
The hourly Relative Strength Index is also negative beneath 40.
The Fib retracement support level is below 0.618
If the ADA price breaks through the $0.36 horizontal support region, it could drop to the $0.33 daily period of support and potentially lower to $0.30.
The level of resistance is $0.37.
ADA was first priced at $0.367. ADA has been down 1.3% in the last 24 hours, but there is no major change on the weekly graph. The main resistance level for ADA is $0.37, which is an enormous obstacle that the bulls have been unable to overcome in recent weeks.
If ADA breaks over the $0.37 barrier, it has the potential to hit $0.39, leading to a big price rise. If the price falls from its present level, it may go below the critical support line of $0.35, which the bulls have been holding thus far.
In the previous session, the amount of trading of ADA was in the red, suggesting a fall in the number of purchasers engaging in the market.
Technical Analysis of Cardano's Price Movement
ADA has seen a poor purchasing trend over the month. This is seen by the Relative Strength Index being below 40, showing a preference for selling activity over purchasing strength. However, if Cardano exceeds its current price limit, it may contribute to a rebound in purchasing power.
Furthermore, ADA has gone below its 20-Simple Moving Average (SMA) line, showing that traders have been controlling the market's price movement.
ADA displayed purchase signs on the one-day chart, contrary to earlier findings. Green graphs were correlated with purchase signals on the Awesome Oscillator, which implies momentum and trend reversal. This means that prices may rise in the following trading sessions.
Looking Back at Cardano's Origin
Cardano is a completely open-source decentralized public blockchain with a Proof-of-Stake consensus algorithm. It develops creative capabilities to respond to the ever-changing intricacies of diverse dApps to offer an ecosystem for running Smart Contracts.
Cardano has set out to revolutionize the crypto market since its 2017 introduction by attempting to remove the bottlenecks of its fellow layer 1 blockchain.
It appears to be an extremely first public blockchain technology to emerge from scientific thought. Cardano intends to deliver the scalability, interoperability, and long-term viability required for applications in the real world by building based on high-assurance established development methodologies.
The community members have developed the smart-contracts system to be appealing to large-scale, essential dApps that can support future economic demands. Every ADA user is regarded as a stakeholder in the Cardano network. Other applications include staking the money in a pool in exchange for a payout.
Should You Buy ADA Nevertheless?
Cardano reported rapid development with the implementation of the Vasil hard fork, as well as other achievements such as being listed on Robinhood, the launching of a full-fledged DeFi protocol on its platform, and better community attitudes.
These elements may surely lead the route to $1 or more. Traders who want to go with the trend might, however, watch for a positive trend before starting to purchase.
Closing Thought
Due to market volatility, Cardano price fails to pass through a major resistance level. At present, the coin price may be down but from the above analysis there is a chance of a price hike too but nothing can be analyzed at the moment. As you know, crypto is a volatile asset and anything can happen at any time. Know the market before you start to invest in crypto.