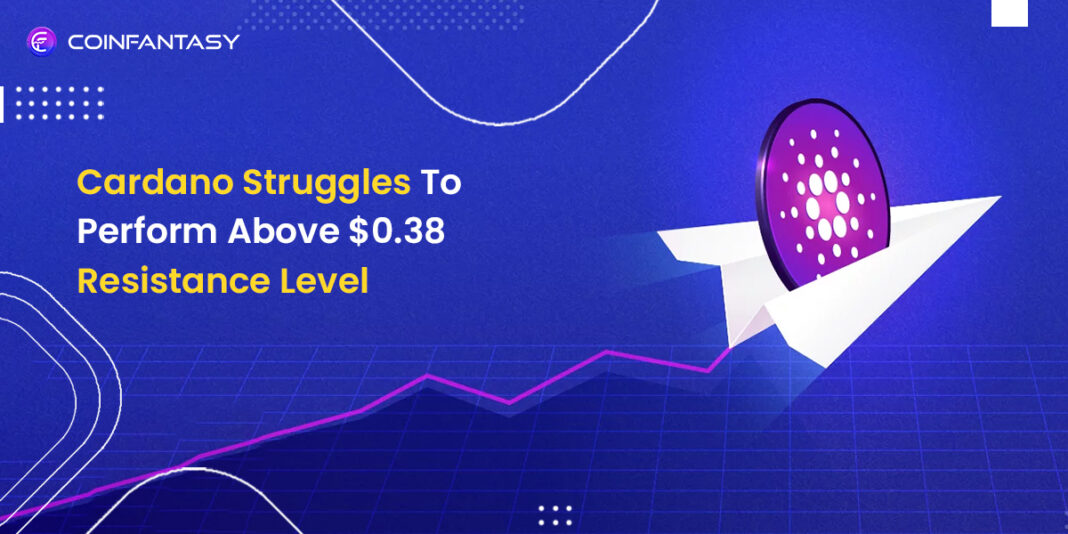 For the last two weeks, Cardano struggles to surpass its serious resistance level of $0.38. Investors' efforts to restore momentum over the last month have been weak, failing to overcome the negative mindset.
This consistent negative price action has ended in a significant breach of the critical need and support zone around $0.37 and $0.38. ADA has had a little upward rise on its chart in the previous 24 hours, but its growth has been restricted.
Similarly, ADA has not made substantial progress on the weekly chart. The crypto's technical picture suggests adverse effects and an absence of purchasing power.
As a result, demand and investment remain modest. Many cryptocurrencies have seen slight price gains, with Bitcoin reverting to $27,000. To move out of its current limited trading level, Cardano must sustain trading over its current support zone.
If ADA breaks through its overhead barrier, the cryptocurrency might see a significant gain in the next trading days. The fall in Cardano's market value shows that sellers are outnumbering purchasers in the market.
Price Analysis on Cardano's Struggle Around the Strong Resistance Level
Cardano (ADA) is the seventh-largest cryptocurrency by market cap. It saw a 0.42% 24-hour price dip, dropping to $0.3637. As a consequence, the Ethereum killer's value on the market increased to $12.681 billion.
In the meantime, ADA's 24-hour volume of trade was $135.789 million, a 45.18% rise from the previous day. Also, the value of the token was approaching its 24-hour peak of $0.3654, whereas its daily bottom was $0.3573. The latest dip in the price has driven its weekly result even farther into the red. As a result, ADA's weekly result was at -2.85%.
Cardano Price Forecast: One-Day Graph
ADA's value is currently at $0.36. The cryptocurrency is right now witnessing price fluctuation within a narrow range. Furthermore, at $0.36, the token is finding a key support level.
On the positive side, there is a $0.38 barrier above. A good breach over this level might push the price of the crypto toward $0.40.
Even so, if the price does not maintain its present level, it may go under $0.36. This would result in a price range for trading of around $0.34. The volume of Cardano traded in the current session decreased, showing modest purchasing strength.
Technical Analysis of ADA Over Multiple Factors 
Due to poor consumer demand, Cardano was unable to create significant purchasing support this month. The Relative Strength Index (RSI) is now below its midpoint, indicating that the market is under downward pressure.
In addition, the price of altcoins has lately fallen under the 20-Simple Moving Average (20-SMA) range, showing that traders have been pushing market movement. For ADA to have a breakthrough, the price needs to try to move over the 20-SMA line.
While additional technical signals could not indicate ADA bullishness, the one-day chart does. Green graphs of the Moving Average Divergence Convergence (MACD) indicate good price activity and strength.
Trading Volume: The high buy rate has allowed sellers to maintain price regulation. This does not appear to be changing until the price reaches $0.38.
RSI: The current day's RSI is over 50 points and appears to want to remain there. This is a positive indicator.
MACD: The daily MACD is positive, and the averages that are moving look to be set for growth once again. This suggests that new upward momentum is becoming more believable.
How Cardano Grew to Popularity?
Large transactions on the Cardano platform have been rising significantly. The value of these trades has increased from roughly 70 billion ADA to an astonishing 180 billion ADA. This unexpected growth of 100 billion ADA has caught the interest of significant traders in the causes for this unexpected rush in trading.
One of the primary drivers of this spike might be the basic expansion of the Cardano network and its own growth. Cardano has accomplished significant advancements in enhancing its platform in recent months, providing an ecosystem that allows the quickening of transactions on a large scale.
Developments like the Alonzo hard fork, which added the ability to execute smart contracts to the network, may have influenced Cardano's acceptance among large-scale supporters, impacting the surge in transactions.
Furthermore, the Cardano ecosystem's increasing system, characterized by an uproar of new deployments and project starts, might be helping this spike. Large investors are interested in the creation of new decentralized apps (dApps), non-fungible token (NFT) platforms, and decentralized finance (DeFi) initiatives using Cardano's platform.
They may be stockpiling ADA in preparation for using or backing these new initiatives, which could clarify the rapid spike in high-volume transactions. Another point to take into account is Cardano's new emergence as an intermediary for meme currencies. The debut of Hosky, the first meme currency on the Cardano network, triggered a rally inside the Cardano meme coin group.
Because meme currencies are volatile, they frequently see surges of high-volume transactions, which might be driving the surge. Whale investors may be capitalizing on this pattern by acquiring large quantities of ADA to make investments in these new tokens.
Closing Thoughts
Regardless, the wedge trend might continue to play out, and ADA's value could fall below $0.38, indicating how Cardano struggles currently. If it achieves a bullish breakthrough, it might rise to as much as $0.4953 as a consequence. ADA is seeking attraction from investors and so you can expect a positive outcome. At the same time, it is a volatile asset and there is a chance that the price may go down. No one can predict what will happen next in the crypto market.