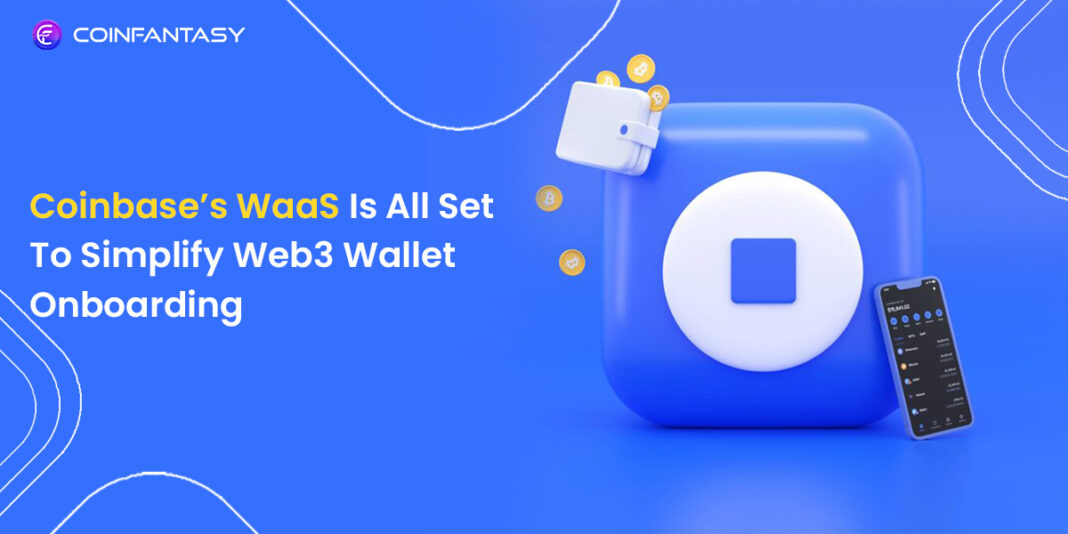 Coinbase has unleashed Wallet-as-a-Service (WaaS), a new offering that enables businesses to build completely configurable web3 wallets within their apps. The product aims to simplify web3 wallet onboarding and user experience.
Coinbase's WaaS pioneers to address these initial onboarding issues by providing a scalable and secure set of wallet infrastructure APIs that lets businesses build and distribute fully customizable on-chain wallets to their customers.
According to Coinbase, businesses can provide users with wallets directly in their exchanges, with onboarding as easy as a username and password. "Coinbase's WaaS is an influential solution for businesses looking to tap into the realm of web3."
Without sending consumers to a different website or app, these wallets can be offered in the company's apps, with signup requiring only a username and password.
Players can trade in-game goods and currencies over WaaS, and new channels for loyalty programs like token-based rewards can also be developed.
Web3 can help businesses develop new revenue sources, boost user engagement, and promote reward redemption across affiliated enterprises, according to Coinbase.
WaaS Helps Businesses Successfully Deliver Their Offerings
Patrick McGregor, head of product for Coinbase's Web3 Development Platforms, claims that the current onboarding procedure frequently necessitates users downloading third-party self-custodial wallets, which can be confusing and lead to significant drop-off rates. He claims that the purpose of Coinbase's WaaS is to make this procedure simpler and enable businesses to successfully deliver their offerings.
Advanced multi-party computation (MPC), which helps protect user assets by safely dividing, encrypting, and distributing keys among several parties, is used by wallets deployed utilizing WaaS for increased security. Compared to conventional web3 wallets, this is a great improvement that forces users to handle their own keys. Users also have complete control over their assets, including the flexibility to export their keys off the site whenever they want.
The Technology Behind Wallet As A Service
The WaaS uses multi-party computation (MPC), a type of encryption that allows many parties to compute a function without disclosing their inputs. MPC is likely to improve the privacy of private keys on Web3 platforms. It enables users to store digital assets more securely by dividing private keys into several portions and dispersing them among interested parties.
The key to the web3 wallet is safe and can be securely restored according to WaaS's design, even if a user loses access to their device. If a user alerts Coinbase, it has the ability to lock a wallet, restricting it from being utilized to validate transactions.
A smooth wallet-onboarding experience, according to Coinbase, may "bring the next million customers into Web3" for developers and businesses.
Coinbase's WaaS announcement comes as it works to expand the number of blockchain-based services it offers to developers in addition to those already available, such as the exchange and Coinbase Wallet. In reaction to a decline in the value of digital assets and a corresponding decrease in trading activity on the exchange, Coinbase recently boosted its emphasis on subscriptions and services.
Companies Using Coinbase's WaaS
Coinbase's WaaS is now being used by businesses like:-
Floor
Moonray
Thirdweb
Tokenproof etc., to onboard web3 users for gaming, token-gated events, and online marketplaces.
The founder of Tokenproof, who goes by Fonz, said the following in response to his company's adoption of Coinbase WaaS: "Tokenproof is on a quest to make Web3 more available to the latest influx of users. They will need to understand how blockchain works, making it impossible to interact with their favorite brands."
Wrapping Up
By giving companies of all sizes a simple and safe means to incorporate digital assets into their offerings, Coinbase's WaaS service represents a huge advancement for the bitcoin sector. Coinbase's continual outreach to developers and companies is continued with this launch. Base, an Ethereum Layer 2 blockchain network created as a developer-friendly method to enable developers to quickly install affordable, scalable Web3 decentralized apps, was introduced by the business in February. Offerings like WaaS will probably become more crucial as cryptocurrency adoption increases for companies wanting to stay competitive in a changing industry.