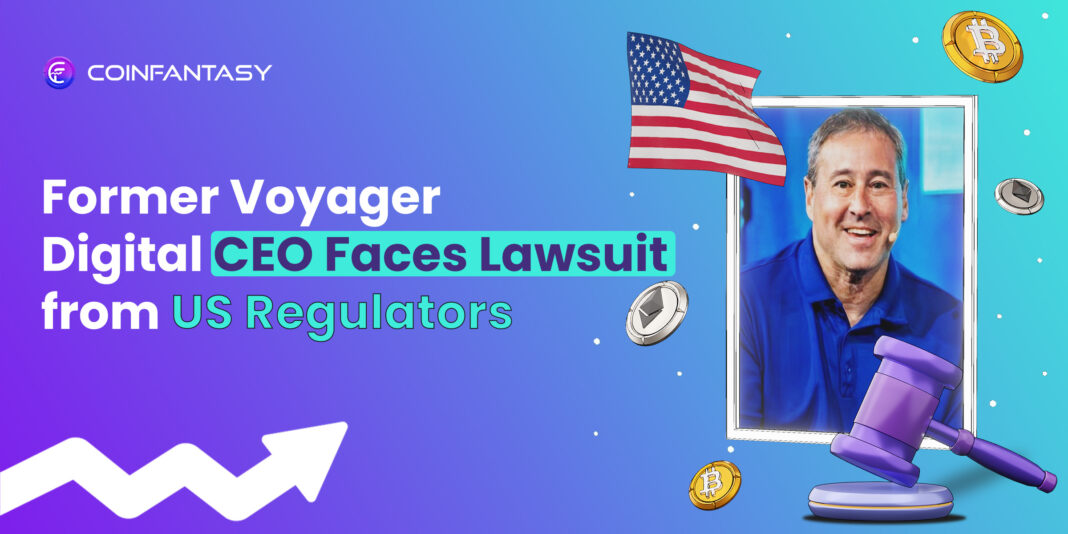 The United States Commodity Futures Trading Commission (CFTC) Commissioner Kristin Johnson has slammed Voyager Digital for its participation in the loss of billions of dollars in client assets. The critique was part of a larger legal case filed against the cryptocurrency brokerage business.
Voyager Digital is a thriving cryptocurrency company and has agreed to a $1.65 billion settlement with US regulators, one of the highest fines ever issued in the industry. A legal cloud is also forming around the firm's former CEO, Stephen Ehrlich, as regulators file a case against him, accusing him of a series of fraudulent operations.
Legal Proceedings and Regulatory Condemnation
Commissioner Johnson accused Voyager Digital of deceptive techniques, ignoring warning signs, and doing "bare-bones due diligence," all of which resulted in the loss of consumer monies. She referred to the corporation as a "house of cards" because it failed to protect consumer assets.
One of the major causes of disagreement was Voyager Digital firm failure to supervise the actions of its subsidiary investment enterprises using customer monies. Johnson was surprised by Voyager's inability to hold these companies responsible, highlighting the lack of pressure placed to maintain openness in their activities.
Statement of @CFTCjohnson regarding @cftc's charges against Voyager's chief executive officer. Learn more: https://t.co/OiBvOoCuV6

— CFTC (@CFTC) October 12, 2023
On October 12, the CFTC and the Federal Trade Commission (FTC) initiated concurrent complaints against Voyager's former CEO, Stephen Ehrlich. The CFTC's lawsuit Voyager Digital of fraud and "registration failures" as well as an "unregistered commodity pool."
The FTC, on the other hand, suggested an agreement with Voyager that barred the company from selling, marketing, or promoting any products or services that facilitate the deposit, exchange, investment, or withdrawal of assets. This agreement is consistent with the ongoing attempts to safeguard customers and limit additional losses.
Financial Ramifications for Explorers
As a result of these legal activities, lawsuit Voyager Digital and its connected corporations consented to a $1.65 billion penalty. This considerable sum is set aside for compensating consumers throughout the bankruptcy procedures, offering some assistance to individuals impacted by the financial losses.
According to the Federal Trade Commission (FTC), "Relief Defendant Francine Ehrlich was provided with money that can be traceable to Respondents' fraudulent conduct or activities described below, and she has no legal right to those sums."
In July 2022, Voyager Digital filed for Chapter 11 bankruptcy, stating probable obligations ranging from $1 billion to $10 billion to over 100,000 creditors. This bankruptcy petition was a major event since it showed the depth of the crisis and the breadth of the firm's financial troubles.
Following the failure of the digital currency hedge fund Three Arrows Capital, Voyager was among numerous enterprises that filed for bankruptcy. Following the restriction of deposits and withdrawals, the firm filed for bankruptcy on July 6, 2022, that year. Voyager completed a plan to dispose of its assets earlier this year as part of a consumer payback scheme.
Caroline Pham, CFTC Commissioner, also chimed in, highlighting the necessity of separating between managing investor funds for trading futures and handling deposits and loans. She emphasized the importance of finance and consumer credit in the larger economy, emphasizing the importance of cautious regulatory control.
Commissioner Pham, on the other hand, expressed reservations about the CFTC's view of what constituted a commodities pool operator, noting that it may go beyond the agency's legislative power. She warned against exceeding existing regulations and laws for providing institutions and consumer credit.
Stephen Ehrlich Turns Down Settlement
As part of a planned settlement, Voyager and its subsidiaries will be permanently prohibited from handling consumers' assets and providing associated services. The firms also reached an agreement to defer a $1.65 billion judgment for Voyager to restore the remaining assets to customers during the bankruptcy procedures.
Stephen Ehrlich, on the other hand, has refused to compromise, and the FTC's lawsuit against him will move forward in federal court. According to the FTC grievance, Ehrlich moved millions of dollars to his wife, Francine Ehrlich, including cash related to the alleged illegal behavior.
In addition, the settlement proposal forbids Voyager and its affiliates from misrepresenting product advantages, making misleading promises to gain financial information, and sharing customer data without authorization.
Both regulatory organizations are attempting to hold Voyager, Stephen Ehrlich, and other parties involved liable for suspected misleading activities and financial regulation crimes.
Closing Thoughts
Notably, on September 7, Commissioner Pham urged the CFTC to launch a cryptocurrency regulation pilot program. A program like this would address the dangers that retail investors confront in the quickly changing cryptocurrency industry, indicating the regulatory body's commitment to protecting consumer interests.
The legal charges taken against Voyager Digital and its former CEO mark an important turning point in the regulatory landscape for cryptocurrencies. The cases highlight the rising significance of strict monitoring to safeguard consumers and sustain financial market integrity.