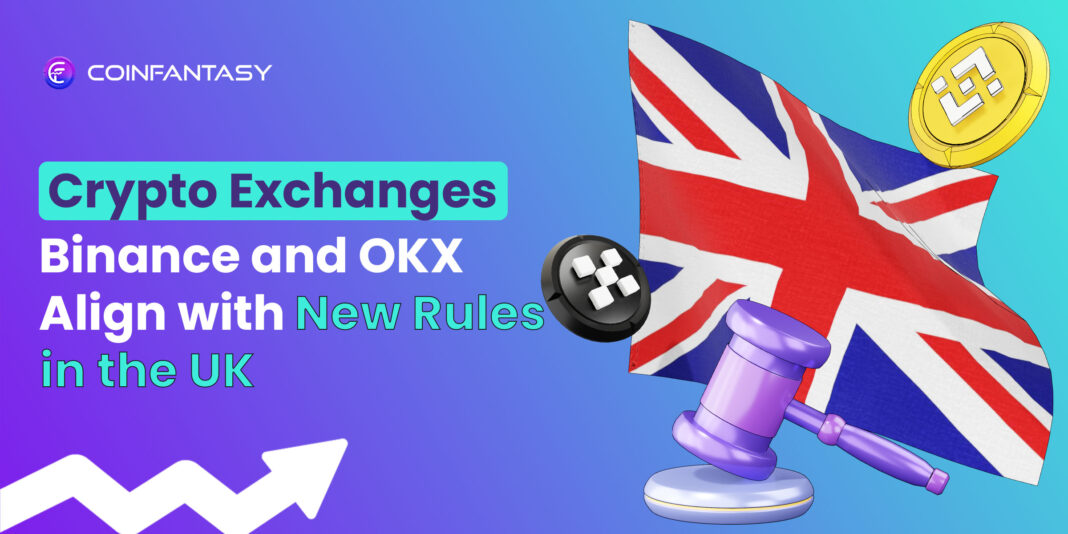 Cryptocurrency exchanges such as Binance and OKX have taken steps to comply with the United Kingdom's new Financial Promotions (FinProm) Regime, which was imposed on October 8 by the Financial Conduct Authority (FCA). The standards aim to guarantee that cryptocurrency marketing is fair, transparent, and clean.
Leading international cryptocurrency exchanges, including OKX and MoonPay, are making efforts to guarantee compliance with the UK's revised Financial Promotions Rule.
Continue reading to learn more about the most recent developments in UK crypto legislation and what they represent for the future of cryptocurrency in the UK.
FCA has Issued a Warning Against 140+ Exchanges, Including Huobi and KuCoin
A total of 143 new organizations were added to the warning list, including important exchanges such as Huobi-owned HTX and KuCoin. Apart from the line "You ought to prevent working with this corporation," the warning list contains no other important information concerning their hazards in the UK.
It's important to remember that the limits will be extended to include crypto-related firms regardless of where they're physically based. Huobi and KuCoin, for example, were not created in the United Kingdom; rather, they were established in Singapore and China, accordingly.
To "carry out crypto asset operations" in the United Kingdom, however, enterprises must either be regulated with the FCA or receive temporary operating authorization. Jayson Probin, the FCA's head of cryptocurrency financial marketing, indicated in July that failing to comply might result in criminal penalties:
"We plan to take severe measures towards anyone who illegally promotes to UK consumers." This may involve, but isn't restricted to, putting businesses on our advisory list and seeking the removal of infringing websites, social media accounts, applications, and any other marketing, as well as disciplinary measures."
According to data revealed in August, the FCA has given 291 registration applications since 2020 but has only allowed 38 of them or around 13% of them. As of the time of writing, 42 organizations, including Bitstamp, Revolut, and Gemini, were named as registered crypto asset dealers on the FCA's list.
PayPal has ceased handling cryptocurrency transactions for UK consumers until it works out how to fulfill the FCA's rules. Bybit, a cryptocurrency exchange based in Dubai, shut down all of its activities in the United Kingdom in late September due to "regulatory concerns."
Binance and OKX will Comply with New UK Cryptocurrency Regulations
As per a report Binance said on October 6 that it has partnered with the regional peer-to-peer lending company RebuildingSociety to develop a new domain, particularly for consumers in the United Kingdom.
Beginning October 8, Binance's retail users in the United Kingdom will be moved to a customized site that will solely show Binance products and services that are permitted and by U.K. regulations. This corresponds to the regulatory modification. Among these will be spot and margin trading, Binance Pay, its nonfungible token (NFT) marketplace, loans, and other items.
Binance will cease supplying products such as gift cards, referral incentives, academies, and research to adhere to the new FCA laws, reportedly to the exchange.
Customers excluded from the new FinProm laws, such as some institutional and professional investors, will be unaffected by the changes, which will only apply to regular customers in the UK.
OKX also issued a statement addressing FinProm conformity on the same day. The exchange stated that it had reduced the number of assets available in its token sale to about 40 and that it had included visible risk warnings to its user interface.
One such warning may be seen at the top of OKX's home page, where users are urged to spend a few minutes understanding more about the risks of making investments in cryptocurrencies.
All cryptocurrency exchanges are required to comply with the new financial promotions regime created by the U.K. Financial Conduct Authority ("FCA").
Accordingly, OKX will be updating its APP and Website to reflect the required changes. One of those changes is that OKX will be…

— OKX Help Desk (@OKXHelpDesk) October 9, 2023
"Don't engage unless you're willing to risk all of your money," it said. You shouldn't anticipate being covered if something goes wrong with this transaction." OKX has also launched a specific UK account on X's (previously Twitter) social media platform, promising to showcase items and services that comply with new UK legislation.
MoonPay News and Updates
MoonPay, a popular Bitcoin payment provider, is likewise attempting to comply with the recently enacted Financial Promotions Regulations. According to MoonPay's deputy general counsel, Matt Sullivan, compliance presents unique issues for worldwide organizations.
Closing Thoughts
Reports indicate that numerous cryptocurrency firms have failed to comply with the rigorous advertising restrictions in the United Kingdom. Notably, big exchanges such as KuCoin and HTX (previously Huobi) may have marketed their services without permission. The FCA designated these companies, along with 143 others, as "non-authorized firms," preventing them from conducting business in the UK, in a statement on October 8th.
Companies in the cryptocurrency business are negotiating difficult terrain to guarantee compliance while sustaining worldwide operations as cryptocurrency rules grow.