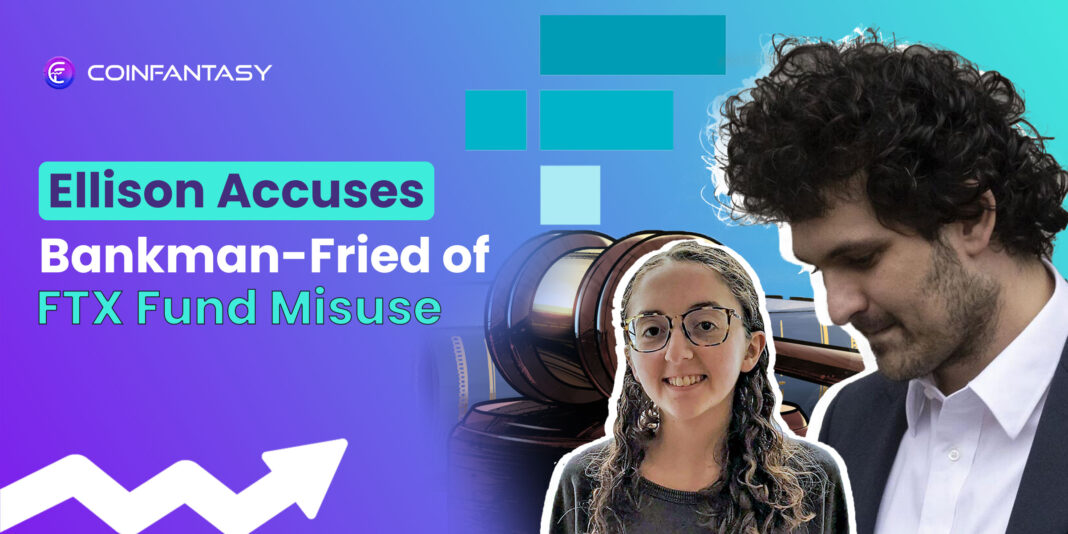 Caroline Ellison, the former CEO of Sam Bankman-Fried (SBF) trading fund, Alameda Research, testified that the crypto billionaire supervised a plot to swindle FTX consumers. Ellison's charges portrayed SBF as ambitious, deceptive, and misusing consumer money.
As reported by Reuters, the former executive outlined how an estimated $10 billion in FTX client cash was allegedly misused to pay off debts and make investments. This claimed conduct was organized by SBF, which had created mechanisms that allowed Alameda to access clients' cash.
AUSA Sassoon: The government would like to call Caroline Ellison.
SBF's lawyer: We have some burning issues.
Judge Kaplan: And I'll do it on my timeline.
[Caroline Ellison enters the courtroom, in a red dress]

— Inner City Press (@innercitypress) October 10, 2023
SBF Deployed the System and Asked it to Accept Money: Ellison
In court on October 10th, during the trial, defense lawyer Mark Cohen said in his opening statement that Ellison's inability to hedge Alameda's risky cryptocurrency investments in 2022 contributed to FTX's demise.
Ellison, on the other hand, acknowledged knowing that FTX used customer funds to support Alameda, and she, Bankman-Fried, and others collaborated to deceive lenders and conceal the actual link between FTX and Alameda. She was in a long-term relationship with Bankman-Fried, claiming she was compelled into doing crimes.
The former Alameda CEO explicitly blamed SBF for the embezzlement of FTX customer funds, claiming he "made the systems" that led to Alameda draining nearly $14 billion from the exchange.
"He was the administrator of Alameda then FTX, she explained. He gave me the orders to perform these acts. Alameda grabbed several billion dollars from FTX consumers and invested it. I provided balance sheets that made Alameda appear less risky than it was."
Ellison initially met Bankman-Fried at Jane Street Capital, when SBF convinced her to leave the investing business and join his cryptocurrency-focused initiatives. According to rumors, the duo has mainly stopped communicating after the breakup of FTX in November 2022.
Given his leadership of the crypto exchange, while she led the team at Alameda, the link between Ellison and SBF becomes a critical factor in the claims leveled at the ex-CEO.
Bankman-Fried faces fraud charges based on claims that he directed Alameda to access FTX user money without customer authorization and utilize it for a variety of purposes, including real estate purchases and political campaign contributions.
Furthermore, Ellison testified regarding Bankman-Fried's participation in a variety of financial transactions, including a plan to buy a $2 billion FTX stock portion owned by Binance.
Caroline stated that Bankman-Fried instructed Alameda to utilize $1 billion of its FTX line of credit to execute the deal. In 2021, Alameda mostly depended on loans from third-party digital currency financing desk Genesis, according to Ellison.
Wang Claims that an FTX 'Fixer' Gave Him Loans
During cross-examination, Wang amusingly revealed that he now understands the distinction between liquidity and solvency, garnering giggles from reporters. The defense did investigate the $200 million loans, showing that Wang used an Alameda Research loan to acquire a property.
A promissory document dated April 30, 2022, detailed a $35 million loan to Wang from Alameda at a 2.21% interest rate, which appeared to be regular business activity.
Sam Bankman-Fried's defense intends to question Gary Wang during cross-examination for proof of legal participation in Alameda Research's loan structuring, according to a late October 9 court filing.
Prosecutors questioned Wang about $200-$300 million loans from Alameda Research, which were utilized for FTX venture investments and a Bahamas property purchase, despite Judge Kaplan's earlier prohibition. Wang claims that these were legal loans that were codified in promissory notes with interest responsibilities.
The Distribution of FTT Tokens Raises Concerns
Regarding FTT, the FTX token, Ellison noted that it was established by Bankman-Fried and others on the FTX business development team to raise cash, similar to Binance's BNB token.
Alameda received a considerable amount of the original FTT allocation, believed to be between 60% and 70%. According to Ellison, Alameda received the tokens for free, with the remaining 20% sold privately to investors and staff.
The trial has revealed details about Bankman-Fried's supposed role in Alameda's activities, which contradicts his public assertions about leaving the corporation.
The testimony of key evidence, including Ellison, will be crucial in determining the result of the trial as it unfolds.
Caroline Ellison's sentence will take place following the end of the trial against Bankman-Fried. Assume prosecutors conclude that she met the terms of her plea deal, which included giving accurate testimony against Bankman-Fried. In that instance, they will submit a critical document known as a "5K letter" outlining her participation. Ellison believes that cooperating will result in a drastically lower sentence.
Ellison is the third former close friend and business colleague to provide evidence for the charges, following Adam Yedidia, a former firm software engineer and MIT classmate, and Gary Wang, a former math camp chum, MIT acquaintance, and FTX co-founder.
Closing Thoughts
Ellison and Wang, two of the first FTX and Alameda insiders, agreed to plead guilty in return for her testimony. Bankman-Fried's choice to testify as part of his defense is still up in the air.