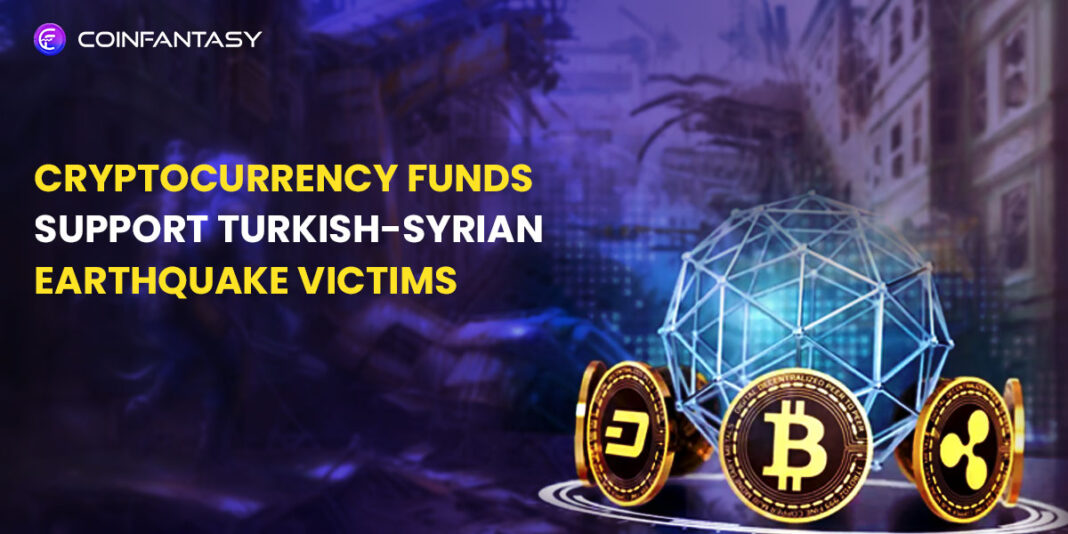 Following the Turkish-Syrian earthquake, the cryptocurrency sector is making major efforts to support the helpless victims.
While the countries are in ruins, cryptocurrency companies like Binance, KuCoin, OKX, and Bitfinex banded together to donate immediate funds to natural disaster victims. 
Turkish Web3 Community and Blockchain-based Emergency Relief
Following Cyclone Harold's impact on Vanuatu in 2020, Oxfam scaled a test net of a payment system overnight. More than 5,000 homes profited from the system.
Again in the summer of 2021, Haiti received Ether donations from around the world, $50,000 in Bitcoin from Binance, and $10,000 in Dogecoin after an earthquake measuring 7.2.
One of the highest levels of crypto-powered assistance has also been drawn to Russia's invasion of Ukraine. Details reveal that Ukraine received donations totaling over $100 million, of which $54 million was used to buy weapons.
Crypto Corporations Promise Additional Support
Approximately, $150,000 worth of ETH was delivered on February 11th by the vitalik.eth address to Ahbap, a non-profit organization dedicated to providing aid in Turkey.
A number of crypto addresses for tokens that can be used as donations have also been posted by Ahbap.
So far, the NGO has managed to collect $4.3 million in cryptocurrency donations, with stablecoins being the most popular token choice. The Ahbap wallet currently has 409 ETH, valued at $622,000.
In response to the recent earthquake that hit Turkey, Bybit, the third most popular cryptocurrency exchange in the world, today announced it will donate $100,000 to the country's disaster relief efforts. With this donation, we hope to benefit people in need and those impacted by the calamity.
Ben Zhou, Co-founder and CEO of Bybit, expressed his sadness over the earthquake that struck Turkey by saying, "We wanted to do our best to support those affected. We are dedicated to improving people's lives by utilizing the resources and power of our platform.
A cryptocurrency exchange for helping Turkey recover from the earthquake, Gate.io committed one million Turkish Lira. Launching a philanthropic Earthquake Recovery Donation NFT collection in collaboration with Gate NFT will help raise more donations.
Justin Sun, the inventor of Tron, promised to give $1 million worth of TRX from the Huobi Global cryptocurrency exchange, adding his name to the increasing list of founders and businesses donating to aid in disaster relief.
Zhao tweeted, "Time to take care of our users," and added that the cryptocurrency exchange would give away $100 (1883 TRY) worth of BNB, or $5 million, to users in the area.
Time to take care of our users. 🇹🇷❤️#Binance to Airdrop $100 USD in BNB to Users in Turkey Earthquake Regions. Total roughly $5m USD (94m TRY).

More efforts still being worked on.https://t.co/Z4uACsf5Xe

— CZ 🔶 Binance (@cz_binance) February 7, 2023
Bitfinex, Keet, Synonym, Tether, and other businesses issued a collective pledge of 5 million Turkish Lira, or around $266,000, to support the disaster recovery effort as soon as news of the earthquake and the staggering number of fatalities killed spread.
Wrapping Up
The cryptocurrency community, which included several well-known figures like Ethereum co-founder Vitalik Buterin, sent millions of dollars in donations to support the Ukrainian government and NGOs operating in the region after Russia's invasion in February 2022, in what was dubbed "the world's first crypto war".
Several decentralized autonomous organizations, or DAOs, have emerged in the previous 48 hours providing assistance to fund humanitarian efforts, similar to the Ukraine DAO from last year.
However, there are always worries that some fundraising crazes that follow significant disasters could be malicious attempts to defraud well-meaning benefactors.
Verifying these organizations is essential to ensuring that aid reaches the needy. Charitable cryptocurrency donations are made possible by initiatives like Endaoment and The Giving Block.