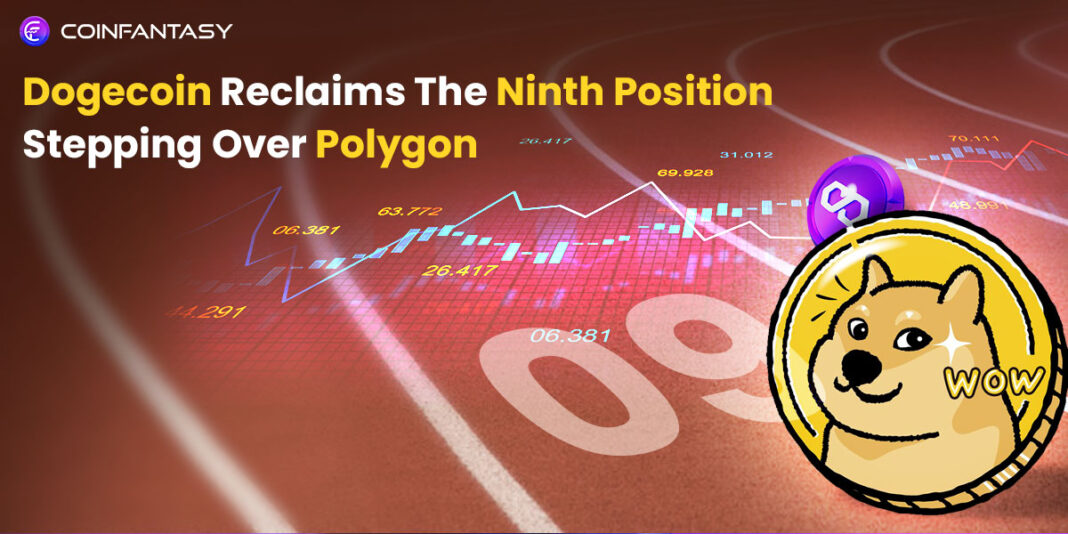 As of now, Dogecoin is the ninth-largest cryptocurrency by market capitalization. The 'DOGEFATHER' , Elon Musk himself enabled it to defeat Polygon (MATIC), which had staged a spectacular rally over the previous two weeks to maintain its position.
A Tweet that Causes a Rise
The Super Bowl LVII was finished over the past weekend and featured the great artist Rihanna's iconic comeback. The owner of Fox News and chairman and CEO of News Corporation, Rupert Murdoch, was seen alongside billionaire Elon Musk on this occasion.
Elon Musk responded to a tweet that included a picture of the pair during the Super Bowl and asked followers what they believed they were discussing by stating that they were discussing "Dogecoin." As usual, when this tweet was published,
Dogecoin Price Prediction
In January, Dogecoin's (DOGE) price rose by 45% and reached a new high of $0.0998. However, the meme coin lost about 15% and was trading at $0.08183 at the time of writing.
At one time, it was Elon Musk's preferred meme coin and one of the most widely used digital currencies. But DOGE was severely hurt by the FTX story because its price had risen to almost $0.15, the most significant level since the first cryptocurrency meltdown in May 2022 following the Terra stablecoin fiasco.
The cryptocurrency market has advanced significantly since its beginning in or around 2010. The industry's goal was an on-chain financial order without the need for governmental intervention. Such a huge scheme naturally aroused curiosity and even smiles.
The Financial Times's story that Elon Musk is considering incorporating a brand-new payment system inside Twitter is what caused this spike. This information sparked rumors that one of the payment options included in the social media portal would be the popular meme coin.
Additionally, Gov Capital offered its prediction for this digital currency. The site is unrelentingly enthusiastic about the price of the cryptocurrency; they predict that by the middle of May 2023, the price of DOGE will increase to $0.38845. Following that, a slight price drop is anticipated; cryptocurrency may end the year with an average price of $0.3162.
Is it the Best Time to Invest in Dogecoin?
There are various things to think about before deciding whether to invest in Dogecoin or not. These consist of the following:
Market sentiment: The value of Dogecoin is greatly influenced by this quickly changing factor. The price of Dogecoin might rise if there are good stories regarding cryptocurrencies or Dogecoin specifically. On the other hand, bad news or market movements may make Dogecoin's value decline. 
Popularity: A large group of people that believe in the potential of Dogecoin is its staunchest supporters. Its acceptance is not as extensive as that of other cryptocurrencies like Bitcoin or Ethereum, though.
Adoption: One of the most important aspects that might affect Dogecoin's value is its acceptance as a payment method by organizations and individuals. It has the potential to be more valuable the more broadly accepted it is. 
Competition: Dogecoin is up against rival cryptocurrencies, some of which may be more technologically sophisticated or more widely used. In the long run, this might have an impact on Dogecoin's value. 
A Dogecoin investment has the potential to yield high returns, particularly if the currency's value rises. Dogecoin's recent price increase has made some investors very wealthy, but it's crucial to remember that the currency's value can be very unstable. Additionally, Dogecoin has a vibrant and encouraging community, which may help with adoption and long-term growth. Besides, purchasing Dogecoin can be a means to aid the advancement of decentralized banking and blockchain technologies.
If you are considering investing in cryptocurrencies, we suggest you always do your own research. Consider the most recent market trends, news, technical and fundamental research, and professional judgment before making investment decisions.
Please keep in mind that past performance of the asset does not guarantee future outcomes. Never invest money that you cannot afford to lose, as well.
The Total Supply of Dogecoin
There are currently more than 130 billion Dogecoins in use. As an inflationary coin, the Dogecoin supply is not limited in any way. Prior to 2015, the initial supply of 100 billion Dogecoins was mined, and every year after then, an average of 5 billion more Dogecoins have been produced.