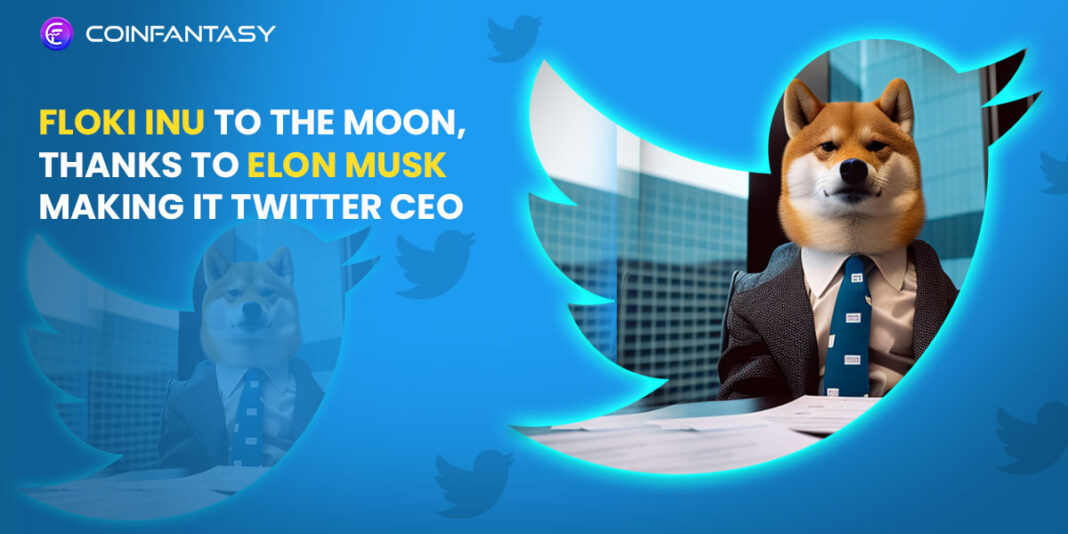 A well-known meme cryptocurrency, Floki Inu, experience a 45% price hike last week. According to data from CoinMarketCap, the cryptocurrency was trading at $0.000022 at 8:45 AM and rocketed up to $0.000033 at 9:30 AM on 15th February.
Elon Musk's series of tweets is the reason behind the rapid uptick in the meme cryptocurrency. Musk posted a few pictures of a Shiba Inu dog on Twitter, stating that the dog is the new CEO of the microblogging service Twitter. The papers across the dog's table listed Floki as the dog's name.
Floki Inu now commands attention as a result of his advocacy for meme coins. As with the Shiba Inu (SHIB) and DOGE hysteria in early 2022, the Floki Inu supporters will be encouraged by this, and a flurry of Twitter campaigns is expected to follow. The narrative behind this coin is more complex than just support and publicity though.
Major cryptocurrency exchange KuCoin declared that it would include the meme coin in its platform not long after the Twitter CEO Floki fad gained traction. Some smaller exchanges have announced listing Kucoin after its announcement, and some others are also getting ready.
Developers of Floki Inu have suggested a change in governance involving the burning of FLOKI coins valued at $55 million. Developers in the meme coin ecosystem are building NFT marketplaces, metaverse-based games, educational platforms, and other things that are often considered Shiba Inu's competition. Because of Elon Musk's interest, fresh news might propel cryptocurrencies into a much stronger position in terms of trader interest.
Musk announced his intention to leave his position as the social media platform's CEO during a speech on Wednesday. His top responsibilities right now are to secure Twitter's financial position before the new CEO takes over. Following Musk's remarks about the new Twitter CEO, the price of meme coins increased by over 60%.
What is Floki Inu?
On the Ethereum blockchain, the ERC-20 token Floki inu is another meme coin with a dog motif.
The foundation of the Floki inu token is that it is a cryptocurrency for people with a vibrant meme scene. The three pillars that support the token's ideals are utility, charity, and meme.
The creators of the meme hold the view that memes are accessible to people of all ages, genders, and socioeconomic backgrounds.
Utility: The utility roadmap includes three utility projects—Valhalla, FlokiPlaces, and Floki University—and provides the crypto market with solid fundamentals.
Other Cryptos Rally Alongside Floki Inu
Another dog-themed meme coin, Shiba Inu, saw rises on Wednesday as a result of Musk's comments. The cryptocurrency, which was trading at $0.0000122, quickly rose to $0.0000128, up almost 5%.
At 10:30 AM on Wednesday, Shiba Inu was trading for $0.0000127.
With other meme crypto coins, a similar rise was seen as well. Elon Musk's favorite cryptocurrency, Dogecoin, rose more than 7% as a result of his post. After the tweet, the cryptocurrency, which was trading at $0.081, surged to $0.087 and gained 7.14 percent in just a few hours.
The support Elon Musk has shown for cryptocurrency is well known. Because he frequently tweets about Dogecoin driving rallies in the value of the cryptocurrency, his admirers refer to him as Dogefather, a pun on the word Godfather.
Is it Beneficial to Invest in Floki Inu?
You'll have to decide for yourself whether you ought to put money into FLOKI. But before you do, do your own homework, and never risk more capital than you can afford to lose because values can go up in addition to down.