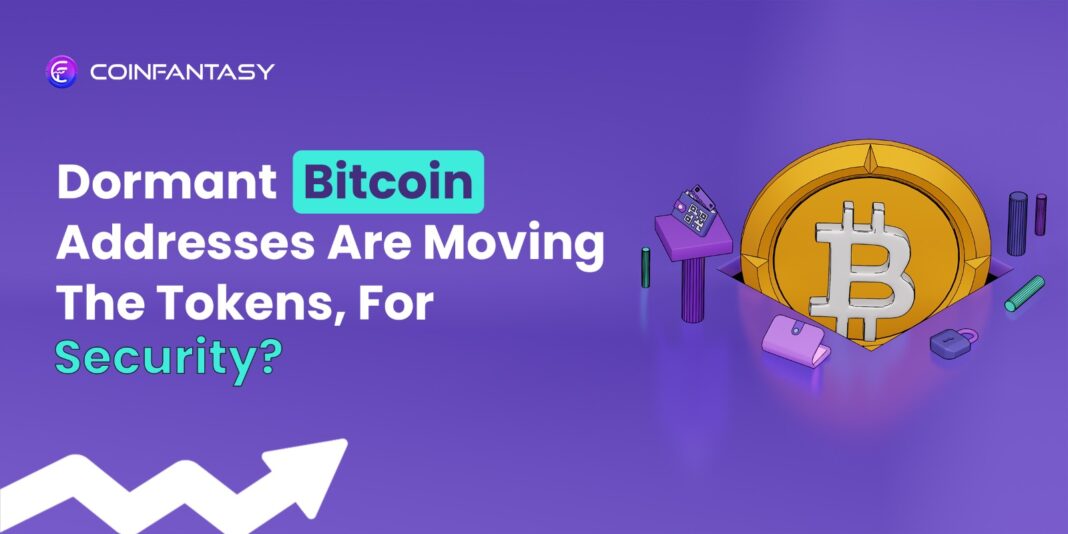 After an 11-year sleep, an inactive Bitcoin (BTC) wallet storing over 1,037 Bitcoin valued at $31 million at present price has awakened, moving away all of its treasure. Recently, dormant Bitcoin addresses are seen moving their assets around.
As reported by BitInfoCharts, the 1,037 BTC were sent at a Bitcoin cost of $29,956 and took impact at block height 799701 on July 22.
The long-dormant address received 1,037 BTC on April 11, 2012, when Bitcoin was valued at only $4.92, according to on-chain analytics firm Lookonchain on July 22. This indicates that the hoard was only valued at about $5,108 at that moment.
A BTC whale that has been dormant for 11 years transferred all 1,037.42 $BTC($37.8M) to a new address"bc1qtl" an hour ago.

The whale received 1,037.42 $BTC($5,107 at that time) on Apr 11, 2012, when the price was $4.92.https://t.co/k8ZmO5vc8X pic.twitter.com/xBaw2dQfY8

— Lookonchain (@lookonchain) July 22, 2023
Dormant Bitcoin Addresses Resurfaces in 2023
Because Bitcoin has been available since 2009, there are frozen addresses with enormous sums of BTC that have been idle for years. Some early users of this cryptocurrency were able to purchase it for a low price, but the private keys to many of these addresses have been forgotten, thus shutting them permanently. However, now and again, some of these addresses come up alive when the owner recovers access to the tokens.
This was one of the very first Bitcoin addresses. It got its initial transaction of 1,037 BTC in November 2012, based on on-chain statistics. At that moment, each BTC was selling for just $12.41. It subsequently got tiny BTC deposits regularly over the years. With the current price of Bitcoin at $29,828, the total price is a little over $31 million.
There are several theories for why someone else might immediately shift the money after all this time, ranging from recovering possession of the private keys to paying out and profiting. No matter the cause, the rapid reactivation of inactive Bitcoin addresses has an opportunity to create an uproar and increase the public's curiosity in the Bitcoin Community.
According to blockchain researcher Blockchain, the $31 million was sent to the wallet address "bc1qt180…", which looks to be a new wallet. 
As reported by cryptocurrency price tracker CoinGecko, the remaining funds of the initial Bitcoin wallet soared to $71.6 million when BTC hit an all-time high of $69,044 on Nov. 10.
The US government has been one of the most active BTC users recently, transferring over 10,000 BTC (worth $299 million) in several transactions on July 12 in connection with the Silk Road arrest.
It is unclear if the transactions were transmitted to cryptocurrency exchanges or if they are still in the Justice Department's possession.
More Enigmatic Bitcoin Addresses also had Movements
On June 11, another unidentified Bitcoin whale sent 1,400 BTC ($36 million at the time) to a Pay-to-Taproot account. Ki Young Ju, CEO of CryptoQuant, feels the transaction was made to improve anonymity.
As reported by Lookonchain, another Bitcoin address moved 2,071 BTC valued at $60 million early in April, almost 10 years after capturing BTC at $663.
Another Bitcoin address had completed a large $250 million payment of 26,056 BTC three months prior. The wallet was valued at more than $1 billion at the time of BTC's all-time high.
After a few high-value transactions, over 55% of BTC hasn't been traded in over two years, based on a figure published by cryptocurrency analyst Will Clemente by on-chain analytics firm Glassnode:
55% of Bitcoin's supply hasn't moved in at least 2 years pic.twitter.com/TlA83MJ88I

— Will Clemente (@WClementeIII) July 19, 2023
BTC is now worth $30,082. As reported by CoinGecko, while the value of Bitcoin has climbed by 81.8% in 2023, it is still below 56.4% from the all-time high it hit in November 2021.
The Impact of Bitcoin Address Movement on Its Price
When Bitcoin addresses with a substantial number of BTCs travel unexpectedly, it might create price swings. An instant selloff of the assets may cause the market price of Bitcoin to fall. However, these consequences are frequently transient. Because of the high rate of acceptance, a rise in circulating supply is unlikely to have a substantial influence on Bitcoin's price in the future.
This year has also seen a surge in the number of inactive BTC addresses. In May, an identical address containing 1,000 BTC that had been inactive for more than 11 years transferred 400 BTC to a new wallet. A BTC address that had been idle for 11 years was reactivated in February and shifted $9.6 million in BTC.
These instances demonstrate that even if an address has been idle for a long period, cash can still be sent. Many of these addresses, though, appear to be gone permanently. As reported by IntoTheBlock, around 29% of the entire Bitcoin circulation supply is currently assumed to be gone permanently after being stationary for more than five years. On top of all these, the approaching Bitcoin Halving event is anticipated to trigger the crypto's price.
Closing Thoughts
This year, many inactive Bitcoin addresses have been activated, and expected more to be active in upcoming months. It seems like the Bitcoin whales are securing their BTC before halving.