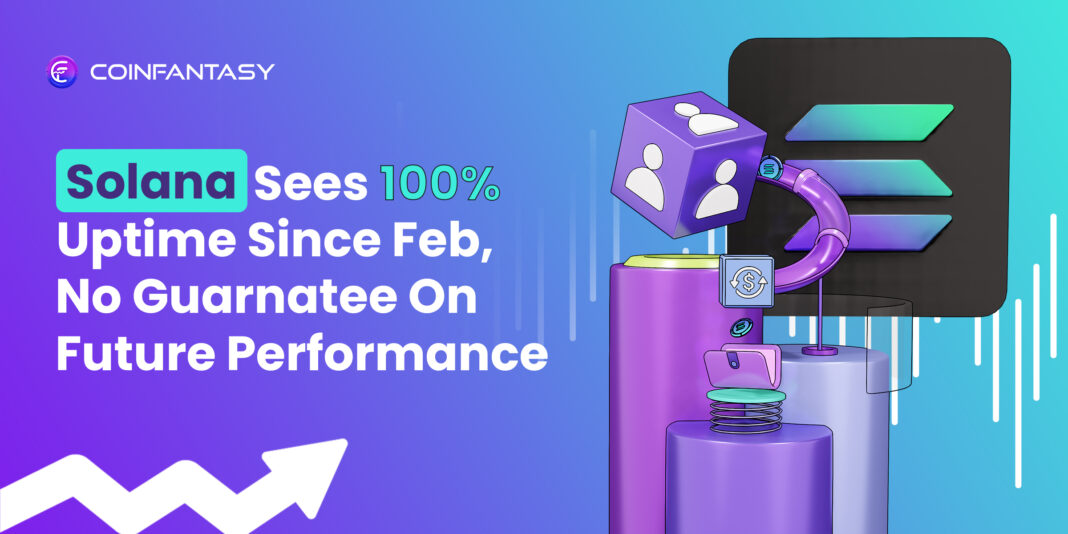 A leading participant in the Layer-1 blockchain network sector, Solana, has improved network stability and dependability significantly this year. Solana sees 100% uptime with only one reported outage since the year 2023 began.
Based on a performance report provided on July 20 by the Solana Foundation, the network's reliability, and efficiency improved significantly in the first half of 2023. The report includes comprehensive information such as network uptime and the non-voting to voting transaction ratio, which are important measures of network performance and dependability.
According to the most recent assessment, Solana has had 100% uptime since February 25, marking a quarter without a service interruption. The network was down for over 19 hours during a single outage in February.
Taking on Solana's Network Stability Problem
Considering its enticing features, Solana has historically encountered network downtime and reliability concerns. These issues, dubbed a "curse" by Co-founder Anatoly Yakovenko, were mostly attributable to the network's low-cost transactions, which Yakovenko said regularly resulted in Solana network disruptions.
1/ The Solana Foundation has released the most recent @Solana Network Performance report.

The Solana network's performance has improved through H1 2023, as measured by uptime, the ratio of non-voting-to-voting transactions, & more.

Read the full report: https://t.co/naOftyknLA pic.twitter.com/yI9Q8swWdT

— Solana Foundation (@SolanaFndn) July 20, 2023
However, the most recent data provides a welcome break from this pattern, as Solana sees 100% uptime since February 25. This performance assures that Solana went a whole quarter without a single interruption, with the sole hiccup of the year occurring in February, resulting in a nearly 19-hour network shutdown.
Solana Network Effectiveness Signals
In addition to its uptime history, Solana is improving its voting-to-non-voting transaction ratio. To be more specific, voting transactions occur when a validator, an essential part of the blockchain ecosystem, participates in the verification and acceptance of one or more suggested data blocks on the network.
Non-voting operations, on the other hand, are those initiated by user activity on the blockchain, which might include transferring or receiving tokens, performing smart contracts, or engaging with decentralized apps (DApps).
According to the Solana Foundation analysis, these voting-to-non-voting transaction ratios will decrease over time as the network's effectiveness improves, resulting in a reduced total percentage of voting transactions.
Additionally, Solana's productivity, calculated as transactions per second (TPS), is an important metric of network productivity. The research suggests that Solana's maximum daily TPS has been increasing since January, a trend that is directly related to new network enhancements.
The Solana network now has a transaction rate of 3,781 transactions per second, based on Dune Analytics statistics. In the meantime, the network's native token SOL has been falling in value over the last week.
SOL, in particular, has dropped by more than 10% in the last seven days. The asset has plummeted from a high of trading above $30 last Friday after a rapid jump to a low of $24.98 at the time of writing, a 2.7% decline in the last 24 hours. This happened after Solana sees 100% uptime suddenly.
What is Network Effectiveness and How Does it Function?
To make it feasible for a billion people to make use of and profit from the Solana network, consumers must have confidence in the network's general stability. The metrics listed below are some of the ones that the Foundation monitors to assess how successfully the network is meeting its purpose.
Uptime
A consistently dependable network is essential for network trust and long-term growth. Network uptime is a significant indicator of stability.
Transaction Ratio of Voting to Non-voting Transactions
Voting transactions are required for the network to function because they generate the decentralized consensus on which the blockchain is based. When a validator votes to confirm one or more suggested blocks of data, a voting transaction occurs. Non-voting transactions on the blockchain are those that are prompted by user activity.
Block time (The Amount of Time it Takes to Create a Block)
Because it monitors how rapidly the network adds new "blocks" to the blockchain, block time gauges the speed of a single transaction. The average time to manufacture a block is shown in this graphic, as well as how constant this statistic is and how it evolves.
Transactions Per Second with an Average and Maximum
Total transactions per second are the most exact measure of the network's current throughput and indicate its prospective expansion and development over time. The standard capacity is 65,000 transactions per second, based on basic operations such as money transfers. Actual transactions per second will vary due to the network's diverse mix of sophisticated transactions and need at any given time.
Closing Thoughts
Solana sees 100% uptime is a massive improvement in the network's performance. However, there is no assurance that the network will have similar uptime in the coming months. Though its price is fluctuating, the network is working stably.