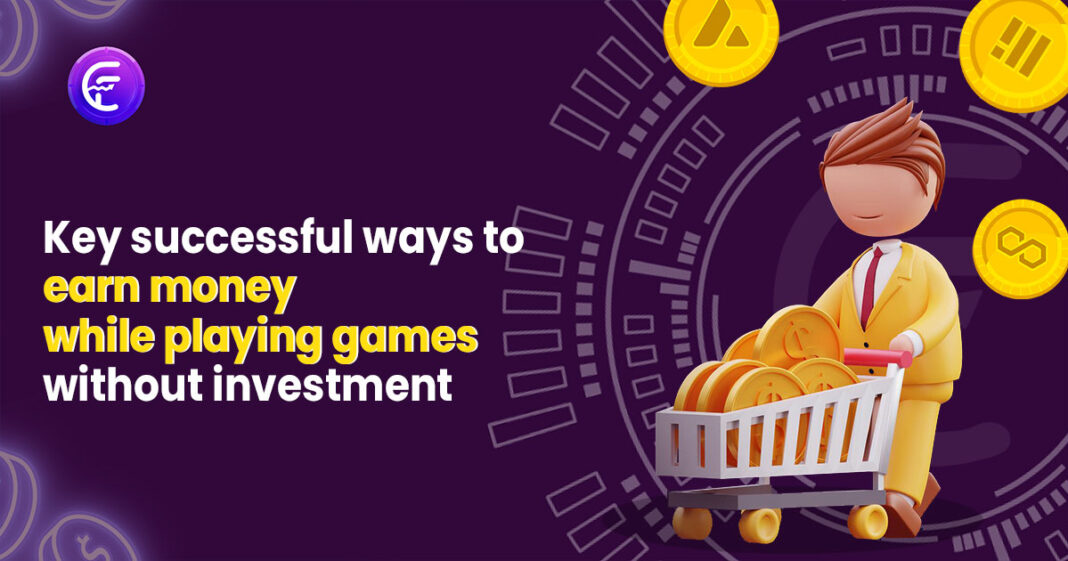 The modern gaming world provides a wide range of opportunities for those who wish to make a living, or earn additional money while playing online games.
There are numerous ways to generate money while playing games without investing, regardless of whether your goal is gambling or earning money online.
This blog will look at some of the finest ways to make money playing online games without any investment.
Let's get started!
Is Gambling the Same as Gaming?
No gambling is involved in gaming, which is lawful. In essence, you get paid for your skills. However, talent is more critical than chance in gaming.
On the other hand, gambling isn't actual. It entails betting, as done in casinos and on some apps, despite the fact that they both involve similar behaviors. Although legal in the USA, there are various state-specific restrictions.
Can Anyone Earn Money by Playing Games?
Whatever your reasons, there are numerous ways to earn money while playing games.
In reality, the gaming industry has become more profitable over the past ten years than any other entertainment industry sector. According to a report, it is valued at $195.65 billion in 2021-22 alone.
As this business is anticipated to develop over the next few years, players now have more options than ever to make money while playing video games.
What's best?
To make money gaming, you don't need to be a serious player or professional.
You have a lot of chances to join in the fun and start making money.
Can Anyone Earn Money by Playing Games without Investment?
Following are some ways to make money while playing games without investment:
#1. Selling digital assets
In games like CoinFantasy, users may trade the in-game items they've collected over time with the other players in exchange for real money or coins. Another example would be the mobile game Pokemon Go where users may purchase Pokeballs to catch Pokemon and then sell them for actual money.
#2. Play PVP competitions
PVP games frequently offer tournaments with awards for the winners or the top 10 or 20 places, regardless of whether they are gambling or playing traditional games. Poker tournaments are an excellent example because you can win money by beating other competitors and receiving prize money for placing highly on the leaderboards.
#3. Test games
Games go through different stages of development before they are released. When the game is nearing completion or is already finished, the developers need outsiders to playtest it from a different angle. As a game tester, you are responsible for examining everything the developer requests including finding and recording any bugs or other problems.
There is much more to being a game tester than simply telling the developers what you think of the game. Additionally, you must conduct matrix testing, which entails testing every character at once. As developers expect you to work on every kink, issue, and detail, you must be highly analytical and detail-oriented to get paid to test games. It is somewhat comparable to working in an office.
#4. Try crypto gaming
Video gamers now have access to a new source of income thanks to the growth of cryptocurrencies and NFTs.
For instance, players raise and trade in CoinFantasy. Your characters gain value as they level up and can be purchased and sold as a result.
The virtual money can then be purchased or sold on marketplaces like Coinbase. Crypto gaming is undoubtedly a sector to watch.
#5. Set podcast
Simply discussing how enjoyable gaming is can get you some money. All you have to do is think of a fresh perspective. Anyone who likes to read, chat, and play video games may quickly start a podcast.
You can produce shows regarding gaming on a daily, weekly, or monthly basis. A series of player interviews or an opinion-based roundtable debate can be used. Additionally, you can talk about strategies for a particular game or anything else that would pique the interest of the audience. Ads and sponsorships are two simple ways to make money off of podcasts. But before you start earning money from your podcasts, you must first attract a sizable following.
#6. Create tutorials
To earn more money, you can build specialized video game tutorials and publish them on social media sites like YouTube and Twitch. You can increase your income while passing on your knowledge and showing others how to play new and improved games. You can decide to concentrate on one game and carve out a niche for yourself, or you can make tutorials for various games to reach a larger audience.
#7. Try game writing
The field of game writing is highly competitive. Many people aspire to work as game writers. Writing is the ideal way for you to make extra money if you enjoy it. To write game news, reviews, and interviews, you may either join an existing gaming website or launch your own. You will receive payment per piece as a game writer. You can also work as a freelance game writer and hunt for people and organizations hiring.
Be careful to bring your writing samples with you when searching for employment. You can start searching for openings at mid-sized gaming companies and submit your resume. If you lack prior experience, you might want to start out by working for smaller businesses.
#8. Try YouTube streaming
As a YouTube streamer, you can make videos of yourself playing a video game and chatting with viewers.
You will be compensated based on the number of views you produce and the sponsorships that your YouTube channel attracts.
Getting sponsored for specific businesses or items in your videos and using YouTube advertising is one way to earn money. But the number of interactions and followers you have matters in monetizing it. To find out what kind of content is popular on other channels, it is a good idea to look at them.
Having a YouTube channel is something you should definitely think about if you want to earn money playing video games because that is where most of your fans will be.
Moving ahead, let's discuss this,
How can the Money be Earned through Fantasy Crypto Games?
It is now feasible to make free money playing fantasy crypto games like CoinFantasy. In-app purchases are available on the most widely used ones. Although these games can be played without any investment, they will encourage players to buy extras to improve their gaming experience.
Some game apps will also reward you for watching ads or downloading other applications; this is a terrific way for app producers to rake in revenue and a great way for users to get free money.
How can I Find the Finest Sites Where I May Get Paid to Play Games Online?
Knowing what you are getting into is crucial if you're seeking the top websites where you can make money playing games online. People can play games and earn money in a number of different ways. While some of these techniques demand a lot of time, others like CoinFantasy involve little to no work.
Fantasy crypto games have been successful for certain players. Other people have found success by producing monetized YouTube videos or Twitch streams.
Conclusion
Gaming, gambling, and streaming are just a few examples. If you're consistent and talented enough, practically any form of the game could now be a way to make a good living thanks to technological advancements. We have provided you with all of the most useful tools available these days in online gaming, allowing you to select the one you enjoy using the best.