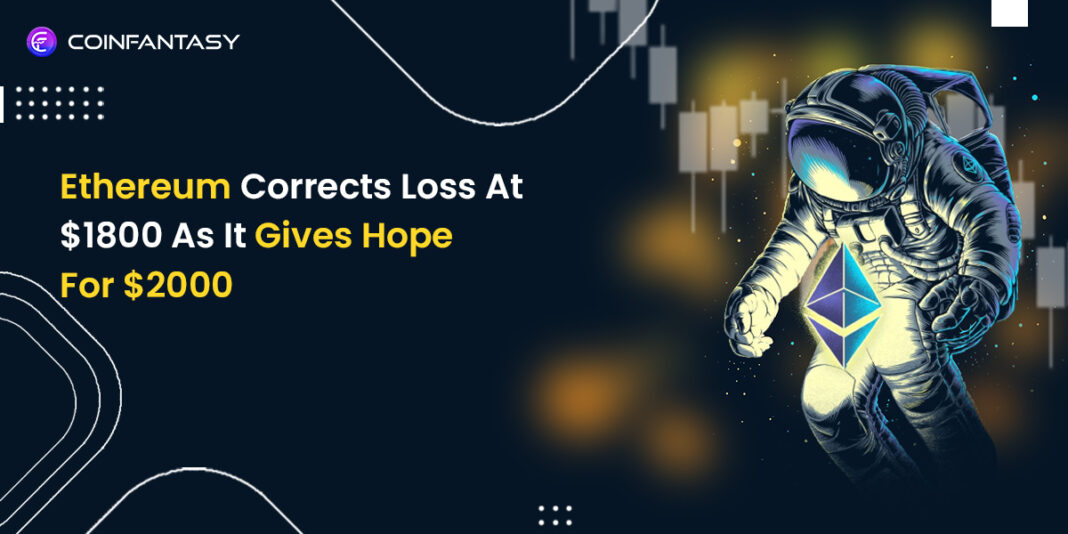 Are you a cryptocurrency investor? If yes, then you might have heard about Ethereum, the second most valuable cryptocurrency by market capitalization after Bitcoin. In the past few weeks, Ethereum corrects its loss at $1800 and was giving a potential bull run to $2000.
According to ETH price analysis, the market is currently experiencing an upward trend. Eventually, buyers managed to push the price above the crucial psychological level of $1,900. The ETH/USD pair started the trading session at $1,837, rising to the current trading level of $1,948. This surge represents a strong gain of over 7% in the past 24 hours.
The bearish pressure that was previously weighing down the ETH market has weakened, and buyers are currently in control. To maintain the momentum, bulls need to extend their gains and break through the resistance level of $1,962. If buyers manage to achieve this, it could lead to a further upward surge. $2,000 is the next focus level for the crypto.
Ethereum Price Above $1800 Indicates a Positive Run
The analysis of Ethereum's price shows that it is currently experiencing an uptrend at $1,948 after a bullish return. In a timeframe of four hours, the Bulls have made an ascent. This is causing the BTC/USD value to rise to $1,948 after green candlesticks reappeared on the price chart. This bullish return occurred after the price had dropped sharply and the bulls re-entered the market.
The price is still above the moving average value of $1,893, which is a positive indicator. Furthermore, the 50-day moving average value has also been breached, indicating that the market is in a strong uptrend. The Bollinger Bands have widened beyond their typical range due to the increase in volatility. Currently, the upper Bollinger Band is at $1,934, while the lower band is at $1,783. The price suggests more upward movement in the market.
In addition, the Stochastic RSI indicator has increased and is currently above 65.97. This indicates that buyers are firmly in control of the BTC market at present. Overall, the crypto market is experiencing a positive uptrend with the potential for further gains.
Reasons for the Correction in Ethereum Price
In the last week of April 2023, Ethereum's price experienced a sudden and unexpected 20% drop in value. This has decreased the price from $2200 to $1800. This decline caused a sense of panic among investors. However, ETH managed to correct its loss within a few days and rose to $1900, bringing relief to many.
Several factors may have contributed to the sudden price drop of the crypto. One significant factor is the regulatory concerns surrounding the cryptocurrency market. Governments worldwide have been considering regulating cryptocurrencies due to their decentralized and untraceable nature. This regulatory pressure has created uncertainty among investors, resulting in a decrease in the value of cryptocurrencies such as Ethereum.
Another factor that might have contributed to Ethereum's correction loss is the competition from other cryptocurrencies. ETH has been the top platform for decentralized applications. Recently, other cryptocurrencies such as Polkadot and Binance Smart Chain have emerged, offering similar services to Ethereum. This competition has caused a shift in investors' focus, leading to a decrease in demand for the world's second-largest crypto.
Positive Signs for Ethereum: Hope for $2000 Increases
Even though ETH recently experienced a correction in its price, several promising indicators still suggest a bright future. One of these is the increasing adoption of crypto by major corporations. For instance, JP Morgan and Microsoft have been utilizing Ethereum's blockchain to create their decentralized applications. They also highlight the platform's versatility and potential. This demonstrates that ETH's utility goes beyond just being a digital currency.
Another positive factor is the upcoming Ethereum 2.0 upgrade, which aims to address some of the crypto's scalability problems. Introducing a new proof-of-stake consensus mechanism can help improve ETH's price. This upgrade is expected to enhance transaction speed and reduce fees, potentially making Ethereum more attractive to investors and developers. Many are anticipating that this upgrade could result in a surge in demand for ETH.
What to Expect From ETH in the Coming Days?
It is challenging to accurately predict the price movements of any investment, and ETH is no exception. However, certain indicators can provide insight into what to expect in the future. One of these indicators is the launch of Ethereum Improvement Proposal (EIP) 1559. Introducing a new fee structure is expected to improve the user-friendliness of the crypto. Investors are looking forward to this upgrade. If successfully implemented, it could lead to an increase in demand for the world's largest crypto. Another indicator is the overall sentiment toward cryptocurrencies. Despite regulatory concerns, cryptocurrencies continue to grow in popularity among investors worldwide. This increasing demand could potentially drive up the price of ETH and other cryptocurrencies shortly.
Conclusion
Despite the current market volatility, Ethereum corrects loss at $1800. This correction might have caused panic among investors, but there are positive signs that give hope for the cryptocurrency's future. ETH's increased adoption by major corporations and The Merge could lead to a surge in demand for the crypto.