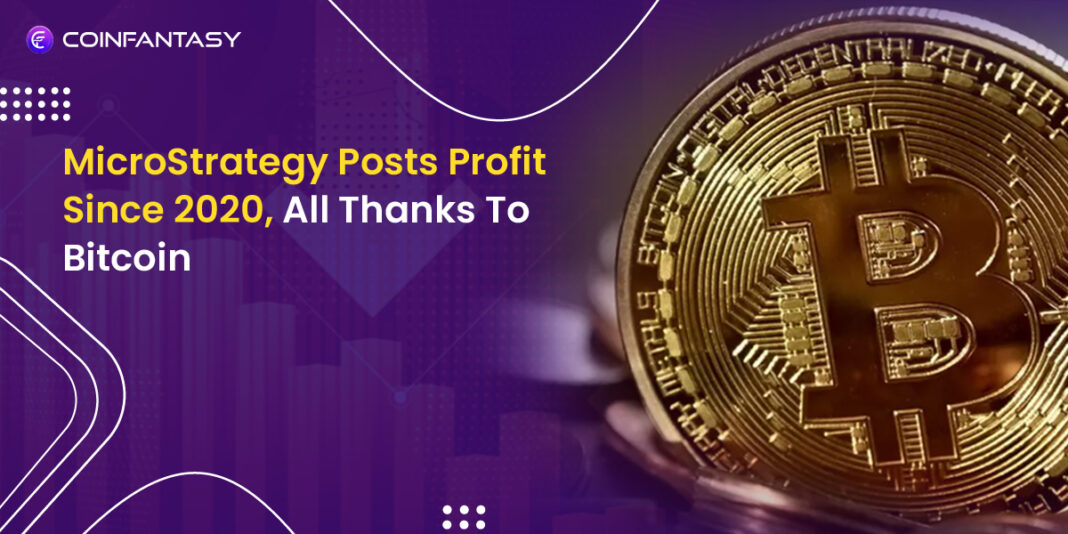 MicroStrategy managed to reduce a specific buffer due to the growth in Bitcoin's value. This resulted in a $453.2 million one-time tax break as MicroStrategy posts profit. The company's Bitcoin investments resulted in its first quarterly profit since 2020.
Similarly, MicroStrategy's records on its Bitcoin assets decreased significantly compared to the previous quarter. According to the official announcement, the company's loss for the first quarter was $18.9 million. In comparison, its loss in Q4 2022 was $197.6 million, whereas the loss in Q4 2021 was $170.1 million. In essence, the firm aims to stick with Bitcoin. Andrew Kang, MicroStrategy's Chief Financial Officer, stated in the release, "The conviction in our bitcoin strategy remains strong as the digital asset environment continues to mature."
MicroStrategy reported financial results showing that the company had net income of $461.2 million in the first quarter of this year. MicroStrategy attributed the proceeds to income tax proceeds and debt extinguishment proceeds. MicroStrategy added a total of 7,500 bitcoins in…

— Wu Blockchain (@WuBlockchain) May 2, 2023
This quarter, the organization purchased a total of 7,500 BTC, increasing the total amount of coins owned to 140,000. In reality, the firm was able to decrease debt by returning its Bitcoin-backed mortgage in full, thus improving the organization's capital.
MicroStrategy repaid its $205M Silvergate loan at a 22% discount. As of 3/23/23, $MSTR acquired an additional ~6,455 bitcoins for ~$150M at an average of ~$23,238 per #bitcoin & held ~138,955 BTC acquired for ~$4.14B at an average of ~$29,817 per bitcoin. https://t.co/ALp9VLkTpt

— Michael Saylor⚡️ (@saylor) March 27, 2023
Saylor's business intelligence software company is the largest corporation that holds Bitcoin, with around 140,000 BTC held as a balance sheet reserve asset.
"The longevity of our business BI solution and the wide range of our existing client base remained to play a role as the drivers for the rise in total income during the first quarter of 2023," stated Phong Le, president, and executive officer of MicroStrategy, during the conference call. As the digital asset landscape matures, they remain confident in our Bitcoin approach.
"Furthermore, we are incredibly happy to be back to an in-person MicroStrategy World, displaying the competitive benefits of our MicroStrategy One technology and spotlighting the key areas of product development that will lead MicroStrategy into the future," Le continued.
Saylor's Bitcoin Strategy Worked Well for MicroStrategy
Saylor stepped aside as CEO last year to pursue his ambition to integrate Bitcoin into MicroStrategy's financial statements.
During Monday's profits call, Saylor stated, "Ultimately, it's not easy to see what better strategy there might be. We discovered that by simply buying and keeping Bitcoin, we can outperform our peers in the company's software business."
The regulatory framework for Bitcoin is changing. "As capital flows out of the crypto industry, it flows into Bitcoin," he continued.
Saylor began purchasing Bitcoin in 2020 to lower the business's cash holdings in advance of the fading economic risk. In a recent post to Twitter, the MicroStrategy CEO went on to emphasize how MSTR continues to outperform major assets and indicators such as gold, silver, bonds, the S&P 500, and the Nasdaq.
Since @MicroStrategy adopted a #Bitcoin Strategy: pic.twitter.com/rrYTbvOkUS

— Michael Saylor⚡️ (@saylor) May 1, 2023
Furthermore, according to an SEC filing, these profits enabled MicroStrategy to pay back its $205 million bitcoin-backed mortgage with Silvergate Bank, which had closed that month. MicroStrategy paid a total of $161 million.
"MicroStrategy repaid its $205M Silvergate loan at a 22% discount," said Saylor at the time.
The stock price of MicroStrategy increased in parallel with the price of Bitcoin. Its year-to-date revenue increased to 118%. Bitcoin's value has risen by about 70% since the beginning of this year. 
How much Bitcoin does MicroStrategy Own?
According to prior SEC filings, the business analytics company purchased 7,500 BTC in Q1 for a total of $179 million in two acquisitions on March 23 and April 5.
Bitcoin acquisition by a quarter at MicroStrategy: The company owns 140,000 BTC, which was acquired at a normal cost of around $29,803.The company's earnings came after BTC rose 72% in the first quarter to almost $28,300.
On March 5, 2021, the software analytics corporation began investing its financial resources in BTC, purchasing 91,064 BTC and 65% of its entire holdings today. Saylor recently disclosed that MicroStrategy included Bitcoin Lightning in his business email account.
So @MicroStrategy converted my corporate email address into a #Lightning⚡️ address and people keep sending me 21 sats…🧡 pic.twitter.com/FHde6RtA6N

— Michael Saylor⚡️ (@saylor) April 17, 2023
Conclusion
MicroStrategy posts profit, making people take back their speculation on its Bitcoin investment. Many scoffed at the company when the bitcoin price of $68,789.63 fell from its all-time high to below $18000. However, Saylor did not give up on his efforts. He stepped down from his position and took care of the company's strategic moves. As he anticipated, the company reached its milestone in the first quarter of 2023. When he bought Bitcoin during the downturn, many said he was going to lose all his money. But he proved them wrong. The company now has 140,000 Bitcoin and that is what determines its profit to this level.