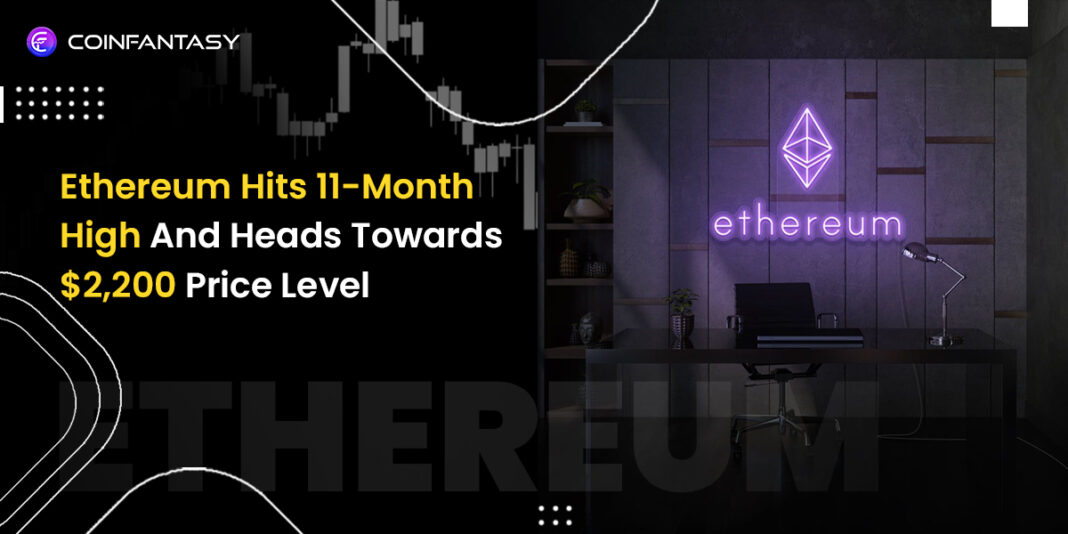 In a surprise move, Ethereum hits 11-month high and heads toward the $2,200 price level. This comes as a relief to investors who have seen the cryptocurrency market struggle over the last few months.
According to data from CoinMarketCap, Ethereum's price hit a high of $2,197.86 early this week, representing an increase of over 7% in 24 hours. The cryptocurrency has been on an upward trajectory since the start of the year, with its price increasing by over 200% since January.
What is Driving Ethereum Price Up to $2,200 in 2023?
There are a number of factors driving Ethereum's price surge. One of the main drivers is the continued growth of the decentralized finance (DeFi) sector. DeFi applications built on the Ethereum blockchain have seen explosive growth in recent months, with total value locked (TVL) in DeFi protocols surpassing $50 billion earlier this month.
This growth in DeFi has led to increased demand for Ethereum, as cryptocurrency is used as the primary medium of exchange within DeFi applications. As more users flock to DeFi, the demand for Ethereum is likely to continue to rise.
Another factor driving Ethereum's price surge is the upcoming Ethereum 2.0 upgrade. This upgrade will see Ethereum move from a proof-of-work (PoW) consensus mechanism to a proof-of-stake (PoS) mechanism. This will make the network more energy-efficient and secure and is expected to significantly increase the speed and scalability of the network.
The Ethereum 2.0 upgrade is a highly anticipated event in the cryptocurrency community, and many investors are bullish on the cryptocurrency as a result. The upgrade is expected to take place in multiple phases, with the first phase expected to launch later this year.
Overall, Ethereum's price surge is a positive sign for the cryptocurrency market as a whole. After a difficult few months, the market appears to be bouncing back, with Ethereum leading the way. However, as with any cryptocurrency investment, it's important to remember that the market can be volatile and investors should do their own research before making any investment decisions.
In response to the news, the Ethereum community has taken to social media to express their excitement. Many users are bullish on the cryptocurrency's future prospects, with some predicting that it could reach even higher price levels in the coming months.
A user wrote, "Ethereum is on fire right now! This is just the beginning, we're going to see some huge gains in the coming months as DeFi continues to grow and Ethereum 2.0 launches."
Technical Analysis of Ethereum (ETH)
The price of ETH has been moving in a descending triangle pattern since mid-last year, according to technical research on Ethereum. A little before Ethereum hits an 11-month high, it showed a traditional bullish breakout at the end and was likely to retest the nearby barrier. This is supported by another hopeful sign—the price of ETH rising above the moving average amid brisk trading activity.
Fundamental Analysis of Ethereum
Contrary to the markets, it's important to keep in mind that the majority of cryptocurrencies are projects rather than organizations. Therefore, by carrying out an appropriate fundamental analysis and taking into account all the information that is currently available about the project, you can decide if a cryptocurrency is valuable or not.
The "intrinsic value" of an asset is what fundamental analysis aims to determine. Consider a few internal and external criteria, for instance, while determining whether a cryptocurrency is overvalued or undervalued.
There are various reasons why ether is valuable. First and foremost, its value is essential for defraying the costs of any protocols created on Ethereum. For instance, the loans, decentralized exchanges (DEXes), derivatives, assets, and payments categories of the decentralized finance (Defi) protocol demand ether fees. Additionally, the Ethereum Defi ecosystem is vibrant and diversified.
Second, because it is used as collateral in the decentralized finance (Defi) protocols, Ether is the reserve asset for decentralized finance (Defi). One use case is borrowing or lending ether in order to raise a yield due to staking and yield farming. The general agreement is that 5% of each Ether will be locked in Defi and 5% will be held in staking.
Price Forecast for Ethereum (ETH) in 2023
Some consider Ethereum (ETH) to be one of the most astonishing cryptocurrencies to grow this year. The price of ETH in 2023 is predicted to rise significantly in the second half of the year, possibly reaching $3,124.20.
The hike will be moderate, much like with other cryptocurrencies, but no significant declines are anticipated. Although $2,915.92 is a lofty goal, it can be achieved in the near future thanks to planned collaborations and breakthroughs. The predicted minimum price for ETH is $2,499.36.
Wrapping Up
Ethereum's price surge is a positive sign for the cryptocurrency market and could be a sign of even bigger things to come. As the DeFi sector continues to grow and the Ethereum 2.0 upgrade approaches, it's likely that we'll see even more bullish sentiment surrounding the cryptocurrency in the coming months. Ethereum hits an 11-month high and this is absolutely an indication that the ETH price could go further.