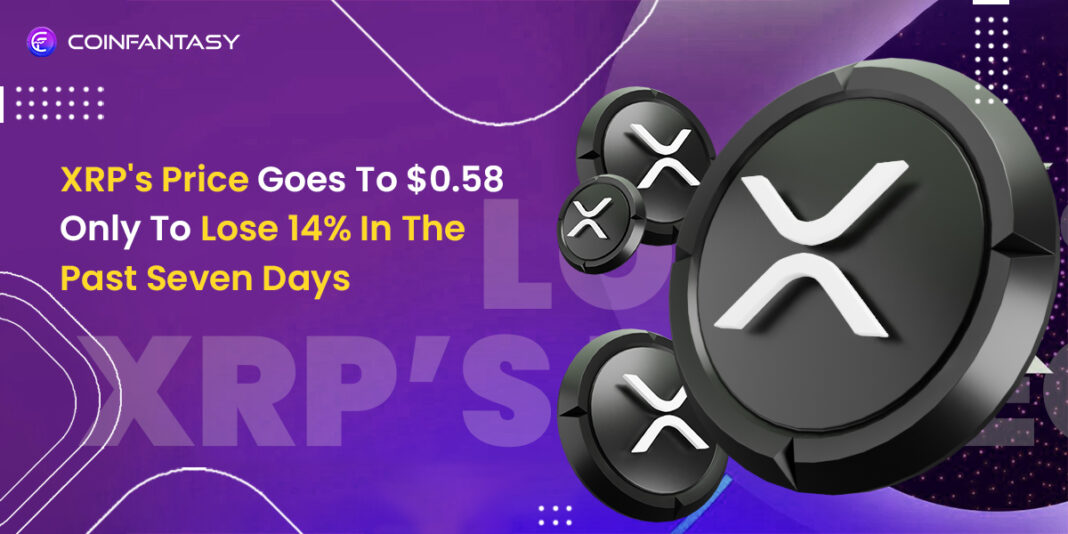 XRP's price was at $0.58 last week, hitting a whopping 10-month high. Unfortunately, data from a few of the biggest exchanges, including Binance, Huobi, and Bitfinex, show that Ripple has experienced a considerable fall recently.
The latest price trends suggest that investors are becoming increasingly interested in Ripple, as shown by the rise of cryptocurrency wallet addresses. One notable trend is the constant increase in crypto addresses with assets worth $100,000 or more. Over 13,800 addresses with this number or more have been registered this year alone.
XRP Addresses Hits New Highs
An anonymous XRP supporter recently highlighted this positive development in a tweet. He portrayed a Coin Metrics graph that showed the growth in the number of Ripple budget deals, including at least $100,000 worth of the coin.
#XRP addresses with USD balances >= $100K
👀👀👀👇@DigPerspectives @digitalassetbuy @drippyXRP @MarketsMickle @CryptoWendyO @sentosumosaba @WorkingMoneyCH @ThinkingCrypto1 @mollyelmore22 @cowboycrypto313 @Michael63140627 @paulbarrontv @freddyriz @NerdNationUnbox @EleanorTerrett pic.twitter.com/nChnRDlo0t

— Matt Cr (@MJC_SD) April 5, 2023
According to the CoinMetrics graph, there has been a significant increase in Ripple deals that accommodate at least $100,000 worth of cryptocurrency since the year's beginning. This trend in development is similar to what was observed in 2021, when XRP's price increased to $1.96 in April despite the SEC costs filed against Ripple in December 2020.
However, after reaching an all-time high in 2021, these deals began to decline, indicating a sizable circulation. The number of agreements decreased below 8,000 in mid-2022, and the decline persisted unexpectedly throughout 2021 and 2022. The current uptrend in these deals began shortly after the previous slump and picked up steam this year.
Factors Contributing to XRP's Price Gain and Decline
The market's negative perception of cryptocurrencies in general, as well as recent developments in the legal dispute between the SEC and Ripple Labs, have had an impact on the price fall of XRP.
This has changed considerably since the SEC lawsuit against Ripple Labs was filed in December of last year. The price of Ripple keeps declining due to the ongoing uncertainty even though Ripple Labs continues to defend itself, dismissing assertions from the SEC that XRP is an unlisted security.
Due to recent occurrences such as the ban on Bitcoin and other cryptocurrencies in India and the Central Bank of Turkey's warning about the dangers of investing in digital assets, market sentiment towards digital currencies has also decreased.
XRP Price Projection for the Future
Despite the recent decline in XRP's price, many market observers remain upbeat about the currency's future. Depending on how the court case progresses and how the market generally feels, some predictions state that Ripple could come back in the upcoming weeks or months.
The cryptocurrency price skyrocketed, rising more than 38% in the previous month, making it increasingly clear that the number of Ripple wallet addresses has just increased.
When the price surge gained traction, over 50 whale addresses, those holding between 10 and 100 million Ripples, were also added to the network. The crypto had a 24-hour trading volume of $704,489,689 and is trading at $0.5091.
Others in the cryptocurrency community, on the other hand, are gloomier and believe that XRP may continue to fall in the near future.
Conclusion
XRP's price has significantly decreased during the past week, falling 14% to $0.58. The market's negative perception of virtual currencies in general, as well as the most recent developments in the legal dispute between the SEC and Ripple Labs, both had an impact on this fall. Despite upbeat predictions for the future of XRP, many people are still dubious and would rather wait and see what transpires.